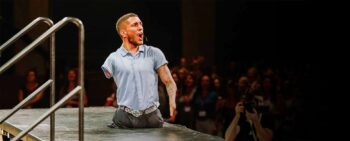 By Michael Ashcraft —
Because his stubby arm impeded him from doing high school wrestling, Nick Santonastasso amputated it.
"Can I cut off my arm?" he asked his mom and dad.
Kids told him he wouldn't be able to wrestle competitively. "I'll be on the VARSITY team",he fired back.
Born without legs and only one arm, Nick Santonastasso had Christian parents who taught him to not have the mentality of a victim. As a child, he learned not only how to eat and do chores but to ride a skateboard and play football and baseball.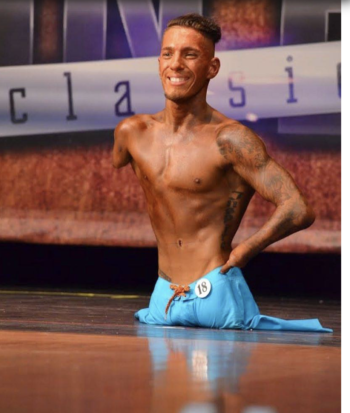 Today, he's a runner-up for the NPC Iron Bay Classic bodybuilder contest and a sought-after motivational speaker because he gets people to drop their excuses and give their all.
"I was put on this earth to be an example, to show people what they are truly capable of," Nick says on a Forbes video.
Due to the extremely rare Hanhart syndrome, Nick should have been stillborn. But all his internal organs were fine. He just had his left arm (with one finger), an underdeveloped right arm and no legs.
His mom and dad decided to flout doctors' endless list of "limitations." Stacey and Michael Santonastasso of Bayville, New Jersey, didn't baby him but encouraged him to fend for himself as much as he could.
"My parents told me, Nick, the world is not going to stop for this," he says on an NPC video. "You're going to have to figure out to do things Nick's way. My mom would put a plate a food in front of me and say, Nick, figure it out. Here's clothes, figure it out. That's why I'm a beast in my head."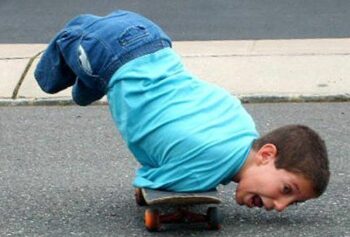 The Christian faith provided the context of honoring the sanctity of life, of believing everyone has a special purpose in life and teaching a victor's mentality rather than a victim's mindset.
Stacey's website, which promotes her book Born to Break Boundaries says, "Although her faith has been strongly tested, she remains grounded in her Christian beliefs."
At age two, Nick was left alone in the living room. He pushed his wagon next to the table, clambered onto it, and began to dance to MTV, his dad relates.
He learned to skateboard, riding on his stomach and pushing it forward with his hand. Once it got going, he stood up on it. He even does a handstand. He took plenty of falls while he was learning and had more than his share of scrapes. But his mom didn't scold him for being adventurous.
He catches the football between his arm and his neck and head. He can throw it and even "runs" plays. He can connect a bat with a ball to play baseball better than his peers.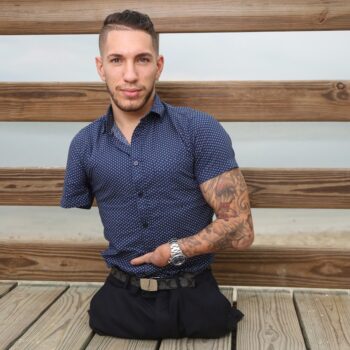 Because his parents didn't treat him gingerly, Nick says he didn't really realize he was "different" until he got called a "cripple" in the third grade. That was his baptism by fire into the cruel world of stares and insensitive comments that left him depressed in junior high.
But by high school he had largely overcome the syndrome of an outcast. He wanted to be on a sports team, so he got on the bowling team his freshman year.
In his sophomore year, he yearned for a bigger challenge. His older brother had done wrestling, so he decided to try out.
Immediately, fellow students felt the need to give him a dose of reality. How are you going to wrestle? You don't have any legs and only one arm.
"And I'm going to be on the varsity team!" he shot back.
The reality, however, was that the bone in his right arm was growing faster than the skin and could burst through under pressure. His parents explained this to him. He already knew it.
"So can I cut it off?" he responded without missing a beat.
Stunned, his parents just sat there for a while. It was the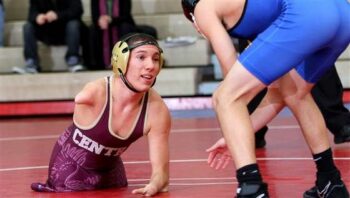 ir own fault. They had instilled in him an indomitable spirit, a never-give-up attitude.
Well, if you really want to do wrestling so much, we suppose we can schedule you for an amputation surgery. After all, it was only five inches of bone that would be lasered off. His stub would be smaller. With self-effacing humor that is meant to put you at ease, he now calls it his "potato," which it roughly resembles.
One time, his "potato" saved him from getting pinned. When a state competitor was struggling to pin his two shoulders to the ground, Nick's teammate screamed, "Give him the potato." Nick smacked him so hard that he drew blood. The shocked competitor looked at the ref to grant a foul, but none came. And in the remaining 30 seconds, he couldn't pin Nick.
In his junior year, Nick lost all 20 matches. He would tell his teammates to never go easy on him, to stuff his face into the mat. He spent hours arching his back with his neck to avoid being technically pinned (both shoulder bones to the mat, a six point loss). He developed so much muscle doing this, he was a tough competitor in his senior year.
And yes, he was put on the varsity team. During his senior year, he won two matches (he lost 17.)
Initially, he got angry at the crowds that came to see him wrestle who would applaud him after he lost. "I lost," he fumed. "Why are you clapping for me?"
But then a mother approached him to talk to him. Her children, she said, were afraid to try anything, not sports, not hobbies, until they saw him wrestle. Then they wanted to try everything. With tears in her eyes, she thanked Nick.
That's when Nick realized he had a purpose in life. He could inspire people to compensate for their "limitations" with hard work and determination, they could not see failure as negative but as necessary to reach success.
Also, during his senior year of high school, Nick began filming prank videos that went viral on Vine, a platform that featured 6-second videos. His classic of painting his face and arms like a zombie and scuffling around the corner upon some surprised customer got him kicked out of Walmart three times. But his following grew to 70,000 subscribers.
TV producers noticed and recruited him to prank Norman Reedus, a star of the popular TV horror drama "The Walking Dead," on camera. His fame was increasing.
After graduation, Nick decided he wanted to move beyond pranking. He would become a bodybuilder. His best friend trained seriously and would join him.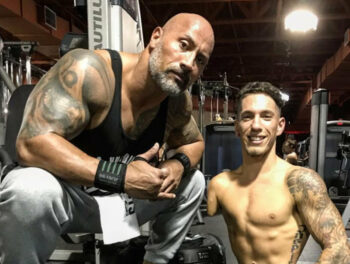 His videos on YouTube were gaining attention. Even Dwayne "The Rock" Johnson noticed and liked one. Just days before flexing on stage at the 2017 NPC Iron Bay Classic, he was in the gym, and "The Rock" was also working out.
Nick told his group that, even though he was a huge fan of the actor, he wouldn't interrupt his workout and ask for a picture. They would just do their thing.
After some time, however, The Rock's bodyguard approached Nick. He asked if The Rock could meet Nick. Dwayne Johnson asked for a photo with him.
On the day Nick competed, The Rock posted a picture of him and wished him luck.
It was quite a thrill from the boy from New Jersey who just wanted to be a normal guy.
Nick hikes mountain trails, he goes up in hot air balloons, he drives. He's living the dream life.
Is he always upbeat? No, of course not. He has down days. For example, one day, attracted to a girl, he tried to strike up a conversation, and it didn't go well.
Nick says the question he gets asked more than any other (once people are disarmed by his good-natured humor and vulnerability) is if everything is intact underneath his shorts. The answer? Yes. In fact, he has to wear fitted undershorts to avoid "stepping on" those organs.
So when a girl gives him the cold shoulder, he remembers that he's different and has to overcome his emotions.
Eventually, he bounces back.
"You have one choice," Nick says on an Ed Mylett video. "I can look at all the negative I have in my life…focusing on that won't propel me. It will dig me into a hole. Or I can focus on all the good and all I'm capable of doing, and that will elevate me now.
"The things that were I thought were the most negative about myself, the most unattractive and disgusting became my biggest empowerments and biggest influences."
If you want to know more about a personal relationship with God, go here
In his other life, Michael Ashcraft is a Christian financial professionals selling life insurance and annuities in California, Nevada, Arizona and Nebraska.