By Max Devantier —
Despite owing a combined $250,000 in student loan and credit card debt, newlyweds Dwight and Ashley Sanders committed to paying the tithe, 10% of their income to their church.
"Money in God's kingdom is the opposite of what we think it should be," Dwight says on a CBN video. "You tithe first, even though it doesn't make sense, even though you can't make ends meet, and God will let you make your ends meet."
Their faith didn't flounder when three years later Ashley gave birth to Levi, a baby needing expensive bone marrow transplants, and Dwight lost his engineering job and health insurance
Against all odds and against logic, the couple tithed his severance pay.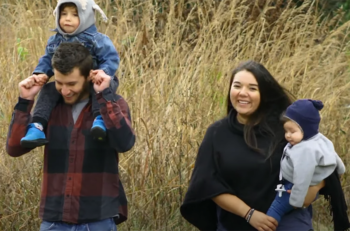 Every day was a stressful myriad of calls from medical staff and insurance people. Ashley, a nurse, feared the compounding interest on their debt.
"I looked at Dwight and I said, 'I have no idea how we are going to pay this off,'" Ashley says. "I just laid my hands on the stack (of bills), and I said, 'God, I don't know how it's going to happen but You do. You are our provider, and we trust in You.'"
Friends, church members and neighbors began sending donations, and the couple was able to pay off their mounting medical bills.
A few months after being laid off, Dwight was hired by another engineering firm at double the salary. A year later, he was given a 12% pay raise. The couple paid off their entire debt.
"You might wonder if this is coincidence," Dwight says. "But over time, when you see instance after instance after instance, you know that it has to be God. There is no room for doubt in my mind that not only does God exist but that it's God's hand acting directly."
Scripture says that where our treasure is, there will our heart be," Dwight says. "Just having the freedom to not worry about that, just knowing that He's got it is just an incredible blessing that money could not buy."
If you want to know more about a personal relationship with God, go here
Max Devantier studies at the Lighthouse Christian Academy in Santa Monica where they teach finances.