By Mark Ellis –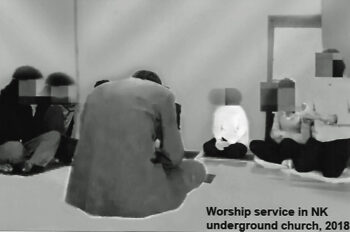 More than 100 underground house churches were planted in North Korea by North Koreans, with some trained in China, according to a report by Cornerstone Ministries International.
"I was surprised to see what God did in 2018," says Peter Kim, with Cornerstone. "God allowed our missionaries to train 63 North Koreans in China and they planted 25 underground churches."
After meeting with their field missionaries, Kim was astonished to learn about more than 75 additional house churches planted in North Korea.
Kim also viewed a touching video smuggled out of the country, showing an underground house church meeting with a pastor and seven other believers. "These believers were dressed up well as they honored the Lord's Day," he notes. "Although they were dressed up, they appeared to be cold because there was no heater in the room."
"Yet I saw their bright and shining faces reflecting the warmth of the love of Christ," Kim says.
As Kim watched the video he was overcome with emotion and shouted, "They are alive!" It was obvious they were worshiping with joyful hearts, even under the harsh conditions.
On the video one woman began to pray: "Lord Jesus, you died on the cross to show your love for me. You were nailed with a crown of thorns placed on your head, shedding blood throughout your body, and you went to Calvary for me. I will be mindful of your love and I will bear the cross until my life is over on this earth and I will be with you…"
She couldn't finish the pray, as she began to sob, with her tears "flowing like a river."
"I noticed others joining her crying too. I saw another lady who sat next to this one sobbing, wiping out her tears with a worn-out handkerchief," Kim observed.
The second woman prayed: "Father in heaven, there are many souls who are dying in the deserted land. Please shine your light and let your kingdom come immediately so that people can turn back to you like a blossoming flower."
"The sounds of crying got louder and the prayer got louder. Then they must have realized that they had to restrain their voices. After they quieted down, the prayer continued," Kim says.
"Today, this Sunday, we are praying in a closet and praying quietly with flowing tears, calling you our Father. Please listen to our prayer and let the day come soon where we can hold the hands of our children to go to church freely.
"Father God, help us to live a life of obedience. Help us to live our life according to your will. Help us to be prepared for eternal life. Lord, Help us to live with the power the Holy Spirit has given us to fight against the enemy who is trying to stop our worship, even underground. We need your protection!"
As Kim watched the video, he was impressed by their maturity. "Their level of prayer was not an immature Christian's prayer, but a very devoted, mature, strong believer's prayer," he notes. "These people knew the Gospel and why Jesus died on the cross. They desired to be obedient and live faithfully even under such severe conditions.
"If they got caught, they would go to a political prison camp for at least 15 years without any trial," he notes.
In 2018, Cornerstone delivered 79,318 Bibles to North Korea, China, Mongolia, Vietnam, Iran, Turkey, and Israel. "Those who are living in these nations are being persecuted for the sake of Jesus Christ and His Gospel," he says.
Kim is concerned by rising persecution in China. "It has never been as intense as it is now," he observes. "I fear the religious restraints will last longer."
"In some locations, more than 1000 churches had to witness the cross and church buildings being burned down. Some pastors were locked up in jail. Some lost their property as PSB confiscated personal belongings."
With many believers pressured to deny their faith, Kim compared the current situation to the Cultural Revolution launched by Mao in 1966.
Cornerstone is actively preparing for the future opening of North Korea. They recently launched a university to train leaders for work in restricted countries such as North Korea and China. Dr. Luis Bush has agreed to be the first chancellor of the university. Dr. Charles Weber, a former professor at Wheaton College and Rev. Sang-Bok David Kim, former chancellor of Trinity Seminary, are also involved.
To learn more about Cornerstone's work, go here