By Michael Ashcraft —
While drug kingpin Joaquin "El Chapo" Guzman sits in a New York jail waiting a likely life sentence, his mother in Sinaloa lives modestly, attends church and prays for him to "turn himself over to the Lord to serve Him before it's too late."
"He's already experienced what there is in the world and knows what it has," María Consuelo Loera Pérez told Univision in 2014. "Now he should seek God so that he knows that only God can sort out his problems."
Her simple house doesn't look like a mega drug trafficker furnished it. It can only be reached using rugged dirt roads that wind into the mountains.
For the last 36 years, Consuelo has faithfully attended the Apostolic Church of the Faith in Jesus Christ.
Her humble lifestyle consisting of sewing, reading her Bible and attending church is a stark contrast to the lavish lifestyle her son once lived. El Chapo, 61, rose to prominence in the Sinaloa Drug Cartel by pioneering drug trafficking pathways into the U.S. through long tunnels, CNN reported.
Once the drugs were inside America, it was distributed by cells in Arizona, Atlanta, Chicago, Los Angeles, Miami, New York overseen by El Chapo.
By murdering rivals, El Chapo amassed an estimated fortune of $14 billion and lived in resort-like mansions with gold-plated AK-47s and diamond-encrusted pistols. He reportedly bragged to have killed up to 3,000 people to stay at the top of the world's largest drug cartel.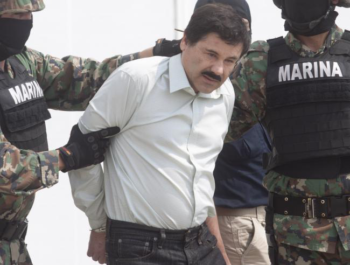 Twice El Chapo was arrested by Mexican authorities and twice he escaped prison, in 2001 and again in 2015. He was recaptured in 2016 and extradited to the United States. He was found guilty on Feb. 12 of all 10 federal charges for trafficking, money laundering and illegal possession and use of firearms. He will be sentenced in June and is expected to be condemned to life in prison without parole.
"God is strengthening me. I know He is with me and with my children," says Consuelo. "As his mother, I'm always asking God for his well being. As a mother, I'm feeling bad for what he's going through. As a mother, one does her best to raise her children, and then when they're grown, they go and do whatever they want. Whether they do good or bad, one still is mother."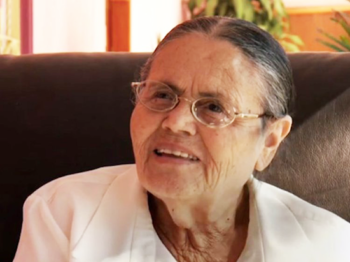 Her favorite verse is Joshua 1:8, which she recited from memory in Spanish for Univision: "This book of the law shall not depart from you mouth, but you shall meditate on it day and night, that you may observe to do according to all that is written in it. For then you will make your way prosperous, and then you will have good success."
Consuelo is a widow. She and her husband, a subsistence farmer, had 11 children in La Tuna, Badiraguato, a hinterland in Mexico's mountains. Though he was born in abject poverty, little El Chapo dreamed of money and had the drive to pursue it.
He got involved in the drug trade and took advantage of the crackdown on the Guadalajara Cartel in 1989 and battled the Tijuana Cartel from then until 1993 for dominance. El Chapo has married three times, once by kidnapping a bank teller in Nayarit with whom he fell in love.
Shockingly, he abducted the woman, raped her, and finally won her over with his wooing and endless luxury.
When he was convicted in February, El Chapo appeared upbeat and optimistic. It was eerie, as if he expected to escape the maximum-security prison as he has twice in Mexico — once by bribing prison officials and once by tunnel. Will he escape again or is it a game over for him, as it was for Panama's strongman Manuel Noriega once he was transferred to a maximum-security prison in the U.S.?
His mother knows that whether he escapes or not is of lesser significance than the eternal torments he may face imprisoned in hell, from which there is absolutely no escape, if he doesn't repent.
"Everybody in our churches are praying for him," Consuelo says. "I know that God moves hearts… What is impossible for man is possible for God."
To know more about a personal relationship with God, click here.
Michael Ashcraft founded the Door Church and the Door Bilingual School in Guatemala City.
Make dumplings like Kung Fu Panda. Find out why steamed fish is superior to baked or grilled. Get a bamboo steamer today off of Amazon. Click on the picture.