By Mark Ellis —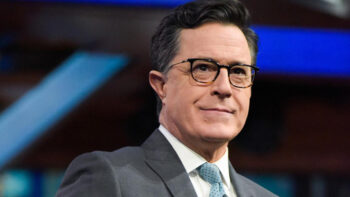 American comedian and TV host Stephen Colbert, best known for hosting The Colbert Report, a satirical look at TV news, and currently the host of The Late Show with Stephen Colbert once struggled with extreme bouts of anxiety.
"I needed to be medicated when I was younger to deal with my anxiety," he told Rolling Stone in 2018. "Xanax was just lovely, y'know, for a while," he said.
Then Colbert recognized that his meds only masked the problem, but didn't deal with his underlying condition. "I realized that the gears were still smoking. I just couldn't hear them anymore. But I could feel them, I could feel the gearbox heating up and smoke pouring out of me."
Somewhat unsettled by this revelation, he took decisive action. "I stopped the Xanax after, like, nine days. I went, 'This isn't helping.' So I just suffered through it. I'd sometimes hold the bottle, to go like, 'I could stop this feeling if I wanted, but I'm not going to. Because I know if I stop the feeling, somehow I'm not working through it, like I have got to go through the tunnel with the spiders in it.'
At one point he had considered himself an atheist, but this changed in 1986, when Colbert – then 22 years old – was walking down the streets of Chicago on a cold winter day.
"I had lost my faith in God, to my great grief," he told the talk show Faith in Focus. "I was sort of convinced that I had been wrong all this time that I had been taught something that wasn't true."
Colbert spied a Christian worker standing on the sidewalk handing out pocket New Testaments. "I was walking down the street and someone handed me a little green New Testament, Proverbs, and Psalms. It must have been humid and brought up to the cold because it was frozen and you kinda had to snap it. It was a really cold Chicago day."
Then Colbert stopped in his tracks and began to peruse the little Bible. "I opened it up to a little glossary in the front and it said basically verses to read based upon [different situations]."
"So I went to 'anxiety' and it was Matthew chapter 5, it was the sermon 'So I say to you do not worry, for who among you by worrying can change a single hair on your head or add a cubit to the span of his life?' and I was absolutely, immediately lightened."
The Word and the Spirit moved on his heart. "For the first time I understood the real meaning of the phrase, 'It spoke to me.' Like it read off the page. The words of Christ read off the page with no effort. So I stood on the street in the cold and read the sermon. And my life has never been the same."
Colbert received the gift of faith that held an answer to his disquietude, a living faith that brought peace that surpasses understanding through Christ Jesus.
It was all made possible through the death of Jesus on the cross. "You should be humble in accepting this act of love and see what it is they gave you without rejecting it."
If you want to know more about a personal relationship with God, go here