By Michael Ashcraft —
A year ago, Ken Parker marched with the Neo-Nazis in Charlottesville, putting feet to his affinity with the white nationalist movement. Since then, he's gotten saved, repented of racism, gotten baptized and attends an almost all black church in Jacksonville, Florida.
"When we make it to Heaven, Heaven's not just gonna be one race. There's gonna be all kinds of races up there," says Pastor William McKinnon III of the All Saints Holiness Church where Ken and his fiancé attend.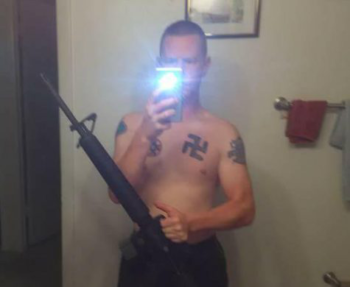 Ken started riling up racial hatred when he got out of the Navy and couldn't land a job. He found a scapegoat in minorities.
First he joined the KKK and ascended up the ranks to become the Grand Dragon Master. But the white-hooded men who burned crosses weren't racist enough for Ken. So somewhere in his six years out of the Navy, he joined the Neo-Nazis.
The Charlottesville, Virginia, protest was supposedly to save historical Confederacy monuments but it quickly flared into violent clashes that left one person dead.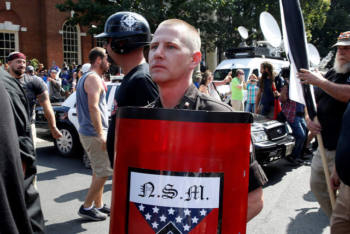 "It was thinly veiled to save our monuments, to save our heritage," Ken told NBC news. "But we knew when we went in there that it was gonna turn into a racially heated situation, and it wasn't going to work out good for either side."
Ken spilled his virulent hate with proclamations of "white power." He hated Jews and gays too.
But he started having misgivings when interviewed by a filmmaker documenting the white supremacy movement. Those doubts culminated in a 180-degree reversal when his neighbor, a black pastor, invited him to a barbecue. After chatting with people at the end of the pool party, Pastor William invited Ken and his fiancé to church.
Ken thought it was worth a try.
When he showed up he found that he, his fiancé, and another church member were the only three white people in the 70-person congregation. As he listened to the worship music and the sermon, he found his heart softening.
That morning he accepted Jesus as his Savior and Lord and was born again — completing the transition from racist to redeemed!
Ken gave his testimony one day before the congregation.
"I said I was a grand dragon of the KKK, and then the Klan wasn't hateful enough for me, so I decided to become a Nazi — and a lot of them, their jaws about hit the floor and their eyes got real big," Ken remembers. "But after the service, not a single one of them had anything negative to say. They're all coming up and hugging me and shaking my hand, you know, building me up instead of tearing me down."
Ken is removing the swastika and other objectionable tattoos from his body with painful laser surgeries that takes multiple treatments.
On July 21st he was baptized in the Atlantic Ocean, burying six years of meaningless hate. He was dressed in a white robe eerily similar to the one he used in the KKK.
I did "better (now in the baptismal robe) than I did the last time I had a robe on" in the KKK, he says dripping wet from baptism.
If you want to know more about a personal relationship with God, go here
Michael Ashcraft pastors the Lighthouse Church of Van Nuys.