By Michael Ashcraft —
At exactly the moment David Fish was passing through a spiritual crisis in the Air Force in England, his neighbor's mother — the Christian woman he looked up to — passed by his house walking the dog and remembered to pray for him.
As result, halfway around the world Jesus showed up and reassured David he could be forgiven of sin.
Never brush off the sudden urge to pray.
The incident was one of three supernatural apparitions that came to David, helping to deliver him from alcohol and the kingdom of darkness, moving him into the light of Jesus.
As a 15-year-old, David started drinking and driving the tractor on his farm in Grand Rapids, Michigan. His father was an abusive alcoholic and wound up divorced, which left David reeling.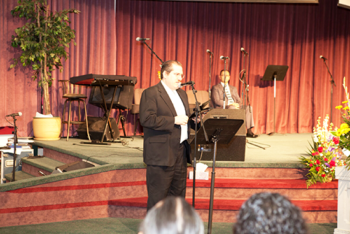 "I wondered if this was what life was all about," he says.
David wanted to be like dad but hay fever kept him from farm work such as baling hay, so he decided he would prove his manhood by joining the Air Force, just like dad.
"I wanted to show that I could do what he could do," David says. "I always wanted to prove to him that I could do a lot of things. I guess a lot of kids want to show their parents they can stand on their own two feet."
In the Air Force, he did well training as a mechanic for the tank-toting C-130 Hercules aircraft. But because of a mounting problem with alcohol, he was "causing myself my own troubles," he says.
One day, he got drunk before his shift and was faced with the quandary of missing it (going AWOL) or showing up inebriated. He risked going to the job and his superiors confronted him.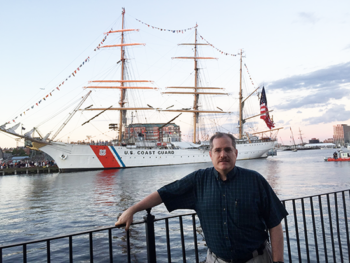 "That was the day from hell," David says. "You're head is pounding. You're in trouble. They know it. You know it. Everybody else knows it. All the people milling around the office all know that you royally screwed up. You're just sitting there out in the open. Life was not good that day."
Instead of a court-martial, the Air Force sent David to rehab in Riverside, California, to salvage his life and career. He thought if he behaved himself and went through the program, maybe they'd give him another chance.
The program was Alcoholics Anonymous. "That was supposed to be the way to keep dry and sane and all that other stuff," he says.
The program taught that chemical dependency disappeared at six weeks. But "that's baloney," he says. "The spiritual dependency does not stop at six weeks."
He fell back into beer after three months, though he tried to maintain better control and drink less.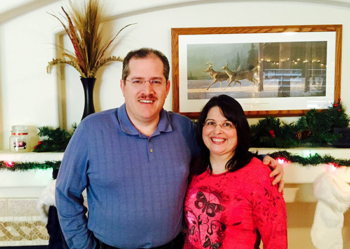 "It was through the Riverside program that I realized how messed up my life was because when I began to discuss things about family, I left my sister out," he says. "I hated my sister for the things that she did and the things that we did growing up — the different fights we had."
That's when a fellow airman started witnessing to him.
"It was the most fascinating thing I ever heard," he remembers. "I was glued to listening to what he had to say. A few days later, I was still thinking about the impact that he made."
David didn't accept Jesus that day.
He was then stationed in England in preparation for the bombing of Muammar Gaddafi in 1986. He kept drinking the "thick rich frothy beer there. I was getting wasted all the time, and drinking was picking up speed," he says.
After binging for three weeks, David surmised his grim predicament: "My life is worth nothing. My parents got this divorce. No one loves me; no one cares. So why should I? In that moment, I felt like I put my life on the auction block. I didn't care if God had me or if the devil had me. I was willing to give myself over to whoever would have me."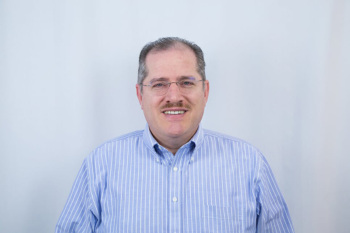 David began asking questions of a Christian fellow airman, who handed over a book, "The Scientific Approach to Christianity," about an unbeliever healed of terminal cancer when his believing wife prayed for him.
At the end of the book, there was a sinner's prayer. David prayed to receive Christ and God gave him a new heart.
"I became born-again," David says. "I didn't know what it meant."
Through reading Scripture, he came to understand he was no longer hell-bound, but received a promise of heaven as his eternal destination.
Then in Scripture, David stumbled across the Holy Spirit. He recalls his body "got warm" when he was filled. He began to shake as he experienced the power of the Spirit. "I was freaking out," he says.
At that moment, something unusual happened. An African-American man in an Air Force uniform walked in on him. David had never seen before. He was not part of the unit. He was not on a temporary assignment. He never saw him again afterward.
He asked David what was happening, and David shared his anxiety and panic over what was happening with the Holy Spirit.
"He sits down across from me in a corner, and he so pleasantly, so calmly and so peacefully, he says, 'God didn't do that to scare you. God wanted you to know he's powerful, that He's real,'" David remembers.
"It was like a peace washed over me. He got up and left… I attribute that to being visited by an angel. I can't confirm that, but I never saw him before, and he came in and spoke with precision exactly what was needed. I never saw him again."
David was transformed. He started consuming large quantities of the Bible and stopped consuming large quantities of alcohol.
Days later, he sinned and was "bawling my eyes out," David says. He was feeling like a failure, incapable of living for God, pondering throwing in the towel.
That's when his old neighbor from Michigan started praying.
"Out of the corner of the room, it looked like a little statue of Jesus. I had my eyes closed. I'm seeing a vision. As it came closer and closer, it became bigger and bigger until it came next to me and it was life sized. It was Jesus," he says.
"He was reaching out to give me a hug. I remember sitting up in bed and putting my arms around what I was seeing without even having my eyes open. I do remember feeling His presence just like when you put your arms around somebody you can feel like they are there."
He wept as he felt the magnitude of God's grace and forgiveness. David was learning God's ways. He didn't quit Christianity.
When David came back to the United States, he joined the Door Church in Tucson, Arizona. With sermon after sermon, the pastor was "reading my mail," he says.
The neighbor who prayed for him was the mom of a friend. David liked to go over to their house because they had a sense of family and love that was missing in his own home. They were Christians, and the father would read a Bible verse before dinner.
"I loved the homey-ness of the family. They brought me in like I was one of their own," says David, 51, now a project manager for Microsoft. He is married and has one daughter. He's also a grandfather.
If she wouldn't have prayed at that moment the Holy Spirit told her?
"When she saw our farm house, the Holy Spirit spoke to her and told her, 'You need to pray because somebody in that house is going to get saved,'" David says. "When she told me that later, I was absolutely amazed. No doubt about it, through her prayers, and maybe others, I was prayed into the kingdom of God."
If you want to know more about a personal relationship with God, go here
Michael Ashcraft pastors the The Church on the Lake at Lake Balboa in the Los Angeles area.