By Mark Ellis –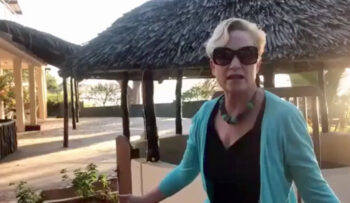 In the face of terror attacks about 60 miles north of her ministry headquarters, mission leader Heidi Baker stands resolute in her faith, believing God's love will overcome those inspired by hate.
"There have been extremists, people from another faith that have been burning village after village," she declared in a Facebook video posted June 11th. "They have been raping and murdering people and it's a very very challenging time."
Since May 27th, 37 civilians have been killed by extremists in northern Mozambique, with many beheaded or hacked to death, women raped, and hundreds of homes torched.
The attacks have been linked to Ansar al-Sunna, an Islamist militant group also known as al-Shabaab locally. In May, the African Union also confirmed the presence of ISIS forces in northern Mozambique.
The most recent attack one week ago left six dead in the village of Namaluco, Quissanga district, Cabo Delgado, where about 200 houses were burned down, according to the Lusa news agency.
The terrorists entered the village of about 2,000 people at 9:00 p.m., provoking screams and uproar. The town has no electricity or infrastructure, is accessible only by dirt road, with houses constructed by the villagers.
Residents said they heard the attackers speaking Swahili and "other languages they did not recognize," according to the Lusa news report.
"We are calling for prayer. We are asking you to intercede for these beautiful people. We believe for peace; we're praying for shalom," Heidi stated on the video. Heidi is acquainted with many pastors in these villages that have been impacted by her ministry, Iris Global.
She maintains a hopeful outlook rooted in the Scripture. "I just thank God that His glorious light is going to break in. He says that 'My glory will cover the earth like the waters cover the sea' and right now is our time to shine.
"It is our time to say love wins."
She and her husband Rolland have been pressing into God during the crisis, deeply reflecting on their calling and purposes. "In times like this we really understand why we're here, why we came in the first place. This is not our time to retreat; this is our time to advance."
"We really need your prayers. Pray that all the demonic powers of hell would be broken in the name of Jesus, every murderous spirit off in Jesus name and that there would be great protection over every one of these villages where these beautiful people are following Jesus."
"Cry out in the name of the Father, Abba Daddy God, He wants His sons home, he wants Ishmael's sons home; he wants Isaac's sons home. He wants His kids to know him.
"We believe that love wins and God is going to crash in on this nation and it's going to shift."
"We need you to get on your knees, get in your prayer closet and cry out for Iris Global; cry out for Mozambique. Cry out for the people of this beautiful nation."
https://www.facebook.com/iamr77777/videos/2043020929072645/