By Hailey Johnson —
Since the 60's, Portland has become home to a menagerie of zany indie (secular) rock bands, such as Blind Pilot, Sleater-Kinney (led by Portlandia's Carrie Brownstein), and more.
But one artist has emerged from this conformity cloud to mesmerize audiences with another sound — Christian music.
Meet Liz Vice, the black Christian R&B singer converting Oregonians into provisional Christians with her luscious vocals.
A native of the Beaver State, Vice — along with her five siblings — was raised in Portland by a single mother.
During her formative years, she never envisioned herself as a singer but instead spent her days fantasizing about becoming a filmmaker.
At 15, however, her inspirations came to a clamorous halt, as she was diagnosed with a severe autoimmune kidney disease that soon led to kidney failure.
For the next seven years, Vice faced dialysis appointments, hospital infections, heart failure and her own mortality.
"Instead of praying that I'd be healed," Vice admits, "I was just so tired that I would pray for death every day. But every day I woke up, I decided to live that day to the fullest."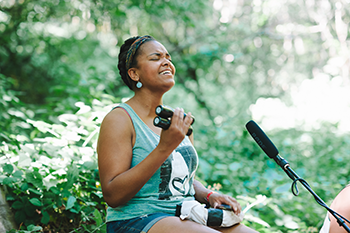 After enduring all this, in 2005, Vice was favored with a kidney transplant, allowing her dreams to finally pick up where they left off.
As she began to pursue a career in filmmaking, Liz left her church and began to attend Portland's revered Door of Hope, where she regularly sang for the worship team.
On one Sunday morning, she was called to sing a solo in front of the entire church, foretelling her coming career in music.
"I remember how nervous I was. It just felt like all the pores in my body opened up and then it was just me in a room alone and I was singing to Jesus," says Vice. "When the song was over, I realized I was in front of a congregation. Afterward, one of my friends came up to me and asked 'What was that?' She was teary and I said 'I don't know.' That was kinda the beginning of the beautiful journey."
Eventually collaborating with her pastor Josh White, Vice whipped up her debut 10-track LP, There's A Light, a soulful, enrapturing experience that earned her a heady comparison to singers like Adele and Mavis Staples.
Now, on tour promoting her latest album Save Me and racking up all-star musician friends along the way, Vice is finally living out the dream she never envisioned.
Take that, kidney failure.
Hailey Johnson studies at the Lighthouse Christian Academy in West Los Angeles.