By Mark Ellis —
The fuse to light the powder keg that is the Middle East continues its slow burn, as Israel's enemies mass huge stockpiles of weapons in Syria and Lebanon pointed alarmingly at the Jewish people.
"The combined territories that Iran and Hezbollah controls in Lebanon and parts of Syria is the largest military base in the world right now," U.S. Rep. Mike Gallagher told radio host Hugh Hewitt on February 14th.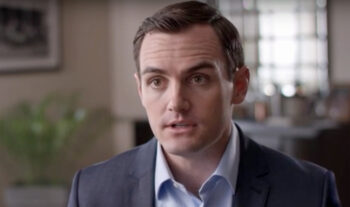 Rep. Gallagher serves on the House Armed Services Committee. He also spent seven years as a Marine on active duty as a counterintelligence/human intelligence officer in the Middle East and North Africa and aided General Petraeus's Central Command Assessment Team.
He believes the biggest story in the Middle East in the last six years has been the rise of the Iranian-Russia axis.
"The Iranian threat network has advanced across the Middle East," he observes. "Certainly in places like Lebanon, Hezbollah has transformed hundreds of villages into military strongholds, effectively conscripting human shields who will become human casualties blamed on Israel."
It is difficult to believe the weapons being amassed are purely for defensive purposes. "They have stockpiled 180,000 rockets and missiles across Lebanon and 70,000 rockets in Syria, that have transformed key parts of Syria into effectively a military base.
"That's 250,000 rockets – many hidden under human shields that they can use to impose an enormous cost on Israel."
Ironically, Americans may have inadvertently bankrolled some of the weaponry. "By the way, a lot of this was financed by money we gave them for the nuclear deal," Rep. Gallagher asserted. "Think about how this threatens Israel!"
"I don't think we fully grasp what the cost of this conflict could be. I don't think the Israelis have faced a threat like this since 1973, maybe ever. I don't think we've grasped the cost caused by Hezbollah's use of human shields. More than 80 % of their assets are in civilian areas."
Rep. Gallagher believes it is an urgent priority for the U.S. to develop a clear end-game in Syria. "We need to aggressively back Israel's moves in Syria," he told Hewitt. "I think we should explicitly recognize Israeli sovereignty over the Golan Heights considering Hezbollah is trying to claim that territory and use that territory as a staging ground for a future attack against Israel.
"They have boasted about their ability to launch an effective ground campaign against Israel, using in part, very sophisticated tunnel networks they have built in those areas."
Hezbollah stated that the recent downing of the F-16 marks the beginning of a "new strategic phase" that will end Israeli violations of Syrian airspace. "I think we should take them at their word and start gearing up for how serious this situation is," Rep. Gallagher warned.
Radio host Hugh Hewitt noted the complexity of Syria. "It is an archipelago of gangs and warlords. Assad has his rule over Damascus and he's a brutal dictator and they are executing people in his prisons. But we have a slice of Syria, the Russians have a slice of Syria, Iran has a slice of Syria…there are gangs everywhere, there is the Free Syrian Army, a centrist Kurdish group, a left wing Kurdish group…and Turkey has invaded and is marching toward us!"
To further complicate matters, U.S. backing of 60,000 Syrian Democratic Forces, which includes a mix of Kurdish forces and non-Kurdish forces, has caused a rift between the U.S. and Turkey.
"We have to find a way – as difficult as it will be — to get on the same page with Turkey," Rep. Gallagher said. "I think we can do that without surrendering our support of the Kurds as long as we signal that our support for the Kurds doesn't mean support for the PKK. I don't how to make a strategy work in Syria unless Turkey secures their own border."
"We can't allow the Iranian-Russia axis to turn into an Iranian-Russian-Turkish axis. That would be an absolute disaster for us."
Rep. Gallagher says one intermediate goal for U.S. policy should be to deny Iran a land bridge that links their efforts from Tehran through Baghdad to Damascus and Lebanon. "Right now they effectively have that land bridge. I think we should push back aggressively against all advances by Iran and their proxies in the region."
In 2017, Rep. Gallagher worked to get a bill passed sanctioning Hezbollah for their use of human shields. He would like to see the Senate take up the matter as well.