By Tailoni Jenkins —
Even as a child of the Light, Denzel Washington hasn't shied away from playing characters on the screen who are morally conflicted, and his latest collaboration with Nightcrawler director Dan Gilroy is no exception – even as it carries a warning to avoid the enticements of evil.
"God put us together," Washington told the Gospel Herald. "We prayed every day, we read the daily Word every day. Dan and I have been prayer partners in this whole collaboration. We were on the same page from day one. We know Who we work for, and we're just trying to do our best work."
Washington is a vocal Christian, whereas Gilroy maintains a low profile regarding his faith.
In the film Roman J. Israel, Esq., Washington plays a bumbling, autistic lawyer, who is a law genius but socially awkward. The crux of the plot centers on the moment when Israel loses his idealism and sells out to become rich. As cynicism takes over, his life spirals downward.
Just before he's killed by a rival's henchmen, he sees how his life, before giving up self-sacrificing heroics, impacted others positively. The movie is a parable to anyone who has quit pursuing noble goals, whether a disgraced pastor or 1960s activist.
The son of a Pentecostal preacher in New York, Washington once considered becoming a pastor, but he decided he could reach more people through his acting. That might seem an odd choice since his father didn't let him watch movies as a kid, but Washington found that his gift for acting was given by God.
"I speak now and I'm doing what God told me to do from the beginning," Washington said. "It was prophesied that I would travel the world and preach to millions of people. It was prophesied when I was 20. I thought it was through my work and it has been. I'm all about the message, to the degree that I know it, and I'm unashamed and unafraid to share it."
Pastor A.R. Bernard, senior pastor of Christian Cultural Center in Brooklyn, New York, helped him understand his calling, Washington said. Pastor Bernard spoke to him from Daniel chapter 10: "God puts leaders in place for a reason and a season… There's a reason, you may not like what's going on but the Boss has a reason."
The 62-year-old actor has won two Academy Awards and has a long list of credits dating back to the 1970s that include Cry Freedom and Malcom X. While filming a T.V. movie, Washington met Pauletta Pearson, whom he married in 1983. The couple reside in Los Angeles and have four children.
About his latest role, Washington said he was drawn to the moral and psychological complexities of Israel.
"He is Old Testament, he knows the law, but, not to say he doesn't have faith, but he has faith in the law," he said. "His conviction was through the law."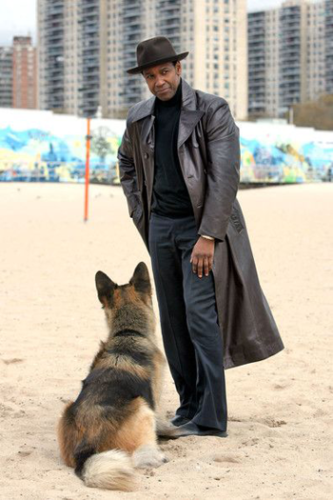 If he doesn't balk at depicting evil on the screen, Washington also doesn't falter from being a spokesperson for clean-living and loving God.
"I pray for your generation," he said. "What an opportunity you have! We're addicted to (cell phones and social media). Don't be depressed by it because we have to go through this, we're here now. You can't put that thing back in the (Pandora's) box."
The information overload can muddle our thoughts and crowd out God, he noted.
"It is so difficult to trust that Jesus died for our sins because the mind never shuts off" with the constant influx of images and sounds, he said. "It's accelerated now, it's on steroids, it's moving so fast that it's almost impossible to keep up. What is the long, if not short-term effect of too much information?"
Washington is also distressed by the political polarization exacerbated by the last election.
"I would say to (this) generation: Find a way to work together because this is a very divisive, angry time you're living in, unfortunately," he said. "Because we didn't grow up like that."
If you want to know more about a personal relationship with God, go here
Tailoni Jenkins studies at the Lighthouse Christian Academy of Santa Monica.