By Mark Ellis —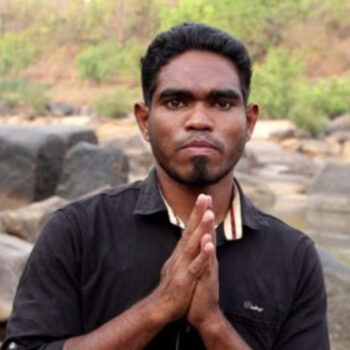 He came from a Hindu background and was involved in idol worship and practiced all the Hindu rituals. His animosity toward Christians was strong, but then Jesus began to soften his heart.
"I was a devoted Hindu and had hatred towards Christians," Amit Mallick recounted to Biglife. "I used to get very angry whenever I would see Christian people gathering to worship the Lord."
His mother suffered from a terrible illness that resisted treatment. "Being Hindus we tried every possible ritual and sacrifice to heal my mother, but nothing and no one could help her."
They took her to many doctors, but they could not diagnose her illness and the medicines they prescribed were ineffective. The family could not afford to take her to better hospitals because they lacked the money.
Eventually Amit's mother passed away.
When Christians who lived nearby heard about her passing they encouraged the rest of my family to believe in Jesus.
"My father wanted to test the Christian people to find out more about Jesus and their claim that He can heal," Amit told Biglife. His father attended a group in a nearby house that was led by Brother Thomas.
Something remarkable happened to Amit's father when he attended the gathering of believers. He experienced the peace that surpasses all understanding!
"My father experience great peace that day and he left with the feeling that if we had believed in Jesus perhaps my mother would not have died. On that very day, my father repented and turned to Jesus as his Savior." He was born again!
Amit's father stopped worshipping Hindu idols and began to encourage Amit to listen to the Word of God. "I paid no attention to my father and continued to indulge in idol worship. Seeing my stubbornness, my father somehow convinced me to come with him to the group."
When Amit attended the small fellowship of believers, he too was touched by the Spirit! "For the first time in my life, sitting among Christians I felt refreshed. When the worship started, I felt touched directly by the Lord. I was very moved and began to seek the Lord in earnest," drawn by the power of Jesus' love.
Amit continued to attend the group, but always sat in the back. Then one day he felt the Lord telling him to stand closer to the front during the worship.
As he moved toward the front, the power of the Word and the Spirit fell on him. "That was the day I finally surrendered to Jesus. I gave up all my Hindu practices, drinking and smoking and began to grow in the Lord."
Brother Thomas guided him in his early tutelage about the faith. In 2008, Christians were scattered in his area as severe persecution broke out against them. "When it was possible, Thomas came to encourage all of the believers and helped us remain strong in our faith," he told Biglife.
Amit remains resolute in his belief, despite the pressures. "Though I face many difficulties from time to time, I overcome by the power of God. The Lord has given me a gifting as a worship leader and a vision to use this gift to reach youth everywhere."
To learn more about a personal relationship with God, go here
 To know more about Biglife's ministry in India, go here