By Mark Ellis —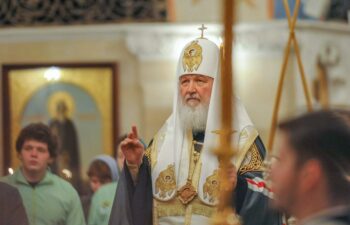 Patriarch Cyril, the head of the Russian Orthodox Church, warned that the end of the world is approaching and urged society to rally in this "critical time."
Cyril, born Vladimir Gundyayev in Leningrad, is a Russian Orthodox bishop. He became Patriarch of Moscow and all Russia and Primate of the Russian Orthodox Church in 2009.
He stunned his audience when he said the coming apocalypse "is already visible to the naked eye," according to The Moscow Times. His remarks were made at Moscow's Christ the Savior Cathedral on November 20th.
Bishop Cyril urged society to unite if it wants to prevent the world from slipping into "the abyss of the end of history."
"Today is not the time to rock the boat of human passions," he added. "Today is the time to rally all healthy forces."
He urged the church and other segments of society to come together "because we are entering a critical period in human civilization."
Cyril created controversy in 2016 when he blamed the rise of ISIS on the world's "godless" embrace of homosexuality.
"[ISIS] is creating a civilization that is new by comparison to the established one that is godless, secular and even radical in its secularism," the Russian Orthodox Church leader said.
"We can have parades for the sexual minorities — that is supported — but a million French Christian protesters defending family values are broken up by police," he added, referring to LGBT marches in Europe at the time.
Cyril said the "godless civilization is reaching maturity," and contended that liberalism fostered an environment for young people to join extremist groups.
"Look how they (the West) build the world — an unholy world — but we invite you to build God's world. … And they (ISIS supporters) respond to that; it is for this they give their lives," he said.
In February 2016, he agreed to a historic meeting with Pope Francis, the first one between the heads of the two churches following their split over a millennium ago.
The two leaders met at José Martí International Airport near Havana, Cuba, and signed a 30-point joint declaration, including their hope for re–establishment of full unity, decrying the persecution of Christians in the Middle East, and urging an end to the Syrian Civil War.