By Mark Ellis —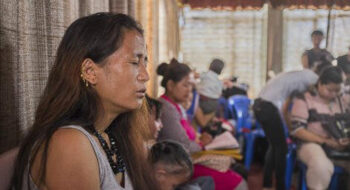 Nepal's president signed a bill that effectively bans evangelization, religious conversion, and the 'hurting of religious sentiment.'
The new law was signed October 16th by Nepali President Bidhya Devi Bhandari, according to a report by Christian Solidarity Worldwide.
The Bill was passed by the Nepali parliament in August. Human rights defenders had appealed to the president, urging him not to sign the Bill into law.
Anyone convicted under the new law, including foreign visitors, could face up to five years in prison for seeking to convert a person or "undermine the religion, faith or belief that any caste, ethnic group or community has been observing since sanatan [eternal] times."
Anyone who "hurts religious sentiment" also faces up to two years in prison and a 2,000 rupee fine ($19).
The bill does not mention any specific religious group but bears a striking similarity to Pakistan's blasphemy law, which has been used to harass Christians.
Nepal is approximately 83 percent Hindu, 8 percent Buddhist, with Christians making up just over one per cent of the population, according to the Joshua Project.
In 2016, eight Christians in Charikot were arrested in Nepal and charged with forcible conversion after sharing a comic book about Jesus with children, according to Alliance for Defending Freedom.
Pastor Tanka Subedi, chair of the Religious Liberty Forum Nepal (RLF) said: "We are deeply saddened that this Bill is now law. Our appeals to the president and other policy makers to amend this have been ignored. Nepali government have taken a regressive step as this law severely restricts our freedom of expression and our freedom of religion or belief".
Nepal's constitution specifies that the Hindu faith shall be protected by the state. Moreover, Article 26 (3) of the constitution restricts religious conversion and the free expression of one's faith.
The Criminal Code Bill signed October 16th was among a set of bills meant to align Nepal's penal code with the constitution.
"We have seen how anti conversion laws in India and blasphemy laws in Pakistan are used to fuel religious tension and target religious minorities," said Mervyn Thomas, head of Christian Solidarity Worldwide.
"We urge the Nepali government to repeal this unjust law and amend Article 26 (3) of the constitution as they both curtail the right to freedom of religion or belief and undermine Nepal's commitments under international law, a contradiction made even more striking as Nepal assumes its seat on the (U.N.) Human Rights Council."
To learn more about Christian Solidarity Worldwide's work, go here