By Mark Ellis —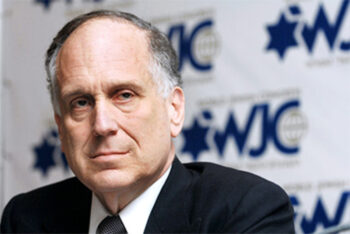 With ominous clouds surrounding Israel that seem like they may portend a storm, at least one prominent Jewish leader continues to promote a peace deal with the Palestinians that would elevate them to statehood.
"I believe deep in my bones that a two-state solution is still within reach," Ronald Lauder, the head of the World Jewish Congress told the Jewish Voice.
Lauder is the former U.S. Ambassador to Austria and the youngest son of Estee Lauder. He is also known for his philanthropy in the Jewish world.
He feels a sense of urgency about such a deal, which imagines an independent State of Palestine alongside the State of Israel, west of the Jordan River. "It remains a vital national interest, not just for Israel, but for the Jewish people more broadly. Given current demographic trends, inaction is simply not an option," he said.
For decades, there have been diplomatic attempts to secure lasting peace, but they have all failed. The most recent initiative was led by John Kerry, the U.S. Secretary of State in 2013-2014, but his efforts also proved futile.
Lauder appears undaunted. "With common economic and security interests binding all sides, and a palpable shift in the Arab world's attitudes toward Israel, there has never been a better time to achieve a deal," he told Jewish Voice.
"I am confident President Trump will make significant progress in the months ahead."
Lauder is also cautiously optimistic about modest changes he sees at the U.N. "Winston Churchill famously hoped that the United Nations would be a 'true temple of peace.' But for much of its history, it has instead functioned as an anti-Israel political cabal. Thankfully, that seems to be slowly changing.
"The new secretary-general, Antonio Guterres, addressed the World Jewish Congress conference in May, and he assured us that he will do everything in his power to reverse the international organization's history of anti-Israel bias. And the new US Ambassador to the UN, Nikki Haley, is a breath of fresh air. The UN's culture of hostility toward Israel, cultivated over decades, will be tough to overcome, but I am hopeful that the UN will begin to treat Israel more fairly in the future."