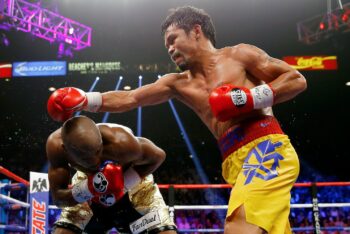 By Abraham Morales —
Floyd Mayweather is better known for dogged defense, precision punches, trash talking and unconscionable greed. He's less known for his relationship with Jesus Christ.
But in fact, the provocative pugilist – who will face Conor McGregor in the boxing ring Aug. 26th – is born-again. It's not something he hides – or pedals.
"God is first in my life," he declared unequivocally.
Mayweather was born in Grand Rapids, Michigan, with seven siblings sardined into one room. Both his mother and father struggled with drugs. His dad was a dealer and spent time in jail. There were heroine needles in his front yard and an aunt died of AIDS, infected by a dirty needle.
Dad was also a boxer and took Junior to the gym all the time. He didn't take him anywhere else – not ice cream, the park or movies. Mayweather felt pretty much on his own, though his dad disputes this claim.
"I basically raised myself," he said, according to Wikipedia. "My grandmother did what she could. When she got mad at me, I'd go to my mom's house. My life was ups and downs."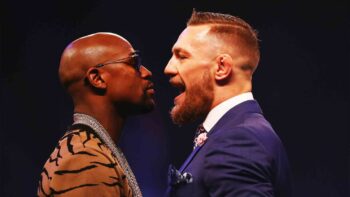 Boxing became Mayweather's safe haven, a place where he could forget the sadness of his life and release his frustrations with aggression. He developed uncommon speed and a sixth sense of ring awareness that accelerated his rise in the boxing ranks.
He dropped out of high school and won 84 out of 88 amateur matches. Since going pro following a bronze medal in the 1996 Olympics, he hasn't lost a fight and has surpassed the likes of Mohammad Ali and Mike Tyson as a five-division world champion.
His nickname as an amateur was "pretty boy." He was so good defensively that opponents had trouble landing punches, leaving him scar less. But Mayweather dropped this moniker in favor of "money." He posts videos of himself counting rolls of money and boasts unabashedly about his money.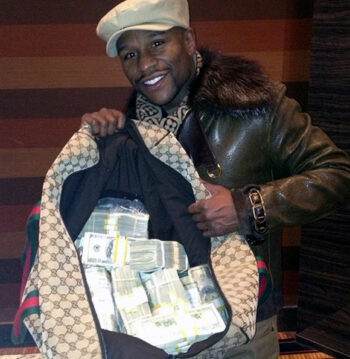 "I got a 14-passenger jet. Got to give them another reason to hate, but I will motivate the people that are ambitious and want to be winners in life," he wrote. "I'm materialistic, and I'm motivated by money. But God is first in my life."
God was in his heart, but he reveled in the roll of the villain. He taunted opponents and glowered at them. He was convicted of beating his girlfriend. He strutted around with the pride of a peacock.
"Floyd Mayweather represents everything that's wrong with sport and celebrity," The Telegraph trumpeted in an article that lambasted him for 16 paragraphs, landing jab after jab. He "worshiped money and himself." He's misogynistic. He's a boring fighter, spending more time avoiding than landing blows. His nickname "Money" sucks, and Australia wisely denied him a visa to visit the country, the article claimed.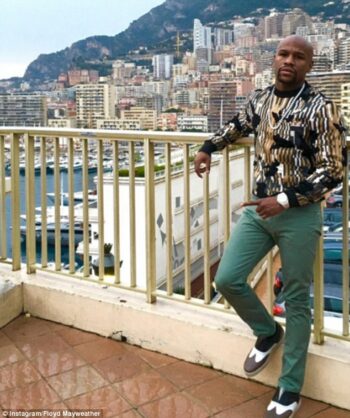 His fight against Manny Pacquiao was "evil versus good." Pacman (a much cooler nickname, the article asserted) was mom-loving and God-fearing, a rags-to-riches kid who became a champion in boxing and won more fans in America than the American Mayweather.
Supposedly, Mayweather retired from boxing in 2015, but he keeps coming back for a bigger and bigger payday. Against Pacquio, he took home a cool $220 million. Now in the freakshow known as the McGregor-Mayweather matchup, he'll pocket an estimated $100 million.
McGregor is a mixed martial artist. He's used to using kicks, judo, wrestling, anything to beat his opponent. How will he fare with boxing's rigid rules? How will he knock out Mayweather after 49 other fighters in 21 years have failed? But maybe McGregor is just as drawn to the payday as Mayweather, so the result and the bragging rights won't matter.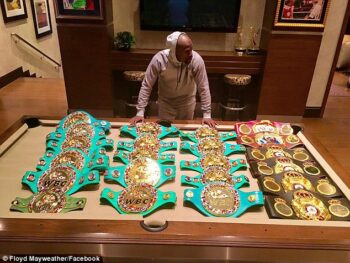 Mayweather owns a 22,000-square-foot custom mansion in Las Vegas. He gets $1,000 haircuts twice a week. According to Forbes, he's approaching the $1 billion mark.
The excesses of wealth don't seem to present a moral dilemma to Mayweather. He parades his lavish lifestyle and even thanks God for it.
"The difference between me and any other fighter is they're talented, I'm God-gifted," he said in the Christian Post. "God gives certain individuals gifts and boxing is one of my gifts. I beat all odds. My dad went to prison and is my best friend. We talked about getting into the drug game. I was say 16, then something told me no. But he did it. He's dead now."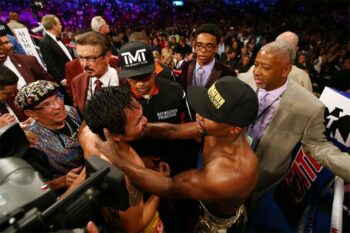 So behind the bling and the braggadocio, there is a heart that looks to God with gratitude.
"For Floyd Mayweather it's more than just nice automobiles, more than just mansions, millions of dollars. It's about giving back," Mayweather said. I love giving back to the less fortunate. I give back to the public schools because that' what I come from, a hard rough life."
Abraham Morales studies at the Lighthouse Christian Academy in Santa Monica.