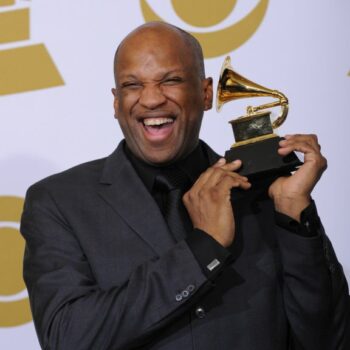 By Kayla Armstrong —
Gospel music legend Donnie McClurkin struggled with homosexuality, following a childhood marred by molestation and rejection.
Born in Amityville, South Carolina, Donnie was one of 10 kids growing up in poverty. His "living hell" started at age 8, when his 2-year-old brother got run over and killed by a car.
Mom blamed Donnie. The tyke chased Donnie into the street in front of their house. Donnie watched in horror as a car barreled into his brother, who bounced off the bumper and disappeared beneath the vehicle.
"You killed my baby!" his mom shrieked after the funeral.
From that moment in his life, Donnie began to suffer depression and his family fell apart. While staying at an uncle's house, he was raped at age 8.
"It was a thing that made my life a living hell," he recalls. "An 8-year-old can't handle it, and it sparks something in an 8-year-old that's not supposed to spark until puberty. Things start popping in an 8-year-old mind that doesn't happen in normal 8-year-old minds, because the Pandora's Box was opened, and you can't close it after that."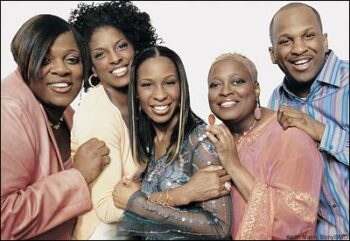 He was raped a second time at age 13, this time by a cousin.
His experience in school was difficult as well. He had webbed hands and feet that made him clumsy for sports. He couldn't dribble, hit or catch a ball.
But he liked singing, sang often in church, and learned to play the piano.
At home, domestic violence was a regular occurrence. The police visited his family on several occasions. His older siblings started using drugs and arguing with mom. He acquired effeminate habits, which he blamed on being surrounded by a "sea of women."
Today, Donnie has declared himself "ex-gay," which he credits to a powerful deliverance from God.  He is engaged to be married to fellow musician Nicole Mullen, according to numerous reports.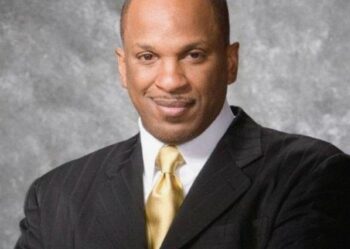 Famous for his songs "Stand" and "We Fall Down," Donnie has won three Grammy Awards, ten Stellar Awards, two BET Awards, two Soul Train Awards, one Dove Award and one NAACP Image Awards. He is one of the top selling Gospel music artists, with more than 10 million albums sold worldwide. He is currently the senior pastor of the Perfecting Faith Church in Freeport, New York.
Homosexuals were disappointed when Donnie refused to be acknowledged as one of their own. In 2001, Donnie wrote about his homosexual attraction in a blog post.
"I was not born with these sexual tendencies. It wasn't chromosomal and had nothing to do with my DNA," he wrote, according to the Daily Mail. "These tendencies surfaced because a broken man thrust an 8-year-old boy into this whirlwind. Thus my first sexual relationship was with a man. Before I could ever know the purpose or pleasure of a woman, have my first date or even my first kiss, the wound was inflicted, and the seed was planted."
Since then he has publicly and repeatedly made declarations that homosexuality is sin and encouraged people struggling with such urges to seek deliverance and forgiveness from God. Homosexuals have called such statements "homophobic" and even successfully pressured the March on Washington memorial concert in Washington, D.C., to disinvite him in 2013.
But perhaps Donnie's rhetoric hasn't been as inflammatory as alleged. While standing firm on the Word of God, he has also been conciliatory: "There may be some who will read this and resent some of the statements made about homosexuality. I understand," he wrote on his blog post. "Some have no desire to change this lifestyle. But there are countless numbers of people who are not happy in this lifestyle and want to be freed from it.
"They were thrust into homosexuality by neglect, abuse and molestation, and want desperately to live normal lives and one day have a happy home and family. For them, I write this without apology, knowing that I've been through this and have experienced God's power to change my lifestyle. I believed that I was meant to be a whole man, made for one woman, and God brought it all about. I am delivered, and I know God can deliver others too."
Although he has two children and a grandson, he never got married. To CBN, he acknowledged fear as the factor keeping him from getting married. "The wife aspect is the void, that's the void I'm looking to fill in this last chapter of my life," he said. "Had I followed the principles of the kingdom, I would be fulfilled at 57 with no void.
"I'll tell you I'm frightened. My fear factor has paralyzed me from going forward in relationships and I think that this time I'm going to wade through the fear in order to finish my life," he added. "I don't want anything to fail. I hate failed relationships. Fear is false evidence appearing real, and it appeared so real to me that I denied myself that. Now at this stage and age I want to go for it, I want to go for the golden ring."
Homosexuality has not been Donnie's only struggle. In 1990, he was diagnosed with leukemia. According to encyclopedia.com, he shunned medical treatment and instead submitted to a month of intensive prayer, after which he was found healed and free from symptoms.
But then again cancer attacked in 2014 when he got surgery to remove malignant cyst on his vocal chords, according to EEW Magazine.
Amid the turmoil of his childhood, gospel music provided solace. His aunt sang background vocals for legend Andrae Crouch. Donnie founded the McClurkin Singers when he was only a teenager. It evolved into the New York Restoration Choir.
He was hired, as an associate minister, at Marvin Winans' Perfecting Church in Detroit, in 1989, a position he held for more than a decade.
His LP in 1996 went gold shortly after being featured on Oprah Winfrey. Then he hit double-platinum success with his album "Live in London and More."
His "Psalms, Hymns and Spiritual Songs" topped Billboard charts in 2005 across various musical genres. He branched out in radio and television ministry until Donnie, also a powerful preacher, was called to the Perfecting Faith Church.
"I've been through this and have experienced God's power to change my lifestyle," he said. "I am delivered and I know God can deliver others, too."
If you want to know more about a personal relationship with God, go here.
Kayla Armstrong studies at the Lighthouse Christian Academy in West Side Los Angeles.