By Mark Ellis —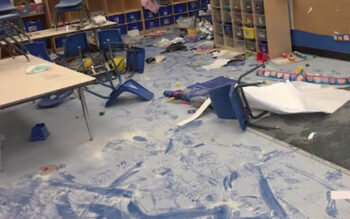 Four boys and a girl aged 7 to 11 broke into an L.A. area daycare center under the cover of darkness and trashed the place, causing over $30,000 in estimated damages.
The children invaded the World Tots L.A. daycare center in San Pedro on February 26th and began to wreak havoc. The damage was not discovered until the next morning at 6:30 am, according to the L.A. Times.
Their evil spree included obscenities scrawled on walls, ink toner sprayed throughout the premises and inside filing cabinets, and fire extinguishers discharged.
Furniture, opened baby formula, busted mirrors, and diapers were strewn across the floor. Kid's toothbrushes were thrown into toilets, snacks and electronics were stolen.
They even set a small fire inside the facility, Chief Thomas Gazsi of the L.A. Port Police told The Times. "It was simply disturbing and quite malicious in nature," he said.
Authorities believe the children may have had some knowledge of the facility. "This wasn't some random thing they decided to do," Gazsi told The Times.
After the damage was discovered, the center was forced to close its doors for a week to repair the damage.
The authorities gathered enough evidence for them to identify the children, who have been detained and most of the stolen items were recovered, Ganzsi reported.
The children do not attend the daycare center themselves, but live nearby. Three of the children are members of the same family, according to The Times.
The children will be charged as juveniles and will also receive counseling.
"When you are looking at the world for dangers, you don't think you should be watching out for 7-year-olds, you just don't," Julie Huerta, president of the local YWCA, which operates the nonprofit daycare facility, told The Times.
"It's hard to imagine what was going through their minds," she said.