By Mark Ellis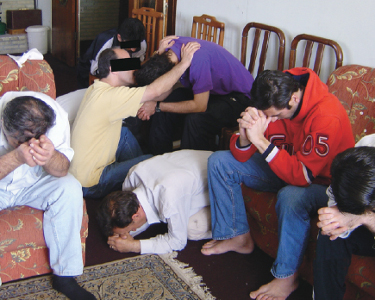 One of the most important underground church leaders, who ministers in multiple countries and trains new pastors by the dozens, is in urgent need of heart surgery, according to an appeal made by Final Frontiers Foundation.
"In the years I have known him he has been thrown off a three story building to the sidewalk below," says Jon Nelms, president of Final Frontiers Foundation. "He has been shot, stabbed and sustained multiple tortures. His wife and daughter too have been kidnapped, hurt and raped and shot, yet in all that he and his family have never strayed from their calling."
Pastor Omar* could have fled his country for the sake of his and his family's safety, but he chose to remain in the Middle East so the Church is not weakened.
Now he faces a serious medical crisis. "His heart is failing and he needs immediate care including open heart surgery. Once the problem is corrected he should have many years of service left," says Nelms.
This surgery could cost hundreds of thousands of dollars in a hospital in the United States. However, Nelms estimates Pastor Omar's surgery and postoperative care in the region will be approximately $8000.
"As you can imagine the Church there is helping with all they have to give. As Paul would say, they are giving in spite of their poverty (suffering, abandonment, hunger, joblessness, etc.) For the sake of the Body that so desperately needs this member healthy and restored, I ask you to help us with this critical need."
Pastor Omar has been arrested numerous times, tortured by the government and by terrorist groups. "His daughter and wife were kidnapped a couple years ago and his daughter was raped in front of the mother," Nelms recounts.
"Their church was burned when somebody threw a Molotov bomb at it. His daughter happened to be there the night it happened. She and a lady ran across the street to try and put the fire out." When the terrorists saw the pastor's daughter attempting to put out the fire, they shot her, and a bullet lodged near her spine.
"The hospital refused service because she was a Christian," Nelms says. Thankfully, alternative care was found for her and she is alive today.
Pastor Omar has assisted Bible smuggling throughout the region. As a result of the power of the gospel to change lives, "some of our enemies have become our brothers," Nelms reports. "They are reliving the life of the Apostle Paul."
In the last few years Nelms has seen 2000 believers martyred for the faith and 50 percent of their church plants destroyed.
At one underground youth group prayer meeting somebody informed on the group and three men came in killed 48 young people – all who had been in attendance.
"Last year, 60 Christian teens were captured and were going to be used for harvesting of body parts. By God's grace we got a lot of those kids released," Nelms recounts.
Final Frontiers Foundation raises support for national church planters in 89 countries. Since their inception 30 years ago, they have helped to plant 55,000 churches. "In 2015 we averaged a new church being started every two minutes," Nelms says.
*name changed
To help with Pastor Omar's surgery, go here