By Mark Ellis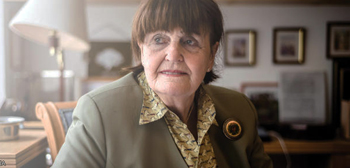 Baroness Caroline Cox, a member of the House of Lords and important voice in Parliament for religious freedom throughout the world, narrowly avoided an attack by armed Islamist Fulani herdsmen on November 14th.
Baroness Cox and Bishop Stewart Ruch III were visiting Jos Plateau State where Islamist cattle herdsmen have become as great a threat as the infamous terror group Boko Haram.
Only thirty minutes after Cox and her team left the village of Lo Birin, armed men came into the valley, the only way out of the village, and started shooting at vehicles. Many of those wounded or killed were young people driving back from a wedding.
Rev. Gyang Boyi witnessed the attack and believes the attackers were targeting Baroness Cox and her group.
"The Fulani Herdsmen killed the traditional ruler [in July, in a similar ambush]. We thank God you escaped this," Rev. Boyi told Cox, according to Global Christian News.
Cox's team of eight included David Thomas, Corinna Loges, Sam Maison and Helen Gilbert, with Humanitarian Aid Relief Trust (HART).
A large contingent of Fulani herdsmen, all dressed in black, attacked four villages last May. Rev. Chollom Sale was targeted and killed during the attack. They specifically surrounded the Pastor's home killed the Rev Sale and destroyed the house.
Baroness Cox and Bishop Ruch III met the remnant of the villagers in Lo-Birin and listened to the stories of how they lost their community. "It was around 8 am when a group of Fulanis attacked all four villages at the same time, there seemed to be hundreds of them. They were all dressed in black and they were chanting, 'Allahu Akbar!' as they attacked the villages," Rev. Boyi told Global Christian News.
"They were shooting with guns and then they followed people fleeing and killed mostly the elderly who could not run and women and children. Over 20 people were killed in the attack."
"We made frantic phone calls to the army but they came hours after the attacks," a resident added.
In all four villages, houses were pulled down to their foundations and burned in an effort to discourage the Christian community from rebuilding.
Asked for her reaction to her brush with death, Caroline Cox expressed more concerned for the Christian in Jos. She has visited this area many times and has supported the church during their persecutions.
"We count it a privilege to visit with Christians who are on the frontline facing all kinds of challenges everyday. Many in the West have no idea what kind of persecution many Christians go through. You are an example of living faith. We thank you for holding the frontline of faith and freedom for the rest of the world," she said.
To find out more about the Humanitarian Aid Relief Trust, go here