By Mark Ellis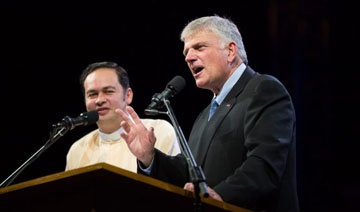 Over three days, 170,000 people crammed into the Yangon Love Joy Peace Festival with Franklin Graham and more than 7,600 made decisions for Christ.
Christians comprise a small minority of the heavily Buddhist population, and Open Doors ranks the persecution level as "severe," with radical Buddhist monks intensifying their campaigns against religious minorities and laws introduced for the "protection of race and religion" in 2015 that create obstacles for conversions and religiously mixed marriages.
Yet thousands converged on the Myanmar Convention Center grounds for three meetings held November 18-20, with crowds building each night. They filled plastic chairs set up in the gigantic, outdoor square in front of the convention center.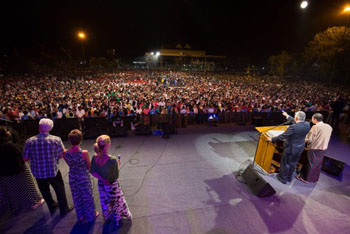 Thousands more viewed the proceedings on huge screens in overflow areas. People filled the steps and outdoor balconies of the convention center itself, and even more stood or sat in grassy areas outside the property.
"We are overwhelmed at the manifestation of the Lord's hand. Here is the manifestation that the Word of God does not change." Tin Maung Tun told the Billy Graham Evangelistic Association (BGEA).
Franklin Graham first visited Myanmar in the early 1980s, when he met Maung Tun. The two have kept in touch through the decades, and that pastor, known affectionately as Uncle Ronnie, served as one of the patrons of the Festival.
Monthly prayer rallies were held for 17 months before the event.
The day before a children's rally in October, the venue was completely flooded due to an unusual late-season torrential rain.
But prayers were answered and the next day the venue was dry, allowing some 16,000 children to hear the Gospel. More than 1,400 received Christ that day.
Many were surprised by how many responded to the three-day festival. "This is more than we expected. The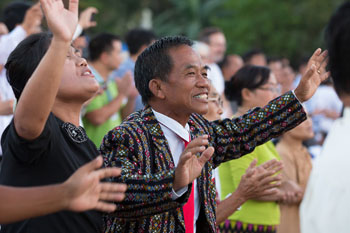 Holy Spirit is really here working and using Franklin. So this is, I think, God's amazing grace for our people, and we hope that because of this, our country will be blessed richly," Rev. Saw Mar Gay Gyi told the BGEA.
Yangon Kachin Baptist Church had sent members door-to-door in a rural area near Yangon to invite people to the Festival, and on the final night, they brought 60 guests on a chartered bus.
"Many of you here tonight are going through your life blindly," Franklin Graham said during the final night of the Festival in Myanmar. "And if you don't change the direction of your life tonight, your life could be destroyed. But tonight you have a chance to come to Jesus Christ. He will cleanse your heart. He will guide you and direct you. And if you're willing to believe by faith in Jesus Christ tonight, He'll forgive your sins. You can have a new life and a new beginning."
Some who received Christ told their counselors that they have never been inside a church building before. "It seems that many in Yangon are spiritually hungry, and even people who know nothing about Jesus are hoping to find fulfillment at this Christian Festival."
Others have heard the Gospel but never asked Jesus to be their Savior and Lord. One teenage girl said she has attended church every Sunday, but finally committed her life to Christ at the festival.
A 20-year-old woman said she had doubts about her salvation and had prayed multiple times to receive Christ—but wasn't sure if she was really saved. After praying and talking with a counselor, she said she finally understands that she belongs to Jesus.
For more about the Billy Graham Evangelistic Association, go here
Pray for Myanmar: Pray for fortitude and faithfulness under persecution. Pray that the Bible may retain its rightful place in the affections of both leaders and church members. Pray for revival among third- and fourth-generation Christians. Pray that conflict with the central government will not cause bitterness, hatred of other peoples, compromise of faith, or blunting of a missions vision. Pray for reconciliation and unity among Christians. Pray that God would set captives free from Buddhism, the power of demonic spirits, astrology, superstition and the occult. Pray for significant breakthroughs in every people group and demonstrations of the power of Jesus. Pray also for conversions among the 750,000 Buddhist monks. Pray for the missionary vision of the church to be sustained, supported and expanded and then bear much fruit. Pray for an increase of Bibles and Christian literature. Pray for the production of Christian radio programs and provision of equipment. (Operation World)