By Aimee Herd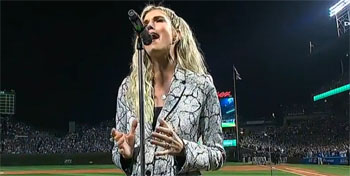 After 9-11, all the MLB teams incorporated a portion of "God Bless America" into their 7th-inning stretch routine, but 15-years-later, many teams have dropped that practice.
Not so during the 2016 World Series—in fact some remarkable people stepped up to lend their voices this week.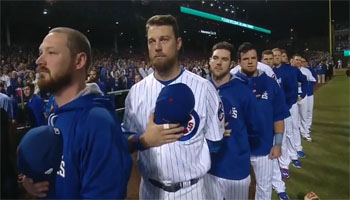 Julianna Zobrist, wife of Chicago Cubs left-fielder and cleanup-hitter, Ben Zobrist, sang a powerful rendition of "God Bless America" before game 4 in Chicago. Julianna is a Christian pop-singer and was also featured this week on Fox and Friends, singing a shortened version of the same.
Wayne Messmer—who has sung the National Anthem prior to various Chicago sports games for years, and who (20 years ago) survived a gunshot to the throat (a miraculous story in itself)—returned to belt out the Kate Smith favorite and the National Anthem in game 5.
And that game the Cubbies won—happily extending the World Series through at least tonight's game 6.
Add to that the fun of different celebrities such as Vince Vaughn and Bill Murray revving up the crowd and leading the baseball 7th inning tradition of "Take Me Out to the Ballgame," and you have a welcomed distraction for America from the daily droning of election headlines.
So, whether or not you're an Indians or a Cubbies fan, grab your family members and some popcorn, and enjoy a little healthy diversion—and watch history-in-the-making—in tonight's (and possibly tomorrow's) World Series.
For more on Breaking Christian News go here