By Mark Ellis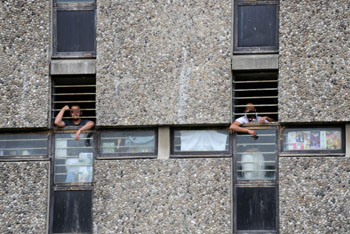 A French program to de-radicalize Muslims within the prison system has gone awry after one in the program attacked authorities and several others had to be transferred because they posed immediate threats.
The de-radicalization initiative was announced with enthusiasm by Prime Minister Manuel Valls following the January 2015 Islamic terrorist attacks in Paris.
The program, designed by French sociologists, focuses on the background of each Islamist inmate and features discussion groups where various opinions are "respected" and the attempt is made for greater understanding of their alienation, according to a report by The Clarion Project.
Eighteen inmates at Osny prison were undergoing the program. But on September 4, Bilal Taghi, 24, who was part of the program, attacked two wardens with a 6-inch, home-made spike, wounding one of them in the neck, face and arms.
Taghi then made a heart shape on the wall with his victim's blood and began to pray to Allah, according to The Clarion Project.
When a security team arrived he lunged at them with the spike before he was stopped by a plastic bullet.
An investigation revealed that the attack on the warden was planned with four other inmates as an Islamic State-style execution. On September 16, the other four were evacuated from the Osny prison and transferred to other prisons to be placed in solitary confinement, according to The Clarion Project.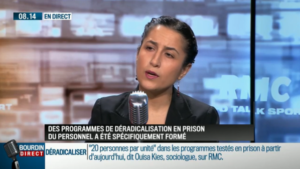 Before these episodes, Ouisa Kies, the sociologist in charge of the de-radicalization program, made the following statement about Islamic radicals in an interview with the Communist Party newspaper L'Humanité:
"We have to understand why they are alienated and use violence against the society they grew up in. We tend to view them as monsters. They are dangerous because they take action, but they are not crazy.
"Jihadists have deeply-held political and religious convictions. We need to listen to those convictions in order to counter them. Some jihadists are ideologists with a rational theory for their struggle, like the left-wing militants of the 1970s. But there are also many young losers, who are fragile and find in the struggle a means to fulfill themselves.
"They have suffered years of social and family violence before becoming violent themselves and turning into delinquents. Media coverage of terrorist attacks creates vocations and incites them to act. The terrorist becomes a hero who has conquered the frustration felt by many young people."
Ahmed El­Hoummass, a warden at another prison, warned at the time that putting radical Islamists together in dedicated units would create a dangerous and explosive situation.
Jérôme Nobécourt, a trade union official, described the de-radicalization program as "smoke and mirrors." Both Nobécourt's union, and another union are demanding the closure of the de-radicalization unit at Osny and have called for a blockade of the entrance to the prison until their demands are satisfied.
For the original report by The Clarion Project go here