By Mark Ellis —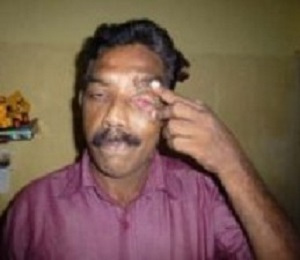 Sapru, 48, was brought up in South Asia and became an atheist and ardent communist. "I never believed in Jesus Christ or the Christian religion," he says. He drove a taxi to support himself and his wife, Blessey.
Most of his friends were alcoholics and he became addicted to alcohol as well.
His wife, however, was a strong Christian, a woman of prayer who meditated on the Bible every day — without Sapru's knowledge.
"If I would have seen her praying or reading the Bible, I would not allow it," he says.
Despite her husband's lost condition, Blessey held on to the promises of God and prayed regularly for his repentance.
Once night Sapru got drunk, quarreled with his wife, and severely beat her. He left the house, got into his taxi and sped off into the night.
In his impaired condition, his taxi collided with a truck and he was seriously injured. "My left eye came out and was totally destroyed," he says. "I saw death face to face."
When Blessey heard the news of the accident, she rushed to the hospital with some missionaries, led by Pastor Paul of Bibles for Mideast.
They knelt down before God in the hospital chapel. Blessey read the Bible aloud and cried out to the Lord for healing. "She asked God to give my life back as a new creation," Sapru recounts.
While doctors performed surgery to save his life, Supra had a near-death experience.
"My soul was wandering to get a seat in heaven," he recounts. "The angels would not allow me to enter into heaven but pushed me toward hell."
But because of Blessey's fervent intercession in prayer, Sapru believes Jesus extended his grace and mercy to him.
"Jesus did not allow me to fall into hell, but held me safely in His mighty nail-pierced hands because of my wife's intercession."
The Lord showed him his wife and the prayer team kneeling and praying for him with tears.
When Sapru saw them he was cut to the heart. Then Jesus turned to him and said: Go, be saved and be baptized and live for me with your family.
During the operation, there was a point when Sapru's heart stopped. "The doctors thought of declaring my death," he recalls. "But after a few seconds I started breathing.
"Thank God; now he is alright," one of the doctors said.
"When Jesus allowed my soul to go back to my body, I started breathing," he says.
Then the Lord's voice spoke to him again: It is better for you to enter life with one eye, than to have two eyes and be cast into the fiery hell. Let it be a testimony of yours for witnessing about me.
"I recovered, but my left eye has been totally removed. I don't worry about it, because the Lord wants me to be with Him in heaven without an eye. He loved me, so that He did not allow me to go to hell with both eyes. Praise the Lord for HIS wonderful love!"
"I confessed all of my sins and accepted the Lord Jesus as my personal savior and Lord. Within a few days I was baptized in the water and witnessing about the Lord Jesus Christ along with my family."
Though he only has one eye, he still drives his taxi. His employer, now a believer in Jesus, gave him a car to drive.
"I have two sons. I am so happy to see them rejoicing in the Lord because of my conversion and ministry activities."
If you would like to know God personally, go here