By Mark Ellis
The world was horrified when the Nigerian Islamist group Boko Haram kidnapped 276 schoolgirls from the town of Chibok in 2014. But less coverage has been given to the kidnapping of more than 10,000 boys over the last three years by the terror group and their brutal coercion tactics, forcing children to wage jihad.
The allegations are contained in a stunning investigative report by Drew Hinshaw and Joe Parkinson in the Wall Street Journal (WSJ).
Shortly after the Chibok schoolgirls were seized, Boko Haram attacked six villages in the nearby mountains and rounded up children there, with little media coverage beyond the Nigerian press.
A few months later, the group captured the town of Damasak, and took 300 students, mostly boys, age 7 to 17. The militants imprisoned them in a school, witnesses told the WSJ. Their parents were held in separate rooms. For months, the children were forced to learn the Quran.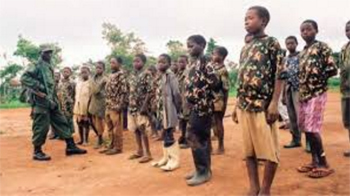 Eventually, Boko Haram ditched the parents and fled with the children.
In the forest outside Maiduguri, Boko Haram ran one of their boot camps for boys. Children as young as 5-years-old learned to handle assault rifles and practice marching. Their weapon instructor was only 15 himself.
"I was terrified if I didn't do it, they would kill me," the teen instructor told the WSJ. He was kidnapped by the radical group in 2014 but later escaped.
"What is happening here in northeastern Nigeria is part of a disturbing rise in child jihadism. Young boys and at times girls are being indoctrinated into violent fundamentalism and used as fighters, suicide bombers and spies," the WSJ noted.
Al Qaeda's branches in Yemen, Somalia and Mali are also using child soldiers. ISIS has used children in combat, suicide bombings and in execution videos in Iraq and Syria.
The WSJ interviewed 16 young Nigerians who escaped the snare of Boko Haram, along with other witnesses, soldiers, researchers, officials and diplomats in Nigeria and Cameroon, who all paint a deeply disturbing portrait.
The boys were sent into battle, often unarmed, frequently numbed by drugs. Many of the boys were beaten and some died of starvation or thirst.
"They told us, 'It's all right for you to kill and slaughter even your parents,' " Samiyu, a former captive, told the WSJ. He witnessed a beheading on the first day of his captivity. He said other boys held down the victim.
"They said, 'This is what you have to do to get to heaven.' "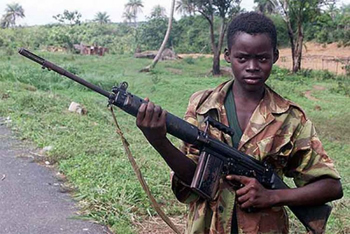 Witnesses said Boko Haram is using passenger vans to move child soldiers through the forests of northeastern Nigeria. Some of the camps have more than 1,000 boys training to fight, with very few adults present, witnesses told the WSJ.
"If you go there, you can see 12-year-olds talking about burning down a village," Fatima, 20, told the WSJ. "They have converted."
In 2013, Abba was a 12-year-old beggar in an Islamic school. Boko Haram gave him a cellphone and asked him to call whenever he saw soldiers pass. "That was the only work I did for them," he told the WSJ.
The army arrested him a few months later with 34 other children, age 9 to 15. Several said they had been given $30 and a keg of gasoline to set fire to their schools.
The following year, Boko Haram began to take larger towns and abduct more boys.
Rachel, 13, testified about a beheading she witnessed. She said several dozen boys from her village tied up a kidnapped man. "They told them they shouldn't have feelings about it," said the girl, who is pregnant by rape and living in a camp for rescued girls, according to the WSJ.
Girls were kept in a separate camp and raped. Many of their rapists were young boys themselves, some of the rape victims told the WSJ.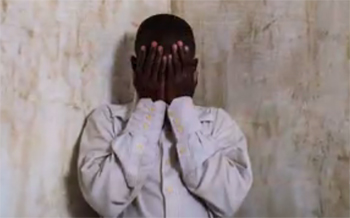 Abubakar, 10, was a babysitter for infants and toddlers kidnapped or conceived by rape. "The children, none older than 4, watched jihadist propaganda videos and rehearsed a game called "suicide bomber" where they ripped open sacks of sand strapped to their torsos," the WSJ noted.
Some of the camps are filled with stolen contraband from military bases and government buildings, including satellite internet terminals, flat-screen TVs, Apple laptops, walkie-talkies, and refrigerators.
In one of the camps, boys were encouraged to watch American war movies and some even cheered for U.S. soldiers, one told the WSJ.
Many of the child soldiers seem to be fearless on the battlefield, although some of that bravery may be drug induced.
In Cameroon, a military unit fought against waves of children who appeared to be drugged, some armed only with machetes, Col. Didier Badjeck told the WSJ.
"It's better to kill a boy than have 1,000 victims," Col. Badjeck said. "It's causing us problems with international organizations, but they're not on the front lines. We are."
During a recent battle in northern Cameroon, more than 100 screaming boys – many barefoot and unarmed — ran toward a position, and most were quickly dispatched, Col. Badjeck said. Soldiers found the opiate tramadol in many of the boys' pockets.
Felicité Tchibindat, who runs Unicef operation in Cameroon, said children as young as six have been trained to carry bombs into markets and mosques. "Children are now become something to fear for these communities," she told the WSJ.
"There's almost an entire generation of boys missing," Mausi Segun, a researcher for Human Rights Watch told the WSJ. "My guess is that a large majority of them will die in the conflict."
For the complete article in the Wall Street Journal, go here
Related: Did State Dept. go easy on Boko Haram due to donations to Clinton Foundation?