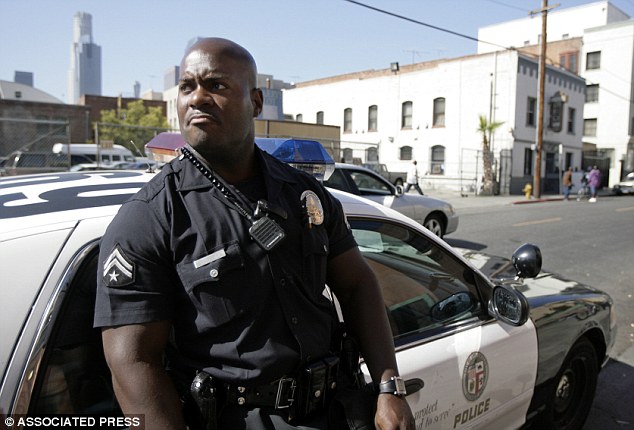 By Michael Ashcraft
For 20 years, he's patrolled the most dangerous, smelliest, grungiest disease-saturated section of Los Angeles, a one-square-mile on the edge of downtown called Skid Row where 2,000 sleep on the streets each night.
And Deon Joseph loves it because he gets to share Jesus. He's never used his gun and has made more friends than arrests. He's started mentoring and self-defense programs and even become a sort of spokesman to city officials about the need to address mental health issues.
"We need to be lights in dark places," Joseph told Liberty University students. "If ever the world needed us to be a light, it's right now."
It's only a 15-minute jaunt from the hipster-dominated financial district of downtown. But for some, the journey to Skid Row is a life of bad decisions that lead to the last way station before death.
"When I was 5 years old, I wanted to be a famous R&B singer," Joseph said. "I did not realize my steps were ordered by God to be on Skid Row. I never thought I would be dealing with crack addicts, drug dealers, loan sharks, pimps and prostitutes."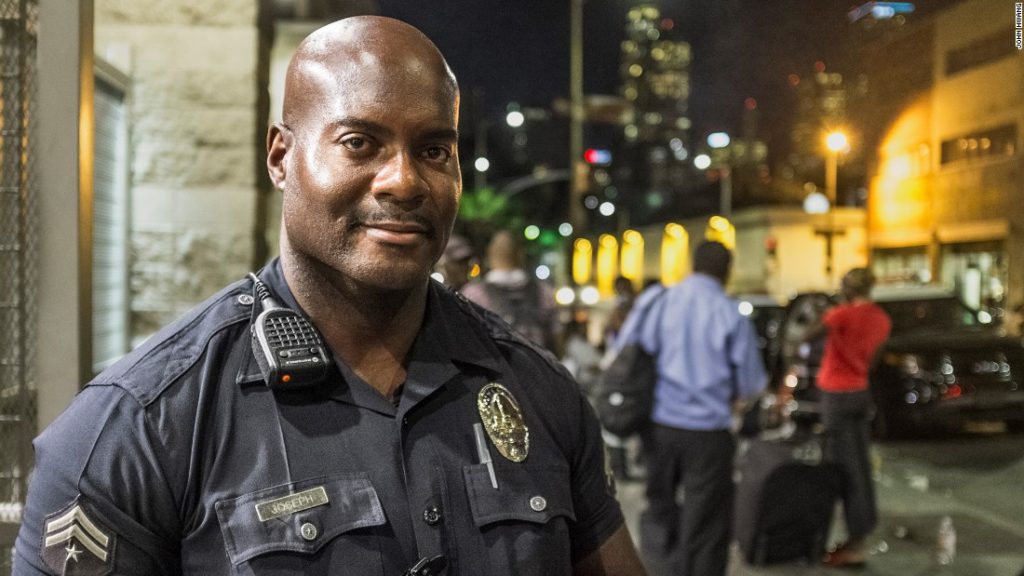 Joseph was born to Christian parents who, through the years, welcomed 41 foster kids into their household. His dad got saved when he mugged a preacher. He married his mom, dug ditches, collected cans, fed the homeless and started a construction business to give work to people like him, who had grown up in the Jim Crow South.
When Joseph finished his LAPD training phase, he volunteered for Central Division, not realizing it would lead him into the heart of darkness.
Skid Row is now being called the "homeless capital of America." It's the product of anti-police policies and NIMBYs (the acronym Not In My BackYard is for homeowners who wish to corral all the trouble-makers into one bad area of LA), Joseph said.
"I came from Venice where you have beautiful women, lattes and fine eateries," Joseph remembered of his first day in Central. "And when I worked in Skid Row, it was as if I tripped and fell into Dante's Inferno or Mad Max's Thunderdome.

"There were rows and rows of people destroying themselves with crack and heroin, beer, having sex on the sidewalk, defecating on the sidewalk with a porta potty right next to them because the gangsters wouldn't let them use the toilet," he said. "The smell was a combination of blood, feet and fish. It grabbed you by the nose hairs and shook you."
Despite the dehumanizing exploitation and the desensitizing constant crime, Joseph fell in love with the beat.
"Why am I in this place that could easily be compared to hades, and I'm comfortable?" he asked his mom. "My mom said, 'Son, if ever you feel comfortable in chaos, it's probably where God called you to be.' On Skid Row I realized I was home."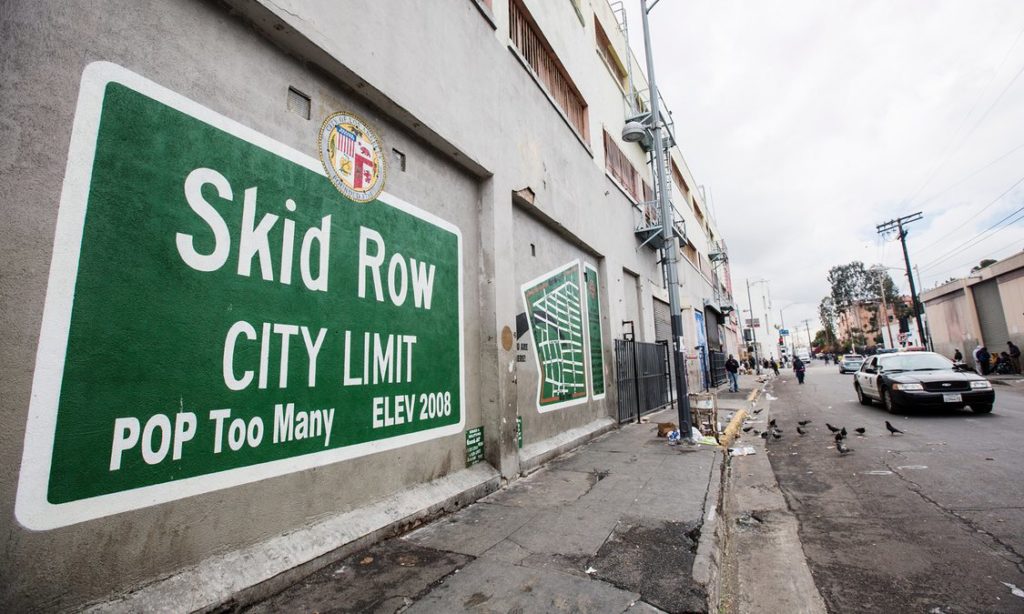 It was never easy though. On his first two months, he worked the front desk where he saw firsthand the mayhem.
"Every five minutes somebody was coming in with their arm broken backwards at 45 degrees, lacerated cheeks, swollen eyes," he said. "One guy came in and his intestines were hanging out. And they didn't want a police report because they were that scared of their attacker. All they wanted was an ambulance to whiz them away to the hospital."
He formed friendships with mentally ill people – only to see them die tragically months later.
One such was "Hurricane Linda," who knocked over desks at the station, ripped out phones and spat on officers. Joseph was nervous the day she came in like the Tazmanian Devil. Spotting him, she directed a laser gaze on him that made him even more nervous.
"You're my baby brother," she whispered. "And today is your birthday."
He breathed a sigh of relief. He would not be a target of her terror.
Over the course of months, they even became friends. He found her dead on the sidewalk, overdosed but not dead from the heroin. She had frozen to death.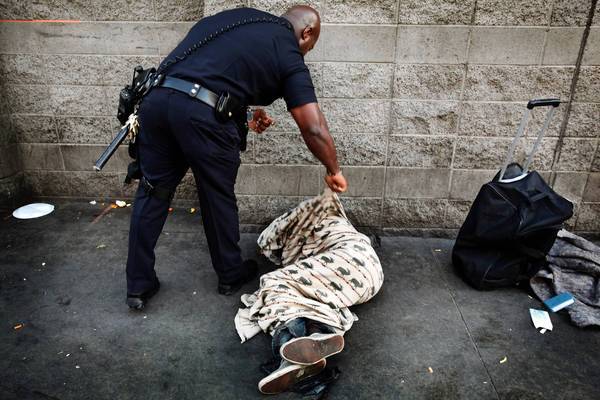 Deeply moved, Joseph wept.
He cried again later over Mimi, who made his acquaintance by jumping in front of his moving patrol car. He slammed on the brakes and narrowly avoided hitting her. She was looking for a lawsuit to score some easy money. "I would sue you, but you're cute," she said.
Out of hundreds of witnesses, only Mimi was brave enough to point the finger at kidnappers a few months later, unafraid of the potential for retaliation.
When Joseph was called on to solve a new homicide, he boasted his friendship with Mimi would be a key to cracking the case.
His partner sighed. Mimi was the case. She had been strangled with a belt while sleeping on the sidewalk.
"Why?" he asked God. "What are you doing to me here, God?"
God impressed this on his heart: Let tragedy motivate you to make change.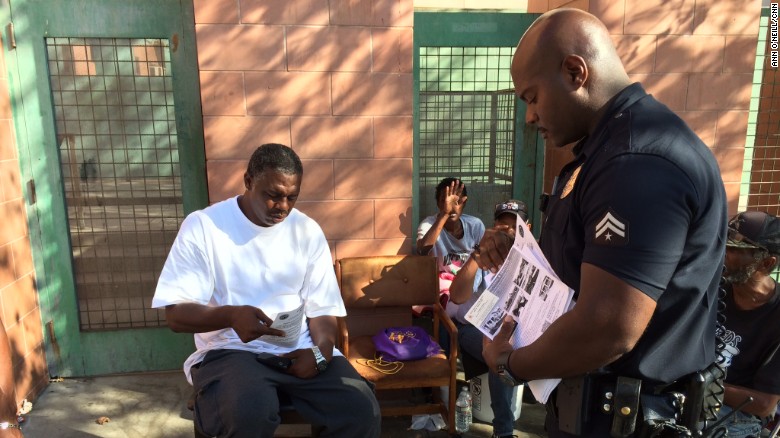 And that was the beginning of what Joseph calls "proactive policing." He greets people with love, tries to get them into housing and invites them to programs. Through the years, he's cut down on arresting people and stepped up his avuncular activism.
"The people of Skid Row get love from a police officer," he said. "When the Bible says, 'Do this for the least of these,' it's talking about the outcasts of society."
For his unusual police tactics, he's been called the Angel of Skid Row.
He's even won over drug dealers who have threatened his life. One in particular mistook him for cops who, putting him in prison made him miss his mother's funeral. The dealer and his gangbanging buddies started calling Joseph a "Dead Negro" on the streets.
"Honestly, I was scared," he admitted. "But I couldn't take myself out of the field, because if I did, Skid Row would be in danger. I had to stay out there."
A few months later, Joseph saw the dealer smoking crack on the sidewalk and moved in to make the arrest. He thought putting him in prison would free him from the death threat.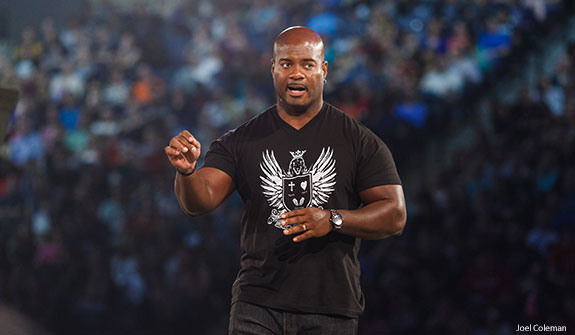 Realizing he was about to be busted, the dealer smashed his crack pipe and started back-peddling. "Joseph, I was just playing," he said.
"Uh huh," Joseph said as he sauntered forward, ready to nab him. "Come get in these cuffs."
But as he moved in for the arrest, the Holy Spirit cut him short.
"Pray for him," God told him.
"I was like, 'God, he just threatened to kill me.'"
"Pray for him."
"By the time I finished praying, there were tears streaming through his eyes. His four gangbanging homies standing next to him had tears streaming down their eyes. The prostitutes across the street at the porta potties had tears in their eyes. They couldn't believe what they had just seen."
Here is a man in blue who uses his Bible as much as his badge!
A year later, the drug dealer found Joseph at the front desk of Central Station. He was heavier and wore an Adidas jump suit – indicators that he was off crack. There were tears in his eyes.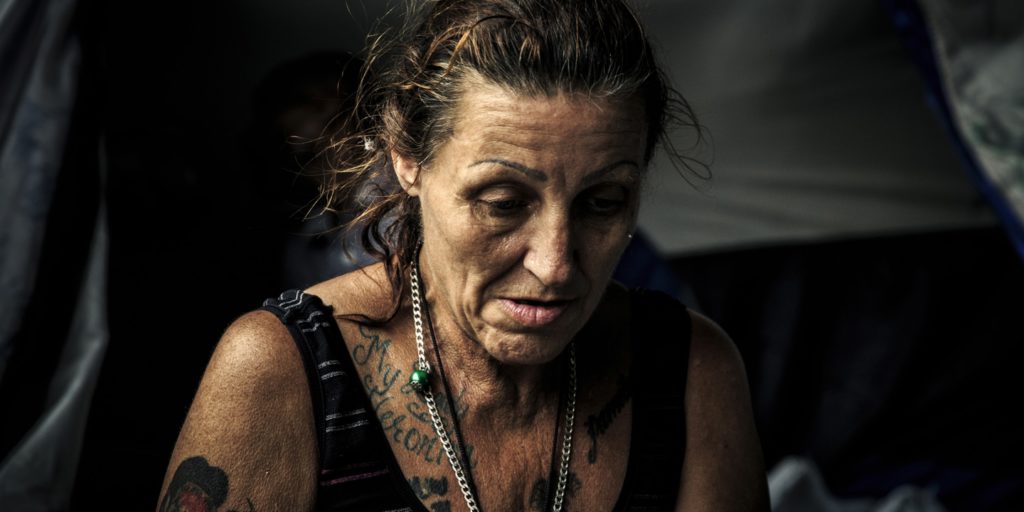 "Joseph thank you. I reunited with my wife and kids. I made amends with my mother and father. I'm doing wonderfully," he told him. He was enrolled in the Narcotics Anonymous program, Joseph said.
In 2006, Joseph led a concerted effort to clean up Skid Row and crack down on crime. They arrested predators, cleaned up the neighborhood and ramped up drug rehab programs. Crime dove 40 percent and homicides 32 percent, he told LA Magazine. But then politicians instituted policing with "civil liberties" rules, he said.
Even so, Joseph stuck to the beat.
"Skid Row people were used to being ignored," he said.
Hearing a young girl resign herself to descending into the barbaric bedlam around her, Joseph launched mentoring programs that taught kids, "You can be more than your circumstance. God didn't create you to be a failure."
The programs spread in L.A. and included juveniles on probation for violent crimes.
"I went to see them once a month to tell them, 'I love you,'" he said. "They couldn't believe that. As a result their grades went up."
Next, Joseph sought to help women, who comprise 40 percent of Skid Row but suffer disproportionately as victims of crimes, like rape or being exploited by pimps, he said.
He launched a women's self defense class. On the first day, 175 women came.
For the wiry thin crack addicts, the zombies who shuffle the streets with matted hair only half dressed, the way of escape is an uphill battle. There are an abundance of missions and rehab programs on every block, but the dealers prowl everywhere, even so bold as to peddle their poison inside the rehab centers.
"If a movie star gets addicted, they can go to programs where they use yoga or horses to change their environment and get their minds off drugs," he said. "But the people on Skid Row have to get clean amidst a criminal orgy. When you're surrounded by criminality, it's almost impossible."
After all he's achieved, Joseph now encourages Christians to believe in their potential. As a young man, he once struggled with low self-esteem. At first, he only ever saw himself as "just a cop."
Not anymore.
"You should never say, 'I'm just a…" he said. "Moses was 'just a' cat with a speech impediment who had a murder warrant. Abraham and Sarah were really really old, 'just' two old people. David's brothers thought he was 'just' a 15-year-old boy. The man we bow to everyday was 'just' a carpenter's son. Never say you're just an anything. You're all mighty children of God."
Michael Ashcraft teaches journalism at the Lighthouse Christian Academy in Santa Monica.
Save
Save
Save
Save