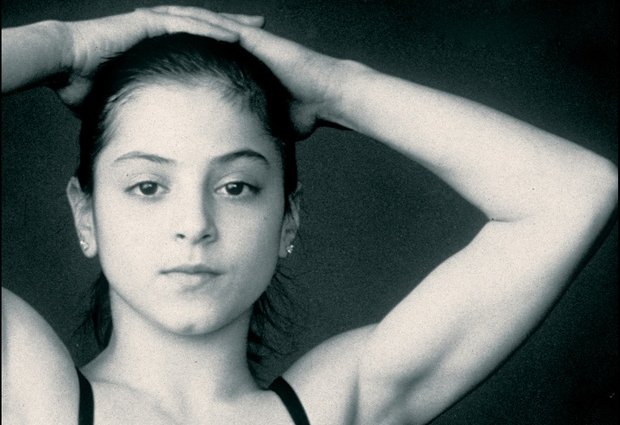 By Michael Ashcraft —
As she vaulted, tumbled and dismounted, the daring and graceful 14-year-old Dominique Moceanu stole America's heart as she helped the "Magnificent Seven" win America's first team gold in women's gymnastics at the 1996 Olympics.
Little did fans realize that behind the winsome waif was a nightmare life of overbearing Romanian coaches and an iron-fisted dad who would ultimately drive her to derail her gymnastic career, rebel against her parents and fall into rave parties and drugs, her autobiography Off Balance reveals.
When, at 17, she sued her abusive dad to legally "emancipate" herself, tabloids accused her being a spoiled brat. The gymnastics facility her dad built with her million dollar earnings eventually shuttered as her world unraveled.
But none of this shook her as much as the revelation that she had a secret sister. Her Romanian immigrant parents had efficiently disposed of their third daughter, born with no legs, through the American adoption system.
"I was overcome with emotion," Dominique told Christianity Today. "I was enraged, I was so upset that I had been lied to by omission for 20 years and for all that time I didn't know and we were missing out on somebody's life."
She was 26 years old, married, pregnant and studying for final exams at college when the package arrived with a letter, pictures and adoption papers to demonstrate its sender was not just a fan trying to get an audience.
"You have been my idol all my life, and you turned out to be my sister!" the letter gushed.
Jennifer Bricker, adopted by a strong Christian family, had been raised to never use her disability as an excuse. She was strangely drawn to gymnastics and even won Illinois' state high school tumbling championship. From an early age, she loved Dominique on the television and felt a strange connection to her.
"All the dots were connected from above, because all of this is too unbelievable to have it be just coincidence," Dominique said. "Jennifer is very faithful, and we believe that God was leaving clues so she could find (me) one day."
Born in Hollywood, Florida to parents who escaped communism, Dominique felt awkward and lonely at school. But doing gymnastics, the shyness disappeared. She was in her element, fearless and competitive.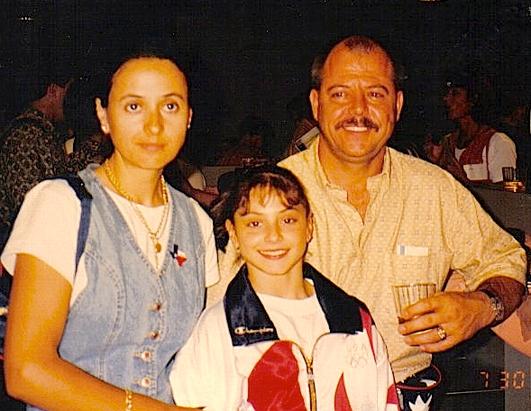 When she was only nine, she performed a triple dismount before Tampa Bay Channel 10 News crews, a feat that many senior elite-level gymnasts around the world couldn't achieve in the 1990s.
"I wanna win lots of medals and be on TV a lot," she said starry-eyed to the reporter.
Her dad, who struggled to make ends meet in America, supported her dreams, in part because he had been frustrated to realize his own dreams as a gymnast in Romania. Dimitry Moceanu supported her dream – and he also controlled it obsessively, making every family decision alone.
Dimitry moved the family to Houston to enroll his promising daughter in the prestigious training of fellow Romanian immigrants Marta and Béla Károlyi. There, the 10 year old flourished under the coaching of the Russian immigrant Alexander Alexandrov.
With the patient and expert guidance of Alexandrov, Dominique won the Senior National Championship in 1995 at age 13, the youngest gymnast ever to do so.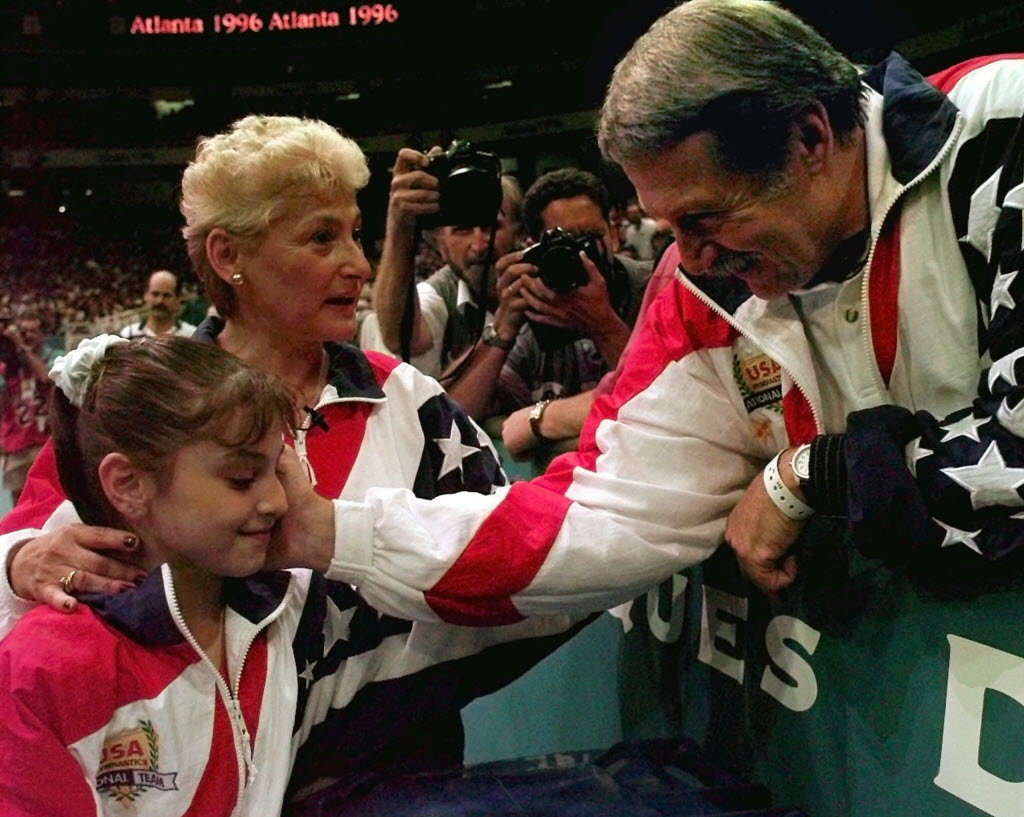 But the Károlyis wouldn't share the spotlight, so in typical Eastern bloc dictatorial fashion, they summarily fired Alexandrov just before the competitions, Off Balance reveals. They hugged her and patted her on the back in front of the cameras, but Dominique knew that the victory was due to Alexandrov.
She then began training for the Olympics. But Béla and Marta didn't have the soft touch of Alexandrov, who got the best out of her by inspiration, not gruff orders. Béla lacked the intuition to ease the training when she risked injury from overwork. When she grimaced in pain, he barked: "Stop playing the fool."
He policed her eating like the Securitate (secret police) of Romania of old, accusing her constantly of gaining weight in front of her peers. Once in summer training, he found some candy stashed in her belongings. Béla called in Dominique's dad, who scolded her roughly in front of the Károlyis. Smarting from the stinging humiliation, Dominique went off to the woods to cry and pray.
"I would pray before I walked to the gym every single day," she said. "I didn't want to be yelled at or belittled for not trying my very best, or humiliated because in the coach's mind I had gained weight when really I didn't, they were playing mind games with me—I had to have the strength to get through that mentally and not have a breakdown, but also keep my body safe physically."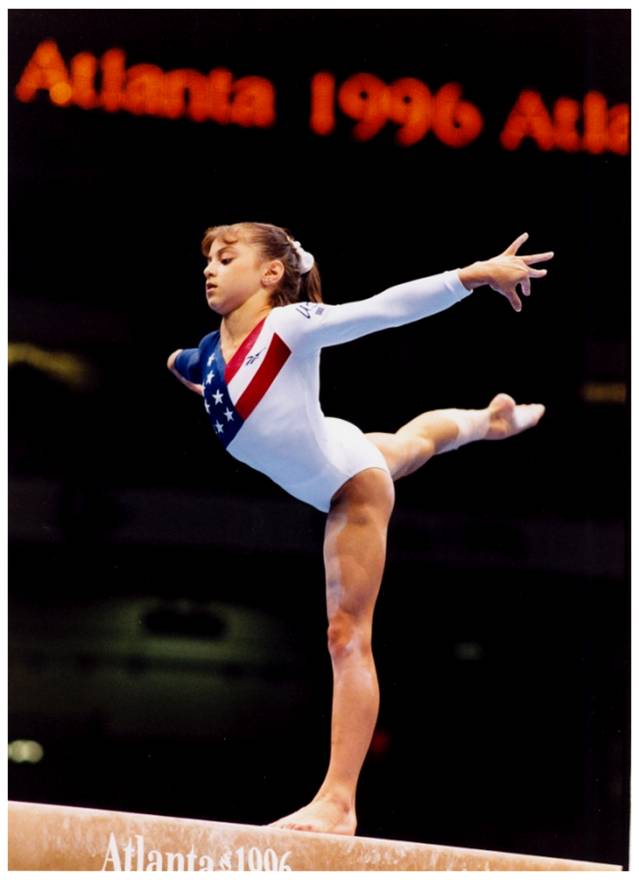 The intense training went overboard. Dominique experienced excruciating pain in her left leg, but she was too terrified to let it show. When she finally mustered courage to say she was in pain, Béla rebuked her for slacking.
When the Olympics came, Dominique put on a strong showing, despite having a stress fracture that her coach neglected. But twice the youngest member of the "Magnificent Seven" flopped on the vault, thus hurting her personal score. Still, Team America won for the first time in Olympics history.
With a gold medal now, Dominique went on exhibition tour around the United States with the other gymnasts. Her father, Dimitry handled all the money, and Dominique never knew how much it was. The father decided to invest it in a gymnasium and capitalize on her fame to draw students and coaches.
As she grew older, Dominique started to asked questions about the money. Her father refused to impart any information to her. She asked: What if I want to go to college? He responded nonplussed: "I'll pay for it." Tensions escalated.
She was 17, and her dad ruled her life like a dictator. The breaking point came, and Dominique opted for a trial to win "emancipation" from her parents. With her earnings, she would rent an apartment and be responsible for herself. Among the dirty laundry aired was her dad's physical abuse.
With the trial over, "I honestly believed my darkest days were behind me," she said. "Little did I know, there were plenty waiting for me ahead. My emancipation was a double-edged sword. It lifted an enormous weigh off my shoulders, but it also left me with a heavy heart."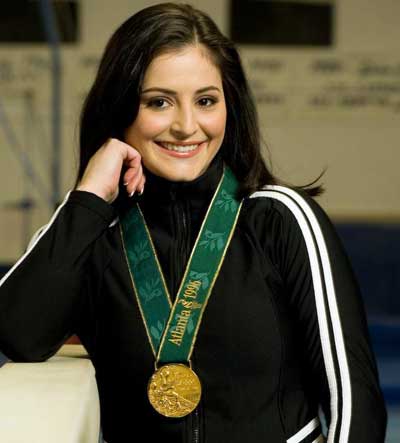 She gained control of the gym, which she found out her dad has spent most of her $1 million to build. But the fallout of the trial and negative press scared off both coaches and students, so it folded.
Dominique attended a small Christian high school, Northland Christian, in Houston. Her father hounded her, despite having a restraining order against him.
She moved to Colorado and lost her motivation to continue training. With a ton of emotional baggage, she turned to friends to fill the vacuum.
"I turned to partying to numb my pain and to forget all that I'd gone through the past year," Dominique recalled. "I experimented with drugs and alcohol as an escape from the depression I was feeling."
She hung out with the wrong crowd, attended raves and tried the drug ecstasy. "It made me feel warm inside and unnaturally drawn toward everyone around me," she said. "I wanted to stay in this euphoria forever."
Her mom arranged an Easter dinner in 1999 and worked to reconcile father and daughter. For Dimitry, the loss of the gym was all Dominique's fault. It wasn't until years later when he was dying of cancer that Dominique was able to fully reconcile and forgive.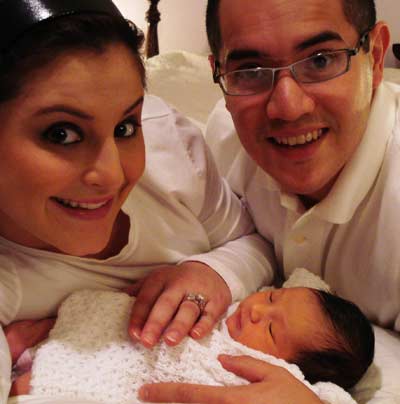 It was during this time she ran across an acquaintance, fellow gymnast Mike Canales. Pretty quickly, she fell in love, and the two got married in 2005. He was studying to be a foot surgeon specializing in gymnastic injuries.
With the encouragement of her husband, she staged a comeback for the 2006 Olympics. But she alleges in Off Balance that Marta Karolyi, her old coach who had cast her off, blocked her entry to the team with technicalities.
She settled down in Cleveland and decided to start a family with Mike. That's when she got the letter from Jennifer Bricker and, after giving birth, organized a get-together.
Jennifer was a bubbly and faith-filled Christian who considered her adoption very fortunate. Her parents encouraged her to play and do everything and to never see herself as disabled.
"Those few days together were magical," Dominique said. "We were able to open up and share our feelings, cry, laugh and bond in new ways."
Jennifer performed with a partner on the trampoline, first for Disney World, then for Britney Spear's Circus tour. She is an acrobat, aerialist and a motivational speaker.
As her domineering dad left Dominique's life, Jennifer came in to show her the love of Christ.
"I feel like a piece of the jigsaw of my life has fallen into place," Dominique said in the UK Mirror.
If you want to know more about a personal relationship with God, go here
Michael Ashcraft teaches journalism at the Lighthouse Christian Academy in Santa Monica.
Save
Save
Save