By Katie Kuykendall —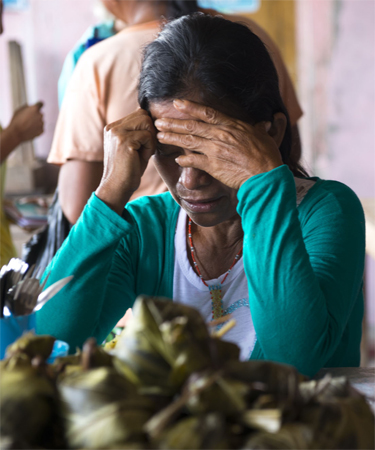 Selmira was a young teen when she married, older than most of the girls in her Napo Quecha village in Peru. Selmira had asked if she could wait until she finished primary school before her marriage. She wanted to learn to read first.
Shamanism and alcoholism are widespread in the culture of her village, according to Wycliffe Bible Translators. Alcohol flows freely at gatherings that invoke a multitude of spirits. In many families, heavy drinking leads to violence.
When the men are too drunk to fish or labor in the fields, poverty usually falls upon them like a bandit. Their babies frequently go hungry and are given alcohol to stop their crying and put them to sleep.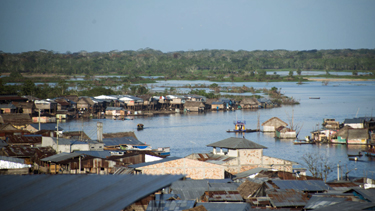 Unimaginably, Selmira buried 11 children and suffered four miscarriages during her marriage. When she was 28, her mother drowned. Once, when her nine-year-old boy died from snakebite, she was so traumatized she ran away. Her older daughter took her in for three months after that, which allowed Selmira time to grieve.
But God did not forget Selmira in her grief and despair. She had a series of powerful dreams that God used to awaken her to His presence and His concern for her life.
First, she dreamed there was a large tree laid across a river as a bridge, and she was attempting to cross it. She wobbled dangerously, almost losing her balance, when suddenly a man appeared wearing a bright white robe.
The tall, glowing man handed her a Bible, and when she nearly fell, he took her right hand and led her across the river to safety.
Shortly after that she had a dream somewhat reminiscent of Jacob, in which she saw a tall ladder leading up to heaven. She grabbed the ladder and began to climb. When she reached heaven, it was completely silent and there were many houses, but they were all empty. A man appeared and asked her, "Why did you come here? You have to go take care of your children and serve God's Son."
After these remarkable dreams, Selmira felt an intense desire to find a Bible she could read and understand.
She heard about a Bible workshop in her area and felt compelled to go. There, she met a Wycliffe translator named Christa. Selmira invited Christa and her co-worker to her village to help her learn more Bible stories. The more she learned about Scripture, the less she drank and the more she felt love and compassion for the people around her.
As God's Word and the Spirit touched her heart, Selmira surrendered completely to Jesus Christ as her Lord and Savior.
As her life began to change, she decided to quit drinking altogether. Then her husband threatened to leave her.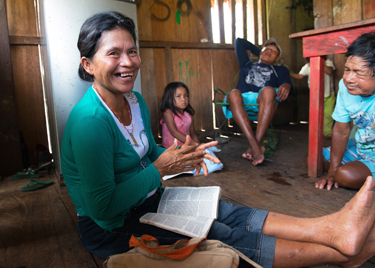 "He wanted a wife who would go drinking with him," she said. "But whenever he got drunk, I put my hand on him and prayed for him, and he got less and less drunk," Selmira recalled.
Now she is working on the Napo Quechua translation project for Wycliffe with Christa and other translators. She's met more Christians who she can share her new life with. Sometimes she feels closer to them than to her own family. In those relationships she draws strength and comfort, as well as from her study of God's Word.
As a translator, Selmira has excelled quickly, even though it's hard work. "It's wearing out my brain," she said with a smile.
She's one of the only translators who have never missed a workshop in the past four years.
Her favorite aspect of translation work is sharing the Bible stories with others. In her village, she spends every Sunday afternoon reading the newly translated stories to anyone who wants to listen. "The kids really like the story of the blind man at the gates of Jericho, and Zaccheus," she said. "Sometimes they want to repeatedly hear the stories."
It started with kids, but now her neighbors gather to listen. Even the village shaman and the local religious leader come to hear Selmira read. Lately her husband has been attending as well.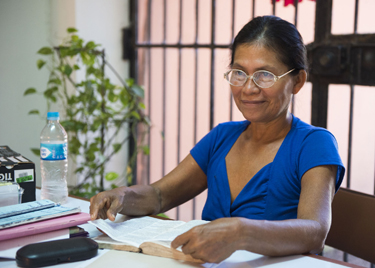 "It's important to have it written because then it lives on," she said. "It's important for them to learn because it teaches them how to make themselves strong with Jesus and live a better life than our ancestors have been living without knowing God."
When she's not translating, she loves to cook and read to her grandkids. And she loves to sing about Jesus. Her favorite song is called "Jesus is Powerful." It's about how Jesus heals the sick and gives new life.
"Only Jesus can do this," she said. "I don't want to go back to my old owner, Satan," she said. "Christ has died for me. I want to stay with him."
When she learned the story of Abraham and how he desired children, she remembered God's promise to provide descendants as numerous as the stars. She often thinks of the 11 children she buried. But today she has 11 grandchildren to teach about God's promises.
"Abraham followed God's calling," she said. "People ask why I go to workshops and follow these sisters [translation team leaders]. I tell them it's God's calling, and I'm following."
If you would like to know God personally, go here
For more about Wycliffe's work in Peru, go here