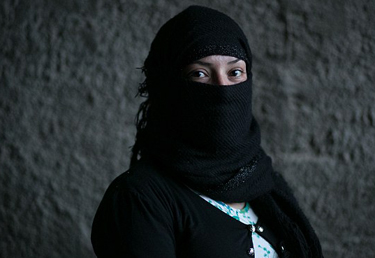 By Mark Ellis
A 20-year-old Yazidi woman was bought and sold as a sex-slave eight times by various ISIS fighters and endured repeated rapes at the hands of her captors.
After her capture by ISIS, Khalida and 800 other enslaved women were put on display in Raqqa as if they were in a 'car showroom.' The captives were sold for as little as $20 or exchanged for mobile phones, according to a report by the Daily Mail.
She broke her silence to tell the world about her people's awful predicament.
Her nightmare began in 2014 when her family were condemned as 'unbelievers' by former neighbors as they tried to flee their hometown of Sinjar after it was overrun by ISIS fighters.
"Our neighbors, who are Muslims, said they would protect us, but when we were stopped at a checkpoint one of them pointed us out to the foreign [ISIS] fighters and said we were Yazidi. And we were all taken. There were 36 of us," she told The Daily Mail.
The family were separated by sex and Khalida doesn't know what happened to the men in her family.
ISIS leaders divided the women between the married and unmarried. Khalida and her cousins – along with 800 other young Yazidi women — were taken by bus to the ISIS capital of Raqqa.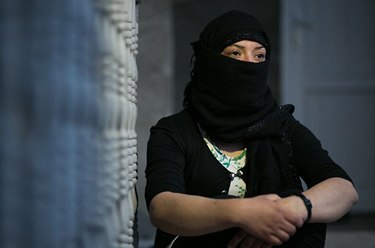 They passed through her destroyed town on the way. "I saw dead bodies – children, women and men – along the roadside. My eyes were scarred by what I saw and I had to hold my nose against the stench," she told The Daily Mail.
In Raqqa the women were paraded around in a large room. "We were put on display. Men came in and looked at us like objects. It was like a car showroom. Women were bought for cash – as little as $20, or exchanged for things like mobile phones, or given away as gifts," she recalled.
'The most beautiful women were put into a special room. Then five top ISIS leaders – emirs – came to choose girls. They took away three or four girls each."
Khalida and her cousin were bought by an older man with a white beard, Abu Qalla. He locked the young women in a room for the first two weeks, where they could hear his wife and children interact.
Then one day Abu Qalla raped Khalida's cousin in front of her. His wife later beat the girls, accusing them of 'tempting her husband' and branding the pair as 'infidels'.
"The wife said: 'You are Yazidi. You deserve what you get.'"
Khalida endured 16 months of daily abuse and was eventually bought and sold by eight different men. She was raped up to three times a day and was left unconscious after she was gang raped.
She was force-fed contraceptive pills and once taken to hospital for a contraceptive injection after she became unconscious after one particularly brutal gang rape.
"They [ISIS] did not want me get pregnant, especially if there was more than one man because they would not know who the father of the baby was," she told The Daily Mail.
She attempted suicide several times to end her terrible torment and even tattooed her father's name on her arm so her body could be identified after her death.
"I tried to kill myself many times. I covered myself in water and put my hand on electric cables but I always survived. I asked God to kill me. I thought it was better to die than to live as a sex slave with what they were doing to me every day."
She tried to escape three times, running desperately to the homes of three Arab families and appealing to them to contact her family. "I told them, help me, get me out of here and my family will give you anything you want, name your price," she told The Daily Mail.
"But they said: 'You are Yazidi, an infidel, we refuse to help you."'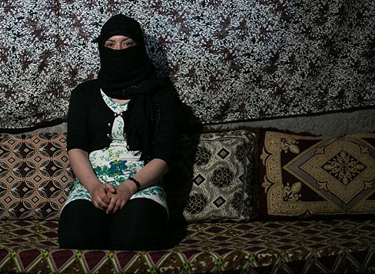 Finally, Khalida pleaded for mercy from her final slave master. "I begged him and kissed his feet begging for him to contact my family,' Khalida told The Daily Mail.
"I told him I had been enslaved for over a year and had heard nothing about my family. I begged him every day for two months. Finally he let me call my brother Faisal. He told him he would sell me for $30,000."
"I told him my family were poor and had nothing, that they had abandoned their home. I had to barter for my life. Finally he agreed to sell me," for $24,000.
The man took Khalida to a village near the front line in Mosul. "I had to walk for five hours and I called to the Peshmerga fighters," she recounted.
Khalida finally made her way to safety. She says she will not let her 16-month ordeal define her life.
"Before the war I had a happy life. I lived with my family, helping my mother around the house with the cooking and the cleaning. Now my dream is to be able to read and write, because I was not able to go to school when I was young."