By Mark Ellis —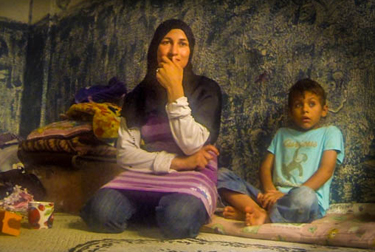 An extraordinary number of Muslims living in war-torn Syria have decided to follow Jesus after experiencing His love firsthand through miraculous healings and gifts from above.
Among the people living in or near the war zone, many are struggling to survive because there is simply not enough food, according to the Lebanon-based director of Christian Aid Mission.
One Syrian mother, identified as Majida, went to God in prayer after her family ran out of food.
"She prayed, 'Lord, I know you never let us down — we need food for our family,'" the director recounted. "As she was walking later that day, she found some money on the path in front of her. She was so pleased that God had answered her prayer in such a creative way that she started jumping up and down with joy."
Majida rushed to buy bread for her family, and when her neighbors asked where she had gotten the money, she said, "It was sent to me from God."
"They pressed her to tell them how that was possible, so she went on to share her faith and pray with them," the director said.
Desperate Muslims who hear about miraculous healings through Christians are drawn to find out more. A mother named Nivine brought her paralyzed, 2-year-old daughter to a meeting of one of the ministry teams affiliated with Christian Aid Mission.
The ministry leader informed Nivine that they pray in the name of Jesus.
"Whatever it takes," she replied, in tears. "Just make her better!"
"When we pray, we pray to a living God,'" the ministry leader told her. Then he explained the gospel to her and she accepted Christ.
After she was born again, Nivine started faithfully attending the meetings with her paralyzed daughter." The group continued to pray for the child in the following days.
About two weeks later, Nivine was worshiping at a meeting with her daughter next to her. She glanced down and noticed her daughter was smiling. Then she was shocked to see that her hands were moving. Could this be a dream? But her daughter continued to move.
It was true — she was healed by the power of the Living God!
Another mother, Aveen, along with her husband, Mohamad, and their seven children, are part of a church in another town in Syria. Mohamad recently lost his job.
"They are weary of struggling through life," the director said. "What surprises us most about this family is that Aveen and Mohamad both come from very fanatical Muslim families that wish to stone them to death, and yet they still fearlessly display their strong love for the Lord. Despite the difficulty of surviving without work and the threat of persecution, they have the courage and desire to share the gospel with everyone around them."
The incidents of healing and salvation are a welcome contrast to the violence of the war-torn country. ISIS claimed responsibility for bomb blasts in Damascus on Feb. 21 that killed at least 87 people, according to the United Kingdom-based Syrian Observatory for Human Rights, and car bombs in Homs killed at least 59 civilians.
On Feb. 22, Russian forces were suspected in an attack on a hospital supported by Doctors Without Borders that killed 25 people.
In the midst of such atrocities, a Muslim named Amad heard about a place in his town where people pray and some are healed. The worsening skin disease of one of his children drove him to visit.
"In a moment of bravery, he brought his son to the meeting place, and the believers there prayed for him," the ministry director said. "The next day the child woke up with nothing on his skin! It was undeniably a miracle. The whole family has come to believe in the Lord, and they want to be baptized."
If you want to know more about a personal relationship with God, go here
To learn more about Christian Aid Mission and their work in Syria go here