By Morning Star News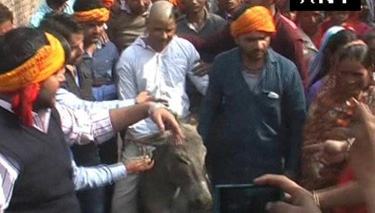 A pastor in northern India who was beaten and paraded through streets with his head half-shaved as crowds called for him to be cut to pieces said he is thankful that he was counted worthy to suffer for the name of Christ.
On Friday (Jan. 29) Hindu extremists posing as policemen picked up Avdhesh Savita, a 35-year-old father of four, from his home in Rendhar village in Uttar Pradesh state and took him to Orai, Jalaun District. They beat him, shaved half of his head, one eyebrow and one side of his moustache, and put him on a donkey as they led him in a procession through Orai.
They and others in the frenzied crowd mocked him, falsely accusing him of forcible conversion.
"The mob that was parading me was shouting, 'Kill him, cut him in pieces,' but I kept telling them that faith unites, it does not divide," Savita told Morning Star News. "I told my tormentors that I believe in Christ out of my own freewill, and that I have never hurt anyone, but they just did not listen to me."
The assailants were reportedly members of Yuvavahini (Youth Brigade), a Hindu nationalist group, and took him to the head office of the Hindu extremist Bajrang Dal in Orai, where others joined in the abuse.
"I kept praying throughout the ordeal, I am not afraid of dying," Savita said. "I thought, 'This is the day when I will stand before my Savior.' But I also thought of my children, they are young, and that was my only concern. In the Lord I am persecuted, I am thankful for this privilege."
The extremists picked up Savita, who became a Christian four years ago, in Rendhar, about 45 kilometers (27 miles) from Orai, in what appeared to be a police Jeep, and told him to come along for questioning, he said. Like him, his family members believed the men who came were policemen though they were in civilian clothes.
"They started hitting me once I was in the Jeep and continued hitting me on the way," he told Morning Star News, in anguish. "They took me to the Bajrang Dal head office in Orai, where they hit me with their legs and fists, verbally abused me with the filthiest of language, shaved half my head, removed one eyebrow completely and half shaved my moustache. They then put me on a donkey and paraded me for about a half hour."
The Hindu extremists took his jacket, which had money in it, and his mobile phone, said Savita, a poor lay pastor from the Dalit "untouchable" class that is lower than any of the Hindu caste levels.
Savita has two daughters, 16 and 14 years old, and two sons, 11 and 8.
Revenge Attack
The attack was rooted in the alleged instigator deciding to take vengeance on Savita because the pastor refused his request to give him money for alcohol and tobacco, a Christian leader said.
When Savita went to a Christian program in Varanasi from Dec. 18 to 23, Sangam Jatav was among three men from his village who had shown an interest in attending and accompanied him, the Rev. Daniel Inbaraj of the Mizpah Ministries told Morning Star News.
"On the fourth day of the program, Sangam Jatav asked Pastor Avdhesh for some money to buy alcohol and tobacco," Pastor Inbaraj said. "When Avdhesh refused, he got furious. After returning from the program, Sangam Jatav went to Avdhesh's house, threatened him and demanded money."
Jatav demanded 20,000 rupees (US$294), saying that if Savita refused he would spread rumors that the pastor had tried to fraudulently convert him, and that he would get Bajrang Dal members to beat him, Savita said. Jatav subsequently called the Bajrang Dal, saying Savita had "converted him without his knowledge" and made him eat beef and desecrate photographs of Hindu gods by walking on them.  
Jatav leveled the accusations in interviews with television stations, Pastor Inbaraj said.
"During the interviews, he alleged that the Christians forced him to eat beef, locked him in a room with the other two who had accompanied Avdhesh and him to the program, and forced him to walk on pictures of Hindu gods, Ram and Hanuman," he said. "He also alleged that he was given 5,000 Indian rupees to become a Christian. But when the other two were quizzed by the police, they denied any such accusation."
The other two men who attended the Christian program, Sunil Jatav and Ravi Saxena, said that they were never forced to eat beef, and that only vegetarian food was served, Pastor Inbaraj said.
"They did say that they attended religious discourses but denounced the claim of Sangam Jatav that they were forcibly converted," he said. "'We went to the program and came back safe,' they said."
Jatav was arrested on Sunday (Jan. 31) and remains in jail, police officials told Morning Star News. Three cases are registered against him, including one of attempted murder in connection with the attack on Savita, they said.
Orai Senior Inspector Alok Sinha told Morning Star News that nine Bajrang Dal members have been arrested, but he declined to give any more information, except to say that police were searching for other members.
Pastor Inbaraj said he would raise the issue of Hindu extremists using what appeared to be a police Jeep with the superintendent of police.
The Rev. Savarimuthu Sankar, spokesperson of the Roman Catholic Delhi Archdiocese, called the attack a "glaring example of the impunity" that Hindu extremist groups enjoy under the federal government led by the Hindu nationalist Bharatiya Janata Party (BJP).
"We demand a reply from the RSS [Hindu extremist Rashtriya Swayamsevak Sangh], the parent body and the government," he said.
John Dayal, spokesman for the United Christian Forum, told Morning Star News that election time in India seems to breed even more Hindu nationalist violence than that which takes place in provinces and towns where elections are not imminent.
"Uttar Pradesh, which is preparing for its legislative assembly elections, has seen considerable Hindutva activity in recent months, with both Christian and Muslims as its victims," he said. "The state government, which is not controlled by the BJP, seems complicit on this violence."
At the very least, Dayal said, the state government has failed to act on complaints.
"This blatant attempt to terrorize the community in the guise of protesting conversions is a case in point," he said. "Uttar Pradesh does not have laws banning [fraudulent or forced] conversion such as exist in the states of Orissa, Gujarat, Madhya Pradesh and three others. And yet both these Hindutva gangs and the police seem to believe that even the profession and propagation of faith is illegal. We condemn this manifestation of religious terrorism and call upon the state and Union governments to take strict action against it. Policemen guilty of complicity or impunity need also to be identified and brought to book."
Two First Information Reports (FIRs) were registered against 150 to 200 unknown people at Orai and Rendhar police stations. The FIRs also name 13 people, including Jatav, who has been charged with attempt to murder (Section 307 of the Indian Penal Code), voluntary causing hurt (323), intentional insult to provoke breach of peace (504) and criminal intimidation (506) at Orai Police Station; and cheating by impersonation (419), cheating and dishonesty (420), punishment for extortion (384), impersonating a public servant (170) and public mischief with intent to incite (505) at Rendhar Police Station.
One FIR also names Akhilesh Dhiya, district convenor of Bajrang Dal at Jalaun. He has been charged with house-trespass after preparation for hurt, assault or wrongful restraint (452), punishment for dacoity (395), kidnapping or abducting with intent secretly and wrongfully to confine person (365), promoting enmity between different groups on grounds of religion (153A), criminal intimidation (506), voluntary causing hurt (323) and punishment for defamation (500). Dhiya is absconding, and the police have yet to find him.
After the ordeal, Savita spent a night at the police station for interrogation and was released the next day when local Christian leaders intervened.
Living in Fear
Savita have moved to his parents' place at a different village out of fear over his family's safety. Because his wife and family must care for two animals, they cannot leave the village, he said. If the family left the area, they would have to sell their animals.
"My three elder children have stopped going to school, as they are very fearful," he said. "We fear that they too might be kidnapped or insulted in the same manner."
His brother, Mukesh Savita, said the attack seemed to be well-planned.
"My brother is in shock, but what can we do?" he said. "We are in a minority, we are Dalits. Even my family is very afraid. These people who did this to my brother are criminals, and till they are all arrested, we will not be able to live in peace."
Village onlookers also mistook the assailants for policemen, he added.
"It would have been better if they had shot him," he told Morning Star News. "This humiliation is a lot worse than death."
If you would like to help persecuted Christians, visit http://morningstarnews.org/resources/aid-agencies/ for a list of organizations that can orient you on how to get involved.  
If you would like to help enable Morning Star News to continue raising awareness of persecuted Christians worldwide, go here: http://morningstarnews.org/donate/?