By Mark Ellis —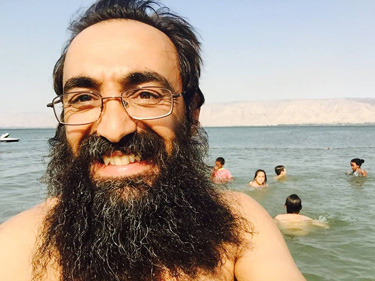 He grew up in the former Soviet Union, but at 17 his Jewish family fled the crumbling communist system and immigrated to Israel.
"When I first came to Israel, I fell in love with the country," says Neriyah Arabov. "The first thing that touched my heart was the amazing sense of patriotism in everyone that I met," he told Chosen People Ministries. (A video attached below also captures highlights of his story, recorded by One for Israel)
At first he didn't fully understand why his family moved to Israel. But as God's plan unfolded in his life, he began to see their relocation as part of God's plan for "restoring His people."
In the former Soviet Union, he was the only Jewish student in his Uzbeki school. "My name–Neriyah–stuck out starkly amongst the Mashas, Sashas and Pashas. I was different in many other respects," he recounts.
"My skin was darker than that of my classmates, and I was not allowed to eat outside my home because our family kept kosher."
He rejoiced in one thing after his arrival in Israel, that he "would never again be called a dirty Jew by my countrymen. I was no longer persecuted on account of my race and beliefs."
When he joined the Israel Defense Forces, his connection to the Israeli people deepened. After he finished his service and found work at the Tel Aviv municipality he met a Russian man who shared with him the surprising news that Jesus is the Messiah of Israel.
"At that point in my life, I considered myself an orthodox Jew," he notes. "I was curious that he seemed to know the Bible better than I did. I was religious. I would go to synagogue. I wore a kippa, prayed all the prayers, however, in my heart I didn't even really believe God existed.
"In our conversations, however, I realized that I did not really know the Bible. I started reading it more in order to prove to my new friend that he was mistaken about Jesus.
But when Neriyah began to read the Bible, something unexpected happened. In the Book of Isaiah, the 53rd chapter had a profound impact on his thinking. "It was clear to me the prophets were talking about Yeshua, but I was afraid to admit it."
He thought that if he followed Jesus, he would be rejected by his Jewish friends – "like I was rejected at school where I grew up."
But the more he read God's Word, the more his resistance faded. "Upon reading the Bible, my heart melted. I realized that I am a sinner, unworthy of God's grace and goodness, and that I was the one who was mistaken–not my friend."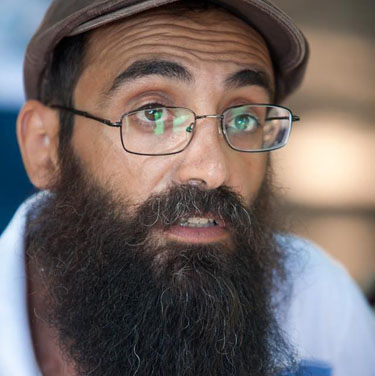 One day as he read his Bible, he asked God to show him the truth about a personal matter that no one else knew anything about.
He was shocked when God answered his prayer. Still resistant, he thought it must be a coincidence.
Then God answered a second prayer and revealed the truth again! "I fell on my knees and prayed directly to God for the first time in my life. I said, 'God, forgive me for my unbelief. I want to be yours, and You are my God."
At that moment he surrendered to Yeshua-Jesus as his Lord and Savior and was born again.
He still harbored some apprehension that following Jesus would bring discrimination similar to what he experienced in the Soviet Union. But after he prayed to God about it, the fear subsided and disappeared.
A short time later, he reached out to a traditional rabbi and shared his newly-minted testimony. The rabbi listened intently as Neriyah shared from Isaiah 53 and Daniel 9.
"The rabbi didn't argue with me. He just asked me who I was, where I lived, and who my family is." When Neriyah left, the rabbi called his family to alert them about Neriyah's new beliefs.
Soon he faced harassment from his uncles and aunts. "How can you do such a thing?" they asked. "Why do you believe in Yeshua? Is the synagogue not good enough for you? What are you looking for with the Christians? You should first of all learn about your own faith. Why are you going into something that is not Jewish?"
"Everyone who saw me would say: There goes that idiot who believes in 'Yeshu.' I began praying to God for deliverance from the turmoil in my home and family."
Shortly after that, Dr. Mitch Glazer of Chosen People Ministries visited him in Israel. He asked Neriyah to move to the U.S. to attend a Bible college program and Neriyah agreed.
"The United States became comfortable to me. I wanted to stay — away from the conflicts that life in Israel can bring."
Health crisis
In 2001 Neriyah was finishing his studies, but needed to complete a number of papers and final exams. "In this pressure I started to get really serious headaches and I'd take too many painkiller tablets and I ended up in a hospital. The doctor told me that my kidneys were in trouble."
When Neriyah was 14, his 26-year-old brother died from kidney failure, so there seemed to be a predisposition to kidney disease in his family.
Doctors informed him that within two to five years he would be on dialysis or need a kidney transplant.
"Initially I didn't accept it," he confesses. He returned to Israel to receive medical attention. He met a wonderful woman and they married in 2002, but by 2004 he found himself on dialysis.
He also became an elder in a messianic congregation. "The congregation grew tremendously, and I continuously prayed for healing in my body."
God heard his prayer and orchestrated the kind of answer only God could bring.
God's miraculous answer
Unknown to Neriyah, a woman named Cynthia Barnett in Monroe, Michigan was praying to God when Jesus appeared to her and made a highly unusual request:
I have chosen you to go and give part of your body to someone you don't know at all. Go to Israel and give one of your kidneys to Neriyah.
"How can I do this?" she replied. "I'm 50 years old. I have six children."
I'm not forcing you. I'm suggesting it to you.
In obedience to the Lord, Barnett traveled to Israel, found Neriyah, and discovered her kidney was a perfect match for him – as if they were twins! The operation was a complete success.
A year later, in July 2005, Neriyah's wife Anna delivered a beautiful girl. They named her Cynthia, after the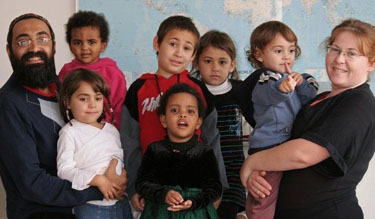 woman who profoundly touched their lives.
"Every time I present my children people say, "Baruch and Sarah are biblical names, but where did Cynthia come from?" So I always have the opportunity to share about the miracle that God did in my life."
Unfortunately, Barnett's donated kidney stopped functioning in 2011. "I am not sorry or sad," Neriyah says. "God accomplished much in those six wonderful years.
In 2012, Neriyah and his wife started a new congregation in their neighborhood. "We are serving our immediate community in a variety of new and wonderful ways. We distribute food packages to needy families. We do free tours to holy sites in order to preach the Gospel. We are caring for Holocaust survivors in our town. We see the fruits of God's ministry constantly. Not long ago, we baptized seven people and I am currently discipling another four."
Neriyah is back to dialysis three times a week. "The fact that God uses me despite my weakness is a tremendous miracle, and another miracle is on the way!
"Last year, a Korean pastor from New Jersey came to Israel with a desire to donate his kidney. I wasn't ready to undergo transplant surgery at the time, but today, God willing, he and I will be compatible. His name is Brother Leo Park. Please pray for the will of God in my life and his. In July we will know definitively. Thank you for your prayer!
If you want to know more about a personal relationship with God, go here
To find our more about Chosen People Ministries, go here