By Mark Ellis —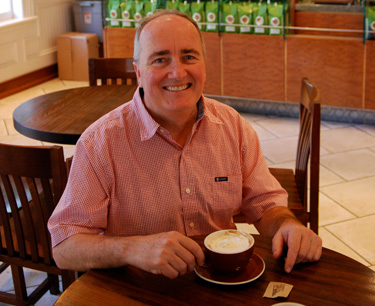 He was a computer scientist-engineer working on the F-22 stealth fighter project in 2002 when he had a massive automobile crash in which he nearly died. As his car flew through the air he lost consciousness, and God gave him a frightening vision of hell.
In his vision, his chained body hurtled downward toward the Lake of Fire and he heard awful screams and felt choking smoke and heat. He also saw three Scriptures that convicted him about his double life. He had been attending church regularly but visiting prostitutes on the weekend.
As the roar of hell's fiery flames rose to meet him, suddenly everything went dark for a second and he found himself 3,000 miles above the earth.
"The first thing I said, was 'I got out, I don't know how I escaped, how I got out."
Then Rathbun had a personal encounter with God the Father. Rathbun says the Father was obscured so he could not see him.
"My son, you have an important decision to make and I'm going to let you make the decisign and give you all the time you need to make it," the Father began.
Rathbun was struck by His authority. "His voice had so much authority the universe would shake. You couldn't get any more authority than that voice. It was the authority that said 'let there be light' and it was done. I had never heard that kind of authority my whole life."
Then the Father said something that surprised him: "I trust you my son."
"I hadn't heard my own earthly dad say that in 51 years. My own dad didn't trust me. Here was the person with the most authority telling me he trusted me."
Rathbun tried to argue with Him. "This doesn't make any sense at all. I was almost in hell. I almost hit the Lake of Fire. I did everything to disobey you. I went against your Word. How could you trust me?"
"I know all that and I have put all that on my own Son," He said. Rathbun knew that all his sins had been placed on Jesus on the cross, but now, it became much more real. It was only by the precious blood of Jesus shed on the cross that atoned for his sins and allowed him to escape the judgment he deserved in hell.
Then the Father told Rathbun he would let him see areas of heaven. "After you are done sampling these areas of heaven you can decide where you want to go and be."
Then Rathbun went on the tour of his life. The first thing that struck him was the immensity of heaven. "It is huge. It is a very joyous place. Everywhere I looked was praise and worship. All of heaven was permeated with wonderful joy, very harmonious. It was the opposite of hell with people screaming and yelling. I went from night into day, darkness into light. Now I could see how good the good really was," he recounts.
Universities in heaven
The first area of heaven Rathbun visited involved education. "I had been a magna summa cum laude graduate from college. I was valedictorian of my high school and college. The Father let me know there are universities of learning in heaven."
"He reminded me that all knowledge comes from Himself." Rathbun was startled to find areas in heaven with colleges similar to his earthly experience. However, one difference is that none of the books and none of the instruction contain anything in error, only truth.
The Father told him he could continue to grow in his understanding of mathematics. "Math is not an earthly invention; it is something God overlaid on all creation," Rathbun notes. "Mathematics is how God puts things together. God is a lawful God and mathematics is a pure description of God's law."
Artistic endeavors continue
In the second area he visited he saw people engaged in artistic activities, making crafts and other things with their own hands.
"I had finished carpentry for five years and had done well. The Father knew I had a carpentry talent. He showed me the place where you take your gifts. He knows the gifts and talents he gave you," and encourages you to further develop them in heaven.
"You can be a carpenter here like my son," the Father told him.
"I saw women working with embroidery, making the most incredible tapestries for the homes in heaven. They were using transparent but shiny cloth. It vastly exceeded anything on earth. The women did it out of love. One of the joys of heaven is to continue to make things like this – fine furniture, jewelry, and gifts to give to each other."
The orchards of heaven
Then God placed Rathbun in the middle of an apricot orchard. "There are vast orchards in heaven," he reports. "John writes about the Tree of Life and the 12 fruits."
Rathbun inspected ripe apricots on the trees. "Everything glows with light up there and is transparent. You can actually see through the stuff. It is not like matter down here. It is like looking at glass but they are living things, glowing with the light of God."
"The flowers were blooming and fruitful at the same time," he notes. "I could smell the apricot fragrance and it was indescribable, with a slight hint of almond. Then I saw orange groves, pears, all perfect fruit, no blemishes, no yellow leafs. It was very alive."
Meaningful fellowship
Then God showed him a social center in heaven. Rathbun had always wanted to develop his speaking abilities. "Things didn't work out in high school and I didn't get on the debate team," he recalls.
"Perhaps you would like to learn how to share the truth of heaven," the Father told him.
Then Rathbun saw crowds learning how to speak "with heaven's standards."
"There were also groups meeting together, having fellowship with one another, social centers, areas all over where people could gather for talking, and fellowship.
Then he took me to two other areas that had to do with heaven itself. "He would not allow me to remember this part. It was like a very special treasure waiting for God to unwrap and show you. It is not in my conscious memory," he says.
The throne room
The ultimate was saved for last, when God gave him a glimpse of the throne room. "The Father had masked out himself in the center because the light was so bright it would have instantly blinded me. What was going on above the throne was what he wanted me to fully taste and experience. Right above the throne there is a rainbow, and that rainbow is multicolored."
"The part I focused in on was absolutely incredible, gorgeous violet, a deep purple color. The seraphim were immersed in that flame. It was a fire, very hot; it was very pure.
"The seraphim were in there singing and they were going back and forth in a semicircular pattern in that rainbow."
It seemed to Rathbun they actually passed through each other, with one group traveling clockwise and another group moving counter-clockwise. "Their singing and worship was absolutely the most incredible worship you have ever had a chance to hear.
"Isaiah said he was undone when he heard the seraphim singing. When I heard them sing I was totally melted down instantly on the spot from the beauty and purity and the holiness of that worship. It was in 16 or more part harmony. They were unified in this incredible, holy, worship. I was pulled right into that."
"I told the Father, 'Here is where I want to be for eternity. This is the best part of heaven.'"
Then God pulled him away from the throne room. He said, "No, I want you to make a fair decision. If I allowed you to stay longer with the seraphim, it would have fixed things for all eternity."
Rathbun was "miffed" that he was pulled away from such an incredible scene of beauty, purity, and holiness. He sat for a moment, trying to take it all in.
"Have you made up your mind yet?" the Father asked.
How could I answer the Father? he thought. All heaven is so wonderful, beyond imagination. "I don't know what to say or do. I need your help," Rathbun replied.
"Gladly, my son, I will help you," the Father said.
A tapestry of his life
Then God unfolded a tapestry "like an excel spreadsheet" that described Rathbun's life. "I saw the beginning where I was born. The 18 years until I was born again were grayed out. After that the things counted. It was a beautiful tapestry."
Rathbun peered with curiosity at one section of the tapestry and asked, "What is that?"
"Those are your eternal rewards. I have planned (rewards for) everyone's life. If they are obedient to my will, their tapestry is filled in with my divine works.
"This is different from salvation," Rathbun notes. "No one can earn salvation. But there are rewards that come from cooperating with God. He showed me the tapestry up to the automobile accident. He showed me the tapestry into the future and I had 30-35 years to go."
As a result of his vision Rathbun thinks he will live to be 80-85.
"Why are there are more rewards after the accident?" he asked God.
"Because you have decided to more fully obey me."
Then Rathbun remembered he had just been rescued from hell and the Father had offered him the very best of heaven.
"I realized God had purely loved me with totally unselfish motives and he had not said one thing about what he wanted."
So he turned to God and said, "Wait a second, Father, You just gave me the very best you had. You haven't said one thing about what you want. Heaven is about love and I should be loving you. So I'm going to ask you, what do you want? What is your will?"
Rathbun could feel the Father smiling after he said that.
"He made me know he wanted me to come back to earth and talk about Him. He told me what was going to happen in the auto accident very lovingly and caringly. It was like he said. There would be broken bones and lacerations, blood all over and contusions, and much pain."
"I want to go back," he told the Father.
"Are you sure?"
"If I can hold your hand I can get thru anything."
The Father beamed when he said that. "You have made a wise decision," he said.
Return to a painful reality
Instantly Rathbun was back in the car flying through the air as it hit a eucalyptus tree. "I was screaming in pain. It was just as bad as he told me."
Rathbun cried out, "No, no I want to go back to heaven."
The Holy Spirit reminded him, Randall, you made your decision and it is final.
When paramedics arrived at the horrific crash scene, they intubated him. "I had a tube put down my throat for breathing and I choked on that tube for several hours. My body thrashed around and they finally duct-taped me to gurney.
"I had to hold on to God with all my faith. I was fully conscious."
Rathbun had many broken bones, contusions, and almost broke his back in half. "They had to bleach the car there was so much blood. When I came home I was in a body cast. It took me 8 months to recover."
After he recovered, he got his clearance back from the government. He is currently self-employed, involved with software development.
As a result of his experience, Rathbun has been profoundly touched by the Father's love. "Men don't know who the Father is. When you see him for who he really is it will change you."
"At the point of the accident I didn't have a father. The Father in heaven believes in us. He rescued me right before I hit the Lake of Fire. It was all grace on his part. He wants to reveal himself to us, particularly his purity and his holiness."
Rathbun's double life is over. His desire for obedience is a response to the love he found in God. "The Father has been increasing his holiness in me. It is the vital factor that will keep us from wandering off, looking for love in the wrong places.
"You want to stay pure for the father because you feel special, you feel treasured by him; He is very loving. He has to be sought out with 100 percent of your heart."
"A passion for God has to be birthed in a man's spirit, so that his spirit comes afire and light with passion for the Father's purity and holiness. If we can get a glimpse of that holiness, it will be crucial towards setting us men free."
If you would like to know more about a personal relationship with God, go here…