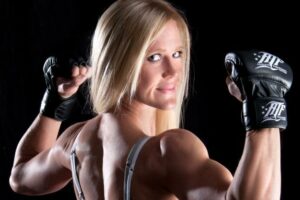 By Michael Ashcraft —
Holly Holm, whose lightning left kick shocked the world when it felled the UFC's undefeated Ronda Rousey, is a Christian who recently got married, sews, cooks and brings her Bible to Starbucks.
After surmounting 20-1 odds to outfight the aggressive Rousey, the Albuquerque native, known in the ring as "The Preacher's Daughter," is now the reigning bantam weight champion in mixed martial arts.
"At first they wanted to call her Holly Hottie or Holly Hollywood or something like that. She said, 'I don't want to be known for that part of it,'" her dad Roger Holm told KOAT channel 7 news in New Mexico. "I said, 'Well, you're a preacher's daughter.' And she said, 'That's it! Call me the preacher's daughter.'"
Holm, now 34, was raised in the church. She accompanied her dad on hospital visits, participated in potlucks and baby-sat countless times for church members.
"I went to church every Sunday morning, Sunday night and Wednesday night," she told the Albuquerque Journal. "We grew up living in a house owned by the church. I always had to be on time for services and held out with the nursery. I couldn't be a selfish kid."
Holm loves thrift shopping, quilting, baking from scratch, watching "Family Feud," caring for her two cats and getting her waist-length blond hair highlighted and fingernails and toenails manicured and pedicured.
"But I must prefer, if I have the time, to go to church," she said. "I feel really not focused and detached if I don't go to church. I feel like I feel better about myself and life and my relationship with God if I go. I feel more connected. I try to go every Sunday morning. If I can't, I get a little irritated with myself because I'm like, 'Really Holly? God sacrifices and has you in mind all day, every day.' How can I not want to give back one day, one hour even?"
She's the saint with only one streak of wickedness: her wicked left kick she used to upset the highly favored Rousey on Nov. 14. Betting experts pinned her as the overwhelming underdog because her opponent had made short work of her previous four opponents by knocking them out in the first round.
But before the Melbourne, Australia stadium, Holm spied an opening in the second round and delivered a powerful left kick to the head that toppled Rousey. Rousey went down and the viewing audience stood up stunned.
Holm entered mixed martial arts by way of aerobics class. She was just staying fit when she eyed the kick-boxing class and thought it might be fun. Her trainer discovered that her kicks were particularly strong and that she had a fierce competitiveness.
After success at amateur boxing in 2001, she turned pro and went 33-2-3. She held several welterweight titles and was named Ring Magazines female fighter of the year twice, in 2005 and 2006.
She was getting bored with boxing, so in 2011 Holm entered the realm of mixed martial arts, where she remains undefeated after 10 bouts. Holm refused to be intimidated by Rousey's bullish fighting record and doomsayers who predicted a blowout.
"Holly Holm is no where near ready for Ronda Rousey," tweeted ESPN's Todd Grisham before the match.
Holm spent most of the match back-peddling while Rousey moved toward her looking for a hold to bring her to the canvas, where she specializes in finishing off fighters.
While she eluded Rousey's grabs, Holm was landing jabs, moving laterally and counter-attacking with powerful kicks – 72 percent of her hits were on target.  When she knocked out Rousey, she ended her 3-year reign as UFC bantam champion and sent her to the hospital.
"She just always had that courage about her," her father said, a preacher at the Edgewood Church of Christ. "She never did like to see people mistreating anybody."
In 2012, she married Jeff Kirkpatrick, a roofer from Albuquerque. They care for her two cats, Frenchie and Buster, and his dog, Stevie. She gets choked up with tears during interviews if she's talking about a moving subject.
"I taught my kids hope," dad Holm told the UK's Daily Mail. "Always make sure you've got time for somebody's heart. That's the key to life."
If you want to know more about a personal relationship with God, go here