80% of team praying together before games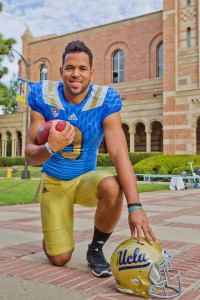 By Michael Ashcraft and Mark Ellis
When Jordan Payton outstripped UCLA's record for receptions, he thanked hard work, his parents and God.
"Just a true blessing – something we all set out to do when you play football if you want to leave a legacy wherever you're at," Payton said. "For me, just staying dedicated, staying true to myself, trust in the Lord. He was just blessing me by allowing me to break the record."
Payton caught his 194th pass on Nov. 21, surpassing the previous benchmark set by Craig Bragg in 2001-04. With seven catches for 105 yards, Payton helped the Bruins upset Pac-12 leader Utah and keep alive UCLA's hopes for a championship game.
After four years at UCLA, Payton has caught passes for 2,600 yards and 13 touchdowns. With size, strength, speed and sticky hands, he has also caught the attention of several NFL teams.
Rising fame has not shaken him from his Christian roots.
"For me, Christianity is my lifeline," Payton said. "As I become more noticed and people can recognize me more, I just depend on God more and depend on His works, and to lead people to Him. For me, I use it as a tool. I pray every day, pray with the team, after practice and before practice, before the games and after the games. I just continue to walk with Him and lead people into His path."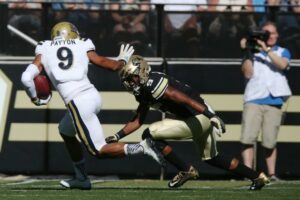 Payton is not the only Christian on the Bruins. "Of 110 guys on the team, 90 to 95 guys pray before and after games," he said. "The Fellowship of Christian Athletes have a great turnout to all their meetings. The chaplain before games, we have a great turnout. So guys are definitely walking with the Lord.
"Even in the locker room, we talk about our problems and how God can help us and what we learn in the Bible," Payton said. "(God is) definitely walking with the players on this path and just showing them the right way to do things."
On the field Payton has been the target of choice for prodigious quarterback Josh Rosen, a freshman who declared himself an atheist. The pair roomed during summer training camp, during which time the senior was able to orient the freshman about a lot of things football-wise and otherwise.
"Josh is a great kid. He has a great heart. I'm not sure what his religious views are," the always discreet receiver said. "He's very, very smart. Brilliant. We haven't talked about the Lord much yet, but I just showed him how to be an example and how to lead."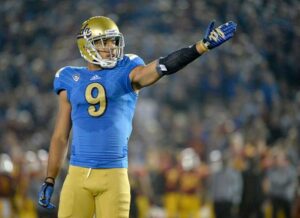 A close friend from Oaks Christian High School in Westlake Village, Sterling Root said Payton was a steadying influence.
"Becoming friends with Jordan was one of the best things that ever happened to me," Root told the Los Angeles Times. "Jordan has a sixth sense for trouble. Because I was friends with him, I was never tempted by things like drugs or became obsessive about parties. He could not stray from his mission to be a football player."
UCLA football coach Jim Mora agreed: "Jordan is someone who can be trusted," he told the Times. "He is not a guy who yaps all the time, so what he says is usually pretty significant."
Like a well-aimed football pass, Payton was set off on the Christian walk by God-loving parents. Jerry and Kathy Payton love football – but even more, Jesus. Kathy taught at Lighthouse Church School of Santa Monica, where Payton played on the flag football team.
"It's just so great to have two parents who walk in the Lord like they do," he said. "They're great examples to me. I love them to death. I love their support. I love that they're for me."