By Mark Ellis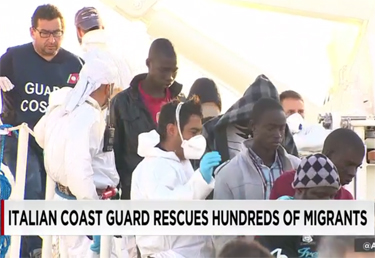 On a crowded rubber boat filled with refugees traveling from Libya to Italy, Muslims threw 12 fellow passengers overboard — killing them — because the 12 were Christians, Italian police said Thursday.
Italian authorities arrested 15 people on the boat and charged them with murdering the Christians at sea, police in Palermo told CNN.
The original group of 105 people left Libya on Tuesday. Sometime during the trip north across the Mediterranean Sea, the alleged assailants — Muslims from the Ivory Coast, Mali and Senegal — threw the 12 overboard, police told CNN.
Other people on the voyage told police that they themselves were spared "because they strongly opposed the drowning attempt and formed a human chain," Palermo police reported.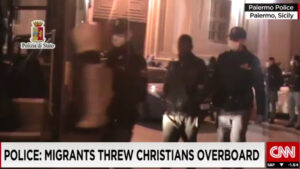 The boat was stopped by an Italian navy ship, which removed the passengers and placed them on a Panamanian ship. That ship reached Palermo on Wednesday, after which the arrests were made, CNN reported.
The 12 who died were from Nigeria and Ghana, police said.
Thousands of refugees make the treacherous journey each year from North Africa to Europe's Mediterranean coast, often aboard vessels poorly suited for such a trip. Many are trying to escape war and impoverished circumstances in Africa and the Middle East.
More than 10,000 people arrived on Italian shores from Libya since last weekend alone, the Italian coast guard reported to CNN.
Many die each year while attempting the voyage, often after their boats capsize. Last year at least 3,200 died attempting to make the trip. Since 2000, according to the International Organization for Migration, almost 22,000 migrants have perished trying to cross the Mediterranean.
On November 19th, another boat sank trying to make the journey. Only four people survived of the original 45 aboard, bringing the estimated death toll this year to nearly a thousand.