By Alex Murashko —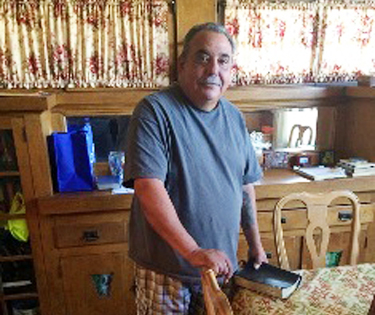 Looking at recovery home manager Sal Perez for the first time I sense an aura around him that can only be described as love.
I tell myself that there's no way that this 56-year-old man, born and raised in the San Gabriel Valley, could have ever had a bad bone in his body. However, Sal is living a life transformed. He'll tell you that in the past, as a methamphetamine addict that manufactured the drug to feed his habit, he intimidated people – he wanted to be bad.
It's a Friday night at Izzy's Place, and almost immediately I realize there's something more to this recovery home than men simply trying to kick alcohol and drugs. Sal is smiling ear-to-ear as he greets new people and gives nods and hugs to others.
In the kitchen, women are preparing dinner for those attending a Celebrate Recovery meeting in the backyard. The meeting is for the dozen or so men in the house, but it's also open to the public – those seeking help in the recovery program that utilizes the steps of Alcoholics Anonymous, the gospel, and identifies "Higher Power" as Jesus Christ.
The genuine warmth shared by those on the property located in a quaint neighborhood in La Verne, and run by Sal and Homes of Promise is palpable. Obviously, Sal plays a big part of what's happening at Izzy's Place.
"I started using drugs at 12. I started off with alcohol and marijuana, but because that didn't seem so bad, I then started with pills, downers … Quaaludes, Valium, anything I could get my hands on," Sal told me recently in one of the rooms of the 1917 Edwardian style home. "I was willing to take everything and anything that crossed my path, but one of the things that I didn't want to get involved with was heroin because both my brothers were heroin addicts."
Sal explained that he continued his drug use and drinking even as he met his girlfriend, had a child, got married, and had two more children.
Although there were times in his life before his total surrender to Jesus where he momentarily gave up drugs and began to focus on work, church and prayer, he fell back into a drug culture world that included physical threats, violence, and jail time.
After attending a Bible study and staying sober for three months he "gradually started smoking weed again, doing what I wanted to do and not what the Lord wanted me to do."
"That's when I really started doing the cocaine and acid. I started smoking heroin," he explained. "I wouldn't slam it because I related that to my brothers. I've seen them get sick. I saw them steal from us. I figured smoking it was okay. I didn't realize that if I did it often enough I would still get that same sickness."
After going through phases of using different types of drugs he said he found his "true love" (at the time) of methamphetamine. Because he couldn't afford to buy meth, he started selling it, and then eventually making it on his own.
He said he went to church again because he didn't want to lose his family. At one particular service he began to uncontrollably cry.
After a friend told him that it was okay to cry and "this was like a cleansing," Sal said, "I literally felt the weight of my sins, without question, off my shoulders. It was such a relief because I had done so many things that I was ashamed of – it was what we needed to do to survive in the streets."
Yet, one more time, after a brief time of sobriety from drugs, he began to use heavily, especially after his wife had left him. "I had given up on being any part of society whatsoever," he told me.
Sal says his final days of using and selling drugs included a violent confrontation with another drug dealer and if it wasn't for the fact that part of him was already at least listening to God's will, he may have entered into an even darker world.
Finally, a friend helped him get into a sober living home. And this time, Sal kept moving forward as someone wanting to do God's will in his life. He has been sober for 13 years, serving for 5 years as the manager of the Brick House Sober Living Home in Pomona. He also started a ministry at his home church (Faith Community) that provides transportation for clients from American Recovery Center and takes them to church for their 12-Step meeting — and then again to their church on Sunday.
"When I left the sober living home environment I never left working with people in recovery," Sal explained. He reflects on his past life. "I think everything prior to Homes of Promise was preparing me for Homes of Promise. I believe that with all my heart because the Lord was evident in my life at various stages and whatever route I would have chosen, the Lord would have me here, right now, one way or the other. Everything was for His plan and that's why my heart is in this (HOP) completely."
While the vision for Homes of Promise includes more recovery homes in the local area, and a network of Christ-centered recovery homes throughout the nation with the help of churches, Sal reflects on founder Ray Adamyk's belief that it's also about the restoration of men's lives.
"I believe in the vision that's been put on Ray's heart to develop men so they can develop themselves to be better husbands, better fathers, and better members of society," Sal said. "I'd like to help in any way to produce God-fearing men, not just Christians per se, but true followers of Christ, people that will follow the word of God." — ASSIST News Service
If you want to know more about a personal relationship with God, go here
Alex Murashko is a freelance journalist and ANS correspondent. He is also the public relations director for Homes of Promise and an associate producer at One Ten Pictures.