By Mark Ellis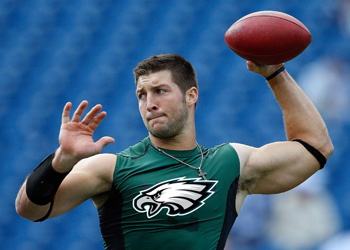 Quarterback Tim Tebow was supposed to be finished, washed-up and washed-out of the NFL, according to many sports pundits. But two years after he was cut by the New England Patriots, he rose from the bench once more to lead the Philadelphia Eagles to victory in their first exhibition game of the season.
Tebow threw for 69 yards and ran for a touchdown as the Philadelphia Eagles beat the visiting Indianapolis Colts, 36-10, on Sunday.
Tebow received a standing ovation when he entered the game for the first time in the third quarter. Fellow Christian quarterback Mark Sanchez had started the Eagles first preseason game of the 2015 season.
Tebow, who is known for the bold proclamation of his personal faith, is competing with Matt Barkley for a spot on the Eagles roster as a third-string quarterback.
The crowd roared so loudly when Tebow was introduced he had to quiet them down when he began to receive snaps in the shotgun formation.
"It's very humbling, a blessing. I appreciated it," Tebow said afterward.
Tebow completed his first four passes and fans went wild, chanting "Tebow! Tebow!" after his first series of downs.
He dove into the pylon on a seven-yard touchdown run late in the fourth quarter and finished with 15 yards rushing on four carries. He completed six out of 12 passes and was sacked twice by the defense.
Although he was sacked twice in the game, Eagles head coach Chip Kelly said that might be due to the fact that Tebow played with third-string offensive linemen and receivers.
"I liked how Timmy threw it," Eagles Coach Chip Kelly noted.
"I did some things well," Tebow said. "I think there's some things that we want to work on. For me, it's going back, watching film, looking at everything, trying to make corrections and get better one day at a time."