By Mark Ellis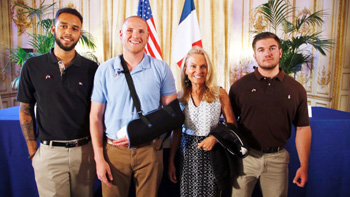 The families of the three Americans who foiled a terror attack on a Paris-bound train Friday said their heroism was directly related to their sturdy Christian faith.
"They're all Christians, they're all very religious." Peter Skarlatos, the brother of Alek Skarlato told the Sacramento Bee.
On August 21st, Airman First Class Spencer Stone, Oregon National Guard member Alek Skarlatos and college student Anthony Sadler were en route from Brussels to Paris on a high-speed train.
Sadler is the son of a Baptist pastor in Sacramento, California. All three young men were childhood friends who attended California's Freedom Christian School together and regularly played military games in their youth, according to the Gospel Herald.
Terror suspect Ayoub El Khazzani came aboard the train armed with a Kalashnikov assault rifle, a Luger automatic pistol, a box-cutter, and multiple rounds of ammunition.
El Khazzani opened fire, injuring a man before he was overwhelmed by the three young Americans and a Briton, 62-year-old businessman Chris Norman.
Airman Stone was stabbed "multiple times" in the back and severed a tendon and nerve on his hand, according to the AP. El Khazzani drew his pistol and put it to Airman Stone's head and pulled the trigger twice.
"But it clicked twice and didn't go off," Airman Stone's mother, Joyce Eskel, said later, according to news reports.
God's providential hand of protection was evident throughout the crisis, because the young men started their trip on a different train car, then switched 30 minutes later to the same car where the gunman opened fire.
Pastor Anthony Sadler, who ministers in Sacramento's Oak Park neighborhood, told reporters that he believes his son and his friends were used by God to disrupt what could have been an awful tragedy.
"We believe God's providential will worked its way out," he said. "I'm just thankful they were there and got things done."
Pastor Sadler said his son has a "great love for his friends. There's no way he would stand on the sidelines and watch them get attacked," Sadler Sr. said. "I'm thanking God they were not seriously injured."
Their heroism and sacrificial love expressed in action echoed the teaching of Jesus when he said: "Greater love has no one than this, than to lay down one's life for his friends."
The young men were presented with one of France's greatest medals, The Legion of Honor, on August 24th.