By Mark Ellis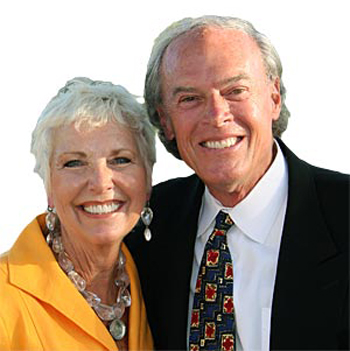 After Pastor John McClure passed away unexpectedly August 8th due to complications of a terrible ATV accident in Colorado, his wife Margie was able to share many fond memories of John and his legacy.
"What translated so vividly was John's absolute love for people," she says. "He loved people from all walks of life and didn't see any difference, whether they were multimillionaires or street people."
"When he entered a room, it was all focused on the other person," she notes.
The public face was no different from the private one she saw day-to-day. "He loved me so much it was almost nutty," she recalls. "I had it really good."
Margie described John's father, an engineer, as a "wonderful, stalwart man who loved the Lord," but was not very demonstrative with his affections, which reflected the pattern of most men of his generation.
But John's personality was influenced by Margie's dad, Pastor Ray Ortlund. "He got his enthusiasm and zest and love for people from my dad. He learned that men could kiss men and hold them. He imparted that to John, but his own father wasn't that way."
"John was smooshy, especially with me — he was incredible."
In 1963, John experienced an "outpouring of the Spirit" at a Navigator conference in Glen Erie, Colorado. Peter Wagner introduced him to John Wimber in 1973, and their friendship and partnership in the gospel culminated in a beautiful ministry season.
"He met John Wimber very early on, when he wasn't even a pastor at that point," she recalls. "The two of them really caught this vision. Carol Wimber was a huge part of it and adored John."
Wimber and McClure were originally part of Calvary Chapel. "They decided to go with the Vineyard. It wasn't quite in line with Calvary and Chuck (Smith) thought that was the best solution," she says.
"We just had a different take on the Christian experience in life and in the church," she recounts. "We were never completely separated from Calvary because we were so similar."
After John McClure took over the Newport Beach Vineyard, it flourished and grew to about 2500 active members. During the last decade, however, McClure faced his share of disappointments in church life.
"He didn't molly grub at all," Margie says. "He was too in love with the Lord to let it stop him in ministry. He was very enthusiastic about the next phase of his life."