By Mark Ellis —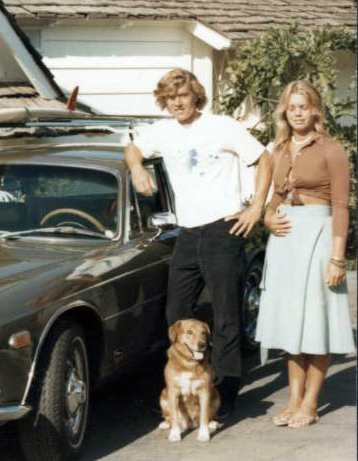 In the summer before her senior year in high school, Anna Chambers was on vacation at Lake Tahoe with a friend.
"We had too much freedom," Anna admits today. She is the author of My Name is Mom (WestBow Press), a heartrending account of her tumultuous young life before she found healing from the Author of Life.
One night during the summer vacation, Anna and her friend walked up the street to a party. "The minute we walked through the front door, we realized that we were in way over our heads," she recounts.
When they left the party, two "nicely dressed, clean-cut young men" who identified themselves as firefighters offered to walk them home "to protect them." One of these wolves in sheep's clothing raped 17-year-old Anna that night.
"I had never been so scared and so confused," she says. "He looked at me with a hatred that I had never seen before."
Afraid to tell her parents or go to the police, Anna confided in Christine, the "cool mom that allowed all the high school students to party at her house," and kept her home stocked with liquor and cigarettes.
Christine reassured the frightened young woman that if she was pregnant, there was a "simple solution" to remove the "blob of tissue," – just like removing a small cyst.
After the pregnancy was confirmed by the abortion clinic and Anna was able to find the cash they wanted up-front, she ditched school and Christine drove her to the abortion clinic, where a machine that sounded like a vacuum cleaner sucked the developing life from her womb.
Anna's book is organized as a series of letters addressed to "Dear Blob," detailing the horrendous events that unfolded as a result of her decision to abort.
Only four months after her first abortion, tragedy struck again. She discovered she was pregnant with boyfriend Steve. "I could not believe that it was happening again, especially since we were using condoms for birth controls," she notes.
"This was the beginning of the darkest period of my life and it was not to be a short season."
Embarrassed to return to the same clinic only four months later, the doctor reassured her that he had many return patients, and made a lame joke that there was something in the water supply in her community – actually one of the most affluent areas of Southern California.
Frightened in the night
The night following her second abortion, Anna had one of the worst dreams of her young life. "I remember fighting my way out of a bloody nightmare. My body was drenched with sweat and I had a strong sense of evil I had never felt before."
She lay awake wide-eyed and terror-stricken the rest of the night. "I wondered if I was going insane or if I had died and this was hell," she relates. "Suddenly the thought of death began to consume me."
Growing up, Anna had little exposure to church and no meaningful Christian influence from her parents.
Anna and her boyfriend broke up after the abortion. She graduated from high school, got a job, and started junior college. Emotionally, she was barely functioning. "My parents knew something was wrong with me…as they watched me lay in the fetal position with the suicide hotline number by my side most of the day."
When Anna met her future husband, Kevin, she says there seemed to be a magnetic force field that brought two troubled people together. It was as if "I had a sign on my forehead that read, 'I am not well. I have shame and sorrow, and it would be all right if you abuse me.'"
The sign on his forehead would have read, "I hate women and I can't wait to abuse you and break your heart."
The emotional and physical abuse by Kevin started a few months into their relationship. While outwardly charming, behind closed doors another side emerged. "I was stupefied by this absurd behavior since I had never seen it while growing up," she notes. "Yet strangely, it felt right. I believed it was to be my lot in life."
After discovering she was pregnant with Kevin, Anna's parents hurriedly organized a country club wedding.
Wedding plans
Only a week before the nuptials, Anna and Kevin got into a horrendous fight in which he threw her against a wall, leaving horrible bruises on her arms.
She ran to a friend's house, who advised her to get in the car and drive as far away as possible and never look back. "I was in agreement," she says, "except for the fact that my mom and dad had put so much time and money into planning a wedding for us."
On the day of the wedding, Kevin was so intoxicated he could barely stand during the ceremony. She gave an Academy Award performance, explaining that the bruises up and down her arms were the result of "goofing around."
On the first night of their honeymoon, Kevin rejected her physically. "Suddenly, he wanted nothing to do with me sexually. I was shocked and humiliated and cried myself to sleep."
A few weeks into the marriage, Anna began to experience severe cramping. "The bleeding became so heavy that I had to sit in the bathroom as I passed large clots."
A friend rushed her to the doctor. After a urine test and quick examination, the physician nonchalantly told her she lost the baby.
Left alone in the examination room, she walked over to the 8th floor window and looked to see if it would open so she could jump out. Mercifully, the window didn't open, so she dressed and walked out to the waiting room and collapsed in a friend's arms.
In Anna's compelling book, she recounts Kevin's ongoing abuse, an actual attempt to murder her, and her discovery of his drug-dealing and an extramarital affair.
An unexpected visit
Early one Sunday morning, Anna was surprised by a knock at the door. Her friend Jan walked in and told her to get dressed because they were going to church.
As they drove together that morning, Anna felt somewhat anxious. "I didn't really know what the rules were for 'church people,' but I knew for sure I had probably broken every single one and would not be welcome there."
Expecting to see a beautiful building with stained glass windows, Anna was surprised when they arrived at a small building that doubled as a YMCA during the week. She tried to persuade Jan to let her stay in the car, because she really didn't belong there.
Once inside, Anna was met by another surprise. "Everyone was standing with their hands raised high as they sang with all their hearts. I had never seen such a display in church before."
A stranger approached Anna and pulled her aside. "God loves you," he said. "No matter where you have been or what you have done, He loves you and forgives you," the man said, with tears in his eyes.
"He does?" Anna asked, mostly with disbelief.
At the end of the service, Anna recognized she had a choice to make. "I had a responsibility to either accept or reject the gift I was being offered. I had grown very cynical and distrustful, yet I knew that I was being thrown a lifeline. With all my might, I reached out and grabbed hold of it. I chose life."
That Sunday, Anna surrendered her life to Jesus Christ as her Lord and Savior.
Jan encouraged Anna to pray and talk with God as if she was talking to a good friend. Anna began to attend church faithfully. "It was as if I had a heart transplant and had been infused with new life," she says. "He gave me courage and hope to face each day, one step at a time."
At a certain point in Anna's book, she stops addressing her letters to "Dear Blobs" and begins addressing them as "Dear Ones" and finally, "Dear Precious Ones," reflecting a new understanding in her journey with Christ.
In spite of Anna's newfound hope and faith, she struggled with depression due to her two abortions. "Dear Ones, that was a time when I learned how to find treasures in the darkness and how to sing songs in the night seasons," she writes.
"God walked through the fire of despair with me and when that painful season was over, the only loss I suffered was the loss of more of my shackles."
"You did not deserve to die violently. I look forward to the day when I will see you face to face."
If you want to know more about a personal relationship with God, go here
Anna teaches a weekly Bible study for women and speaks to women's groups about her story. To order her book go here.