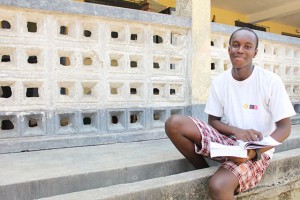 Can something as small as an egg be enough to save a life?
It was for Emmanuel Manu, a 16-year-old from the Assin district of Ghana. Upon finishing junior high, Emmanuel developed a life-threatening tumor in his lower jaw that kept him out of school and secluded to his home. His condition worsened to the point that in two weeks, his face doubled in size.
Had Emmanuel been registered with one of Compassion International's child development centers, he could have easily received treatment. But he wasn't. His family did not have enough money to pay for his much-needed surgery. He continued to suffer, until one man came to his rescue.
Dominic Arthur Morrison, the partnership facilitator for Compassion International Ghana, first noticed Emmanuel's condition when buying bread from the boy's mother. He was deeply troubled that there was nothing he could do to help. Or was there?
Dominic recalled a plan Ghana's compassion country director, Padmore Agyapong, had thought up in response to Emmanuel's illness. Every Saturday, the development centers provide two meals for registered children and conduct curriculum-based lessons. He had suggested that enrolled children give up one egg from their weekly meals to pay for Emmanuel's open-heart surgery.
The next day, Dominic asked Emmanuel's family for permission to carry out his plan. They agreed. But the task looked daunting. With each egg only worth about 16 cents apiece, it would take a lot of eggs to pay for Emmanuel's $1,500 surgery. But after presenting his plan to the 15 local centers, no one rejected it. In fact, they loved the idea of helping out a friend in need.
After two weeks, each of the 15 centers, with about 260 children at each location, donated about $100. They had reached their goal.
Emmanuel is now doing much better: his tumor is gone. He is happy, back in school and pursuing his dream of becoming a minister.
This incredible story shows how something so trivial can have such a strong impact. It also reveals the power God's love can have when spirit-filled people join together for a common cause.
Can we show this same kind of love? There are several things you can do to make a difference in the lives of people like Emmanuel:
Pray for the health of people in nations where disease is rampant and medical treatment scarce.
Consider donating to Compassion International as they fight child poverty.
Consider directly sponsoring a child through Compassion International. Click here to get started.
Pray that this sacrificial love demonstrated by the Compassion students will point to the love of Christ and draw many to faith in Him.–Mission Network