By Michael Ashcraft —
He wasn't supposed to get anywhere near a boxing ring. After doctors operated on his kidney at 3-months-old, Chris Van Heerden was strictly forbidden from contact sports.
But his dad was a boxer and believed God would heal his son. It seemed natural for his father to train him in the sport of gloves. So today, Van Heerden, 27, is the current holder of the IBF International welterweight Title. He beat the previously undefeated Cecil McCalla at Madison Square Garden on Jan. 9, 2015.
"I'm blessed by Jesus Christ," the native South African says. "Win or lose, I'm blessed."
He may call himself blessed when he loses, but he sure has won a lot. Starting on his native continent, he now holds a record 22-1 (and one draw) including three fights since he's come to the U.S. His only loss was in Serbia. Eleven of his wins were by knockout.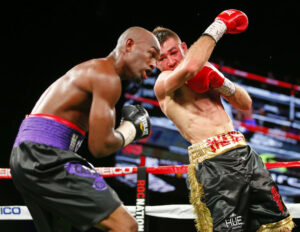 When he was growing up in Johannesburg, his dad never told him the negative prognosis from the doctors. He found out many years later. He bears a scar over his left kidney that is still visible.
"My dad simply said, 'Ain't no doctor gonna tell me what my kid can and cannot do.' He just believed: 'In Jesus' name, my son will be okay,'" Van Heerden recalls. "I'm glad he did that. I'm glad he prayed and believed for me to have a normal childhood. I played rugby and boxing. I was a fit kid."
Since his father was a respected heavyweight fighter in South Africa in the 1980s, it was easy for Chris to catch the dream. When he turned 18, his dad gave him two options: "I'll pay for you to study at the university and be an accountant, or I'll support you to get started in a boxing career – but not both," Van Heerden says. He chose boxing.
But the dream was doomed immediately. At 18, he failed the physical fitness test to obtain his boxing license in South Africa. Then the doctor diagnosed diabetes.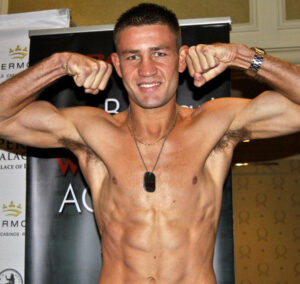 The heartbreak drove him to prayer – for the first time in his life.
"I found myself on my knees. I'd never done that before. As a kid you just go to church every Sunday, and you're back in school on Monday, and you forget about it," he says. "I prayed. I made a promise to God that I would tell people about this, that I would give the glory to God, if He would heal me."
Three days later he returned to the doctor, who discouraged him from testing again.
"It's my money, doctor, just do the test again," he told the skeptical doctor.
It came back negative. He got the professional boxing license.
He handily won the South African and ABU titles. After losing to Serbian Ivica Stevanovic, he returned to his winning ways by downing countryman Kaizer Mabuza to capture the IBO welterweight belt.
All the while, he was using the fame to tell people about the reality of Jesus Christ in his life. He would interrupt conversations and go out of his way to inject the good news about Jesus.
"I used to be that kid that would tell people about the Lord," he recalls. "I would stick to my promise."
Then, America beckoned with the illusion of greater boxing prospects.
"I was living a comfortable life in South Africa. Money was coming in. I was famous," he says. "But my dream was always to come to America. California is the boxing capital of the world. The rewards are so much better here. Everybody sees you. The best of the best are here."
In 2013 he set up residence in Santa Monica. His contact promised that all the paperwork would be taken care of, but it wasn't. Because he lacked the proper visa to "work" in the United States, he couldn't defend his title and had to relinquish it.
Alone in his apartment, he cried out to God.
"How did I go from being on top of the world and being a world champion without me doing anything?" he wondered. "Then I realized that almost without even realizing it, I had slowly stopped talking about Jesus and testifying like I used to. I kind of went off the path a little bit.
"It was my mistake. I stopped keeping my promise," he told congregants of the Lighthouse Church, where he now attends. "It's so easy for the Lord to teach us a lesson. So I got back on track, and now I'm happy again. It just feels good." He also got his paperwork in order.
In January 2014, he prevailed over Mexican Cosme Rivera. Two-and-a-half months later he defeated Gahnian Ray Nahr. He was working his way up to the big fight against the American McCalla, who had never lost in 20 bouts.
To win in Madison Square Garden in New York was a dream come true.
His next fight will be May 9 in Birmingham, England, against local legend Frankie Gavin. Should Van Heerden win, his ranking will enter the top 10 and give him a chance to challenge for IBF World Title.
"This will be the toughest test for me," he says.
As a Christian boxer, Van Heerden receives sarcastic remarks about God helping him in the ring.
"I'm not praying that I'll beat a guy up," he says. "I'm a believer that the guy who deserves it the most will win."
His favorite verse is 2nd Timothy 1:7, "For God hath not given us the spirit of fear; but of power, and of love, and of a sound mind."
"I'm never afraid when I go into the ring," he says. "On May 9th, I just want to stand in that ring and tell the 15,000 fans that I'm blessed by God," he says. "If I touch one person's life, then I'll be happy. That's my dream."
If you want to know more about a personal relationship with God, go here