By Emily Hochstetler
For three days in October, an ordinary church in an ordinary part of Kinshasa, was packed with women. Women coming from all walks of life, all over the city, happy to be part of something bigger than themselves – the Tabitha family.
In Kinshasa, pregnancy represents an arduous future for women. Across the city, children are thrown away or aborted for fear of a predictable future.
But these women were coming together to worship and learn about God and to find encouragement with their sisters from other parts of the city.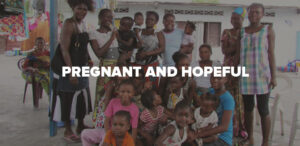 Dividing joints and marrow
On the third day, the church was the fullest it had been over the course of the meetings. On this day, Maman Claudine Selenga had prepared a session on pregnancy and the miracle of life, including images of what a fetus looks like in the womb. As the women saw these pictures (it was the first time many of them had seen pictures like this) an audible gasp filled the church. Most of the women had either had an abortion themselves or knew someone who had had one. The number of abortions is high in Kinshasa, despite the fact that they are illegal. This was the first time they really knew what that meant and what they were doing.
That moment in a three day conference, in an ordinary church, in an ordinary part of Kinshasa, could have easily ended there and not changed anything. These women could choose to ignore what they had learned and carry on with their lives. But that is not what they committed to.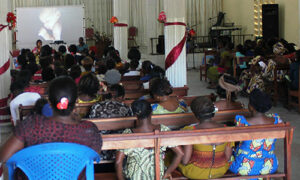 Good news for the neighborhood
One woman, by the name of Justine, brought it farther. In the evenings, after the conference, she would go home, gather the young women in her compound, and teach them the things that had been taught that day. She told them that God loved them and she taught them that God was not happy when they aborted their pregnancies.
There had been one young lady, in her early twenties who hadn't told anyone that she was pregnant. Soon afterwards she went to her mother and confessed her pregnancy. Her mother immediately told her to go and have it aborted. So Sarah (this name has been changed for her protection) went to the doctor and paid the money for her pregnancy to be aborted. As she waited for the procedure to begin, she remembered what Justine had taught her. She remembered that God was not happy when people aborted their babies. As she remembered these things, she realized that she could not go through with the procedure, so she got up and left. She went back to her mother and explained that she could not abort her pregnancy and make God sad. Her mother agreed to let her keep her baby.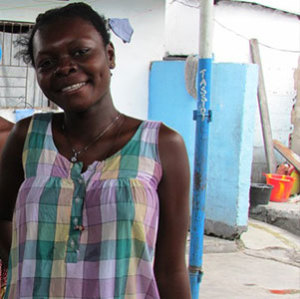 A prayerfully hopeful future
Two months later, Sarah is obviously pregnant and has a big smile on her face. Of course this doesn't mean that she doesn't have concerns. She will soon have a baby to support and very few job opportunities open to her. All of the women in Sarah and Justine's compound are praying that a Tabitha Center will soon be opened near them so they can learn trades – such as sewing and hair dressing – and learn to follow God.–Reach Global