By Michael Ashcraft and Mark Ellis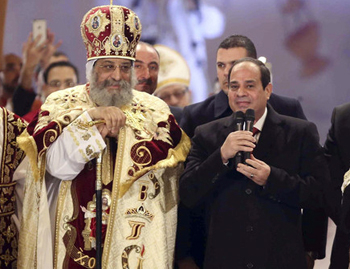 While liberal scholars and journalists work feverishly to dispel the notion that Islam is inherently violent, the latest voice of alarm comes from within Islam as the president of Egypt calls for "a revolution" to tame radical Islam.
Extremists are "making enemies of the whole world," said President Abdel Fattah el-Sisi, as quoted in the Huffington Post. "So 1.6 billion people (in the Muslim world) will kill the world of 7 billion? That's impossible… We need a religious revolution" that would include an upgrade of interpretations of texts birthed out of Mohammad's warlike rise to power.
"It is unbelievable that the thought we hold holy pushes the Muslim community to be a source of worry, fear, danger, murder and destruction to all the world," he said in unusual remarks from a Jan. 1 speech, as quoted in the New York Times.
The grim analysis was overlooked by mainstream media and appears to contradict their interpretations of current events which allege that Islam is no more guilty of the crimes committed in its name than Christianity is guilty of racial crimes of the Ku Klux Klan.
Others pan the comments, saying they concern themselves more about reinforcing the new military regime than following the Quran. Sisi ousted the democratically elected Muslim Brotherhood president Mohamed Morsi in 2013. Since the overthrow, Sisi has cracked down on the Muslim Brotherhood, which he has characterized as a "terrorist group."
While the debate continues, acts of grisly violence in the name of Islam appear in the news with disturbing frequency. A coldblooded attack by three men with AK-47s on the French satire magazine Charlie Hebdo left 12 dead last week after the magazine dared to mock Mohammad in many cartoons.
The shocking bloodshed capped off a year of Islamist mayhem: The Islamic State beheaded journalists, videotaped them and uploaded them to YouTube in Syria. Al Qaeda killed 132 schoolchildren in Pakistan. Isolated hostage and shootings occurred in Australia and Canada.
In 2013, two radicals in Boston detonated bombs, killed five and injured 263 at the city's marathon as revenge against U.S.-led wars in the Middle East. Dzhokhar Tsarnaev is currently standing trial for his alleged involvement.
Sisi is not alone in the Muslim world for criticizing the violent strain of Islam. Also reported in the New York Times, Egyptian atheist Ahmed Harqan asked on a popular television show: "What has ISIS done that Mohammad did not do?"
The Egyptian president also said that entrenched warlike interpretations of the Quran date from the 5th century and have turned Islam into a source of "destruction" which has antagonized the rest of the world. To purge retrograde concepts from Islam, Sisi is now undertaking reform through schools and mosques, according to the Huffington Post.
The government is working with the revered center of Sunni thinking, al-Azhar, to promote tolerance, peace and freedom. The center is responsible for studying Islamic issues, providing preachers to explain religious affairs to the police, military, schools, government and private companies. It also practices censorship, according to the Huffington Post.
"What the president meant is that we need a contemporary reading of religious texts to deal with our contemporary reality," said Eddin Afifi, secretary general of the Islamic Resarch Center, as quoted in the Huffington Post.
In the schools and universities, the Egyptian government is rewriting class textbooks to modernize and extricate Quran-based teachings on slavery and refusing to greet Christians and Jews, the Huffington Post reported.
In a bid to end sectarian strife, Sisi attended Christmas services at the Orthodox Coptic church and spoke about the need to view each other, not as Christians and Muslims, but as Egyptians, the Huffington Post reported.
But don't think the government-sponsored reform will advance easily. Vast swaths of the society see the reform movement as only conserving the president's power – and al-Azhar as only his puppet.
"They will say, 'You're just an ally of the state, instead of a genuinely independent figure,'" said H.A. Hellyer, a fellow at the Center for Middle East policy at the Brookings Institution in Washington told the Huffington Post.
At the same time, Egypt struggles to provide basic services such as education and health care, which experts say, will only spawn more radicalism.
"The Arab states have not delivered what they are supposed to deliver, and it can only lead to a deep sense of resentment and frustration, or to revolution," said Khaled Fahmy, an Egyptian historian, in the New York Times.
Egyptian historian Sherif Younis, a professor at the Helwan University, was pessimistic about the chances of reform.
"Every fundamentalist has in mind a counter-regime, even if he does not known how to use a knife," Younis said, as quoted in the New York Times.
Meanwhile, Raymond Ibrahim, an expert on anti-Christian violence throughout the Middle East, posted on his FaceBook page on Jan. 10 a translation of a popular television talk show host echoing President Sisi.
"Are you, as Muslims, content with the fact that today we are all seen as terrorists by the world?" he quotes 'Amru Abdib of Cairo Today. "We [Egyptians] used to bring civilization to the world. Today what? — we are barbarians! Barbarians I tell you!
"I'm not afraid about how many Muslims kill Christians, I'm afraid of how many Muslims kills Muslims," continues Abdib, a moderate Muslim. "In 2014, more Muslims were killed by other Muslims than all throughout history. In every Muslim country, we are killing each other — this has nothing to do with non-Muslims mocking Islam!
"Who put this hate in us? You're going to tell me that [Muslim] terrorism exists because of Israel, because of the West, because of this and that, but the truth is, we are no longer tolerant Muslims. If we can't live with each other, are we going to be able to live with the Christians?"