By Ashlee Mullany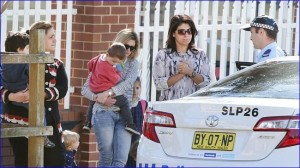 Parents at a school in Western Sydney are standing defiant in the face of an evil threat by IS supporters, who shouted death threats at a nun this week.
Students and staff at Maronite College of the Holy Family in Harris Park were left shaken and terrified after learning a group of men waving an IS flag had threatened to "slaughter the Christians".
A nun was at the entrance to the school on Alice St. when the men shouted the threats as they drove past in a red car at 2pm on Tuesday.
The school is linked to the Our Lady of Lebanon Church across the street. Police visited the school yesterday to speak to students and review CCTV footage of the incident.
"The verbal abuse was along the lines of 'we're going to get you Christians and we're going to slaughter your children'," said parent and school spokesman Joseph Wakim.
"The intention of the perpetrators is to throw a stone and have a ripple effect and we're not going to let it happen. People are not going to live in fear." Principal Margaret Ghosn said that the school took the threats "very seriously" and immediately reported the incident to police.
"Our first priority is to ­ensure the safety of the college and our students and that's what's been happening over the last two days," Dr. Ghosn told The Daily Telegraph.
A school liaison officer from NSW Police arrived at the school yesterday morning and addressed the primary-school aged children. "There's nothing to be scared of. You don't have to be worried about bad people or bad things happening," he told the students.
"You guys are very safe here. You've got the police, like me, who will be around all day.
"It doesn't mean that something's going to happen to the school. It just means that, as police, we are doing our job of making sure everybody's safe."
Mr Wakim said the threats were worrying, but parents needed to stay "level-headed".
"I was taken aback. I thought 'this is very close to home'. I'm aware of these situations happening all over Australia, but this is my school, my church, my children." –Assyrian International News Agency