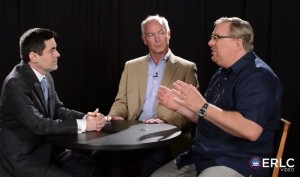 By David Roach
Pastors must learn how to help troubled souls and remove the stigma associated with mental illness, Rick Warren and Tony Rose said in a video discussion with Russell D. Moore, president of Southern Baptists' Ethics & Religious Liberty Commission.
"The phrase 'mental health' or 'mental illness' does not equal crazy," Warren, pastor of Saddleback Church in Lake Forest, Calif., said in the video posted at the SBC entity's erlc.comwebsite.
"A lot of people think that mental illness means people out of touch with reality. Ninety-nine percent of us — and I include all of us — struggle with mental health issues, and we're not out of touch with reality. Depression is a mental health issue. Worry is a mental health issue. Compulsion is a mental health issue…. Fear is a mental health issue."
Warren spoke of a brain disorder he has that causes him to get dizzy and experience partial blindness when he has an adrenaline rush. The disorder once made him faint as he stood up to preach, leading to a years-long struggle with fear and depression that included trips to Christian counselors, he said.
"When I start sharing stuff like that, then that causes my church to be able to open up about" their own mental health issues, Warren said.

Rose, chairman of the Mental Health Advisory Group formed by SBC Executive Committee President Frank S. Page, said pastors should learn to evaluate the causes of people's troubled souls so they can provide spiritual help as needed and refer individuals for medical help when appropriate. He referenced as a good model the pastoral procedure followed by Puritans, Christians who sought to reform the Church of England's doctrine and worship in the 1500s and 1600s.
First, Puritan pastors evaluated whether a person trusted Christ as their Lord and Savior, Rose, pastor of LaGrange (Ky.) Baptist Church, said. Then they evaluated whether the troubled individual suffered from "melancholy" — a broad label the Puritans used to describe conditions akin to what today's mental health professionals refer to as depression.
Puritan Richard Baxter represents a "classic" example of pastoral wisdom regarding mental illness, Rose said. Baxter once said according to Rose, "Preaching a man a sermon with a broken head and telling him to be right with God is equal to telling a man with a broken leg to get up and run a race."
Pastors also must evaluate whether a troubled person is experiencing the consequences of sin, an attack of Satan or a sense of the Holy Spirit's desertion, Rose said in the video, released in mid-July.
Pastors aren't the only ones who should be concerned with mental illness, Warren said. All relationships, minds and bodies are affected adversely by the Fall of man, and believers should try to alleviate that brokenness wherever they can, he said.
Warren, whose son Matthew committed suicide last year following a battle with mental illness since childhood, noted that one in five children struggle with mental illness. The average age for the onset of depression used to be in the 30s, Rose said, but now is 14. 
Given the pervasiveness of mental illness, dealing with it compassionately is a challenge that churches must embrace, the pastors said.
"If the church could be a church of mercy, we would have no evangelism problem," Warren said, "because people are looking for mercy."
Please pray for those with mental illness, that the Church has more wisdom and understanding of this issue, and that churches have counseling and other help for those who suffer from any type of mental illness.–Baptist Press