By Mark Ellis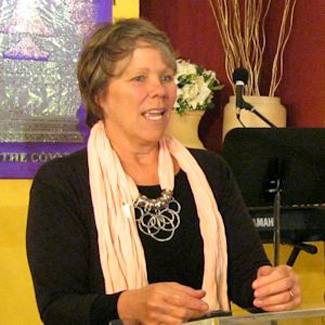 Karen Dunham has survived many attempts on her life as she ministered Christ's compassion to Palestinians in Jericho and Gaza. Some have referred to her as a "Mother Teresa in Israel." Now she is asking for God's protection due to mounting pressures to force her from her ministry headquarters in East Jerusalem.
On September 21st, she was assaulted by an extremist bent on doing her harm. "The man ran up from behind me and with both fists hit me as hard as he could in the back," says Dunham, founder of the Living Bread International Church. She slammed to the ground, sustaining a fractured wrist, busted teeth, knee damage, and bruises from head to toe.
The most recent attacks against her ministry began two months ago. When she returned from a trip to the U.S., Islamists had taken over her parking lot, constructed an illegal structure there, and informed her they had designs on the entire property. One week ago they tore off her front gate and front door.
Then they stole a privacy shade and metal security fence around their offices. "Without the metal fence we're like sitting ducks," she says.
When she called a company to replace the fencing, Islamists attacked the repairman and he fled.
The next day, a man with a black plastic bag walked by and began to pump a toxic gas into her porch, where she and her staff were sitting. They got up and ran into the church nearby, along with some of the orphans they care for.
"I can't breathe!" many of the children cried as they ran into the church.
"We ran inside the church (next door) and they had filled it with gas through a couple open windows," Dunham reports. She found out later the illegal structure in her parking lot was used to store the gas and the machine to pump it into the church through hoses.
"They are also threatening to bomb us if we don't leave," she says. One of the orphans recognized the man who knocked over Dunham. "He made a motion with his hand like he was going to take her head off," scaring the child.
The police in East Jerusalem have been completely uncooperative, according to Dunham. She also talked with her contacts in the Israeli army.
"Should we give up and leave?" she asked one of the officers. "Should all Christians leave East Jerusalem?"
"No, don't go anywhere," he advised. However, her office is outside their "jurisdiction," so they cannot offer her any protection.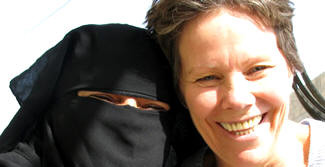 In 2003, Dunham met an evangelistic Catholic priest, Father George, who amazed her when he said, "Go to Jericho and feed the people and win the whole city for Jesus." The Holy Spirit gripped her soul when he said those words. Immediately she knew that she and her son must move to Jericho, "the door of the land."
At the time, there were no Americans in Jericho. "The only woman who would rent me a house was a woman in one of the refugee camps who desperately needed money," Dunham recalls.
Some of her Jewish friends expressed anger when she said she wanted to move into Jericho to feed hungry Palestinians. "Why would God tell you to feed the enemy?" they asked.
Since then, Dunham survived numerous fire bombings of her home and attempts on her life. She has become widely recognized for her acts of compassion, ministering the gospel in refugee camps in Jericho and Gaza. Against all odds, she built churches among the Palestinians.
She won unusual favor from Israelis and Palestinians, but the atmosphere changed after the most recent fighting in Gaza. "The temperature is red (hot)" and rising now, according to Dunham.
Dunham has been offered alternative office space in a safer part of West Jerusalem, but she is waiting on the Lord to provide the funds for such a move. "I will never give up the church unless the Lord says to move," she says.
A few days ago, her son's Jewish friend, Adar, painted a large passage of Scripture next to their front entrance from Exodus 12:23:
"For the LORD will pass through to smite the Egyptians; and when He sees the blood on the lintel and on the two doorposts, the LORD will pass over the door and will not allow the destroyer to come in to your houses to smite you."
"Our hearts are soaked in the blood of Christ," Dunham told Adar. "We have to send a message to the principalities so the destroyer passes over."
The Lord spoke to Dunham in the middle of the night and told her He would heal her broken wrist. The next morning when she awoke she stripped off her cast and bandages and the wrist was completely healed.
"Tonight they threw urine at us and attacked two of our volunteers from the U.S.," she notes. "This is a war with Islamic extreme. But we keep praying for our enemies, worshipping, blowing the shofar, and declaring Jesus Christ as Lord."
If you want to hear more about Karen Dunham's life, listen to episode 1 of our Best of God Reports Interview Podcast with journalist Mark Ellis, go here: https://podcasts.apple.com/us/podcast/episode-1-karen-dunham-ministry-in-refugee-