By Dan Wooding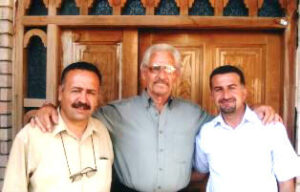 Dr. Norm Nelson, President and on-air host of Compassion Radio, a unique activist radio ministry heard daily on more than 1,000 outlets across the United States and which sponsors compassion projects in 31 of the world's toughest countries, is so outraged by the actions of ISIS in northern Iraq, he has sent his offer to fight with the Kurdish Peshmerga military against the advances of the ISIS terrorists who are presently threatening the Kurdish capital city of Erbil.
Here is the text of Norm Nelson's offer on August 8, 2014 via Asharq al-Aswat (the Kurdish online newspaper): As an elderly but able-bodied former U.S. Marine trained in the firing of 155 mm artillery guns (which were used in the recent Iraq war), I am volunteering my service to the Peshmerga forces preparing to make a stand against the cowardly ISIS militia threatening the KRG and the city of Erbil. 
I have spent time in Erbil and also in Kirkuk in recent years, in addition to having traveled to Mosul and neighboring Assyrian towns and cities. As devout Christian and follower of Issa (Jesus), I have great admiration for the KRG. I did not support the military action of the Bush Administration's war in Iraq. I visited the country on numerous occasions both before and after that unfortunate and destabilizing military effort.I have a hatred of war, but I am not a pacifist, and I believe the outrageous and sub-human behavior of ISIS requires the use of force to stop its cowardly advances throughout northern Iraq. I am presently negotiating travel to Kurdistan and am quite serious about this move of solidarity with the Kurdish people and the Christians and other religious minorities who are suffering at the hands of this brutal persecution. It is my hope that President Obama will move decisively to mobilize a U.S. military action to stop ISIS in its tracks. A failure on his part to do so will reflect more of a desire to pander to American public opinion than to act on principle. In the meantime, I offer my service to this just war cause.
Dr. Norm Nelson, California, USA"
Nelson is a veteran of numerous trips to Iraq beginning in 1999, and has traveled and met with church leaders not only in Baghdad but also in Mosul, Kirkuk, Samara, Sulaimaniya and Erbil.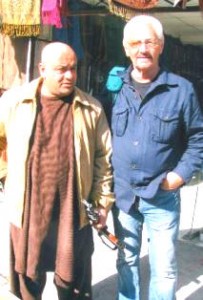 In one of his most recent trips to Iraq he spent time traveling around Kurdistan with a young former Peshmerga warrior who impressed him with his strength, courage and commitment to the Christian gospel.
Norm comments, "I saw a strength of character in this young man that clearly reflected his devotion to Jesus as well as his patriotism and love of his Kurdish heritage. In fact, he was only one of numerous young Kurdish Christians who said that they were ready to die for their Christian faith. I was enormously impressed with these young people. The thought that their lives are now threatened by ISIS thugs rampaging through Iraq, defaming and destroying churches and other sacred places of antiquity, as well as beheading children of minority religions is so offensive to me that I cannot hide my revulsion at this barbarity".
"If our American President cannot summon the courage to take decisive action to stop this, I can at least make an offer to act on my own and express solidarity with these admirable Kurdish people. To me it is unthinkable that an American Christian should do nothing in the face of this revolting situation in northern Iraq."
This year Nelson, who is about to celebrate his 76th birthday, has been on the move in several areas of the world in his ministry of compassion. He has worked with ministry partners in Syrian border refugee camps in both Lebanon and Jordan. Only days ago he returned from a month-long stint as a Professor at China's Peking University summer semester teaching an undergraduate course in Advanced English Public Speaking. He has also visited Turkey, Denmark and the UK in pursuit of ongoing academic interests related to his work in broadcasting. He has considerable experience doing humanitarian work in Afghanistan, Iran, and Sudan and has made three trips to North Korea. To date his travels include more than 90 countries, many of them among the most difficult on earth.
So how serious is this offer of military service? Nelson says, "My wife knows that if my offer was accepted, I'd go. I have absolutely no fear of death. In fact, I'm not afraid of anything. If I were to be killed, my confidence that I would spend eternity with Christ who rose from the dead and conquered death, releases me from all fear. I actually pity the members or ISIS. Their actions are those of desperate, fearful people. My greatest hope would be that I could show them that to live for Christ is to be a free and fulfilled person. I don't hate them. I hate what they do. And what they do must be stopped."
Norm Nelson can be reached for interviews atNorm@compassionradio.com. Compassion Radio, P.O. Box 2770, Orange, CA 92859. USA.www.compassionradio.com
Pleasae pray for Norm, the Christians and leaders in Syria and Iraq, as well as the Peshmerga warriors.–ASSIST News