By Nico Bougas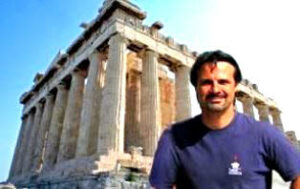 Almost 300 volunteers from Greece and around the world are gathering in Halkidiki,  just outside of Thessaloniki in Northern Greece. They are preparing for a week-long, major summer project.
The participants are coming from as far afield as Australia, Iceland, South Africa, New Zealand, Romania, Canada, the UK and the USA. Their purpose is to distribute modern Greek New Testaments to some 150,000 homes.
Very few Greeks own a Bible and even fewer have ever read a modern Greek translation. So bearing in mind the scripture that says "the entrance of your word brings light, it brings understanding to the simple" (Psalm 119.130), you would think that the powerful Greek Orthodox church would be rejoicing at the prospect of a national spiritual impact and the opportunity to make the scriptures available to the common people.
Not so. A press statement was posted on June 27th on the official Greek Orthodox Church Archdiocese website. It warns the public of ".Hellenic Ministries, a neo Protestant group that will once again be involved in a widespread proselytizing effort with the excuse of passing out New Testaments!" They remind the Greek audience that "the Greek people are the only Body of Christ (the Orthodox State Church) and that Greece doesn't have any need for modern heresies or for 'self-ordained' (Evangelical) preachers."
In the latest Hellenic Ministries monthly prayer letter, Johnathan Macris, President of the mission, asks supporters to "pray that God will turn their negative intentions into positive publicity." He asks people to pray for a blinding of church clergy to the press statement and that instead of stirring up opposition it will create much interest and even support for the project.
Included in the Bible gift packets being distributed are an audio version of the New Testament as well as a testimony from a Greek pastor from New York, Tom Mahairas, as well as contact information for the mission and the Alpha Course contact and a letter encouraging people to attend the church of their choice.
Johnathan Macris is the oldest child of well-known Greek evangelical missionaries, Costas and Alky Macris. Costas was one of the four missionaries sentenced by the Greek courts to six months imprisonment for giving a New Testament to a 16-year-old boy. The subsequent international outcry led to the sentence being overturned. That "boy" is now in full time missionary work serving as director of a major evangelical relief agency.
Johnathan was born in Philadelphia in the USA in 1962 while his parents were on a deputation tour. He was subsequently exposed to all facets of mission life and work as a missionary kid including mechanics, jungle trips, visiting and caring for the sick. He spent the first 16 years of his life in the jungles of Irian Jaya, Indonesia and accepted Christ at the age of six at a mission boarding school there.
His family returned to Greece in 1979 after his father contracted a serious tropical disease and was basically sent home to die. But God had other plans for him and Costas survived and established a vibrant new missionary outreach to the Greeks called Hellenic Missionary Union (since renamed Hellenic Ministries).
Johnathan continued his education at Moody Bible Institute, from which he graduated in 1985. He also excelled in many business administration courses. During this time, Johnathan gained further ministry experience through many Chicago-area ministries such as Open Air Campaigners, and Inner City Impact.
Following the successful completion of his education, he returned to Greece in 1985 and served the mandatory year in the Greek Army. In 1987, Johnathan married Miriam Rainey and they are the parents of five lovely children: Justin, Natassa, Kyle, Karsten and Jorryn. He eventually went on to complete ministerial studies and was ordained as a minister of the Gospel in 1994 through the Wheaton Bible Church.
Since the birth of the Hellenic Ministries under his father's able direction in 1980, Johnathan has been vitally involved in the mission's emphasis of evangelism and church planting. In his leadership capacity over the years, his responsibilities have included: Personnel Manager, Summer Evangelistic Campaign Director, Member of both Greek and American Boards, and de facto Administrator of the daily affairs of the Mission.
In 2001 Johnathan assumed the board's designation as President of Hellenic Ministries. While the burden for evangelism and discipleship continues to mark HM's priorities, Johnathan is emphasizing the need for HM to fulfill its role and call to raise up, equip and send Greek workers into the harvest field of world missions.
The summer of 2004 was a milestone in ministry. HM launched Operation Gideon during the summer Olympics hosted in Athens and it was among the largest evangelistic campaigns ever held in Greece.
HM is currently involved in evangelism, social work, missions and youth ministries. HM owns and operates a sea-side camp facility, the Morning Star (a 68 ft. schooner), provides meals for hundreds of refugees weekly, publishes an evangelistic newspaper, leads a burgeoning youth and worship ministry and organizes major evangelistic outreaches. In addition, HM has developed a satellite ministry in Cairo, Egypt as well as an orphanage in Uganda and operates a relief organization which has brought help to Turkey, Kosovo, Albania and Sri Lanka.
Operation Joshua is a summer project to place copies of the New Testament in modern Greek in one million homes throughout Greece and the project is gaining momentum. For many Greeks this has been the first time in their lives that they have ever read the Bible and the first time they have ever seen a Bible published in modern everyday Greek. The impact has been enormous and for many people the entrance of God's Word has brought light and understanding.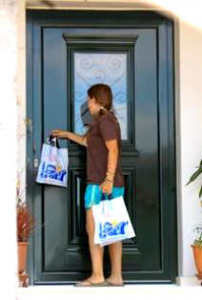 In a difficult and sometimes dangerous area for evangelical missionaries, Johnathan has displayed a fearless spirit in the face of pressure from local authorities and hostile antagonism from local inhabitants. Together with his small band of missionaries and volunteer workers they have managed to make a significant impact in a country where evangelical believers are a tiny minority (less than 2 people in every thousand of the 11 million population).
Perhaps its most significant ministry at present is reaching out to the thousands of Muslim refugees pouring into Greece trying to get into Europe. Most of them are stranded and homeless. HM's refugee center and staff is reaching out to these needy people with food, medical assistance, legal aid and a place to wash their clothes along with a presentation of the gospel message. This may be the only place in Greece where they are accepted and helped. And it may be one of the few places in the world where each week over 1,000 Muslims can hear the gospel. This is certainly not the case in their homelands.
Greece, after approximately 2,000 years, is still a mission field and the laborers are few. Johnathan and his wife, Miriam, count it a privilege to serve God in the land of Johnathan's ancestors and contemporaries. It is their deep, God-given desire that God would use them and Hellenic Ministries to give the light of the Gospel to the modern Greek people, as well as to the people of the surrounding nations!
Please pray for the nation of Greece, for Hellenic Ministries, Operation Joshua and the salvation of the lost in Greece. –ASSIST News Service